Dear Artist, Yesterday, Donna MacDonald of Calgary, Alberta wrote, "Is there a possibility that painting might improve your health? I've suffered from chronic migraines for over 30 years and I've noticed an amazing phenomenon. On the days that I paint I don't get a migraine! At first I thought it was a coincidence but after close observation to the timing it's become evident that there's a correlation. I started painting full time 5 years ago and it has literally changed my life! Have you heard of this?"
Orythia Johnston
) Esoterica: The motivation to work against all odds also arises when you bring to your art a sense of service. By that I mean doing it for someone or for some noble cause. The art of giving neutralizes pain, both mental and physical. "Artists are just as important as doctors and nurses," says painter Marni California. "People need nourishing of their souls as well as their bodies; in Navajo culture the medicine man and artist are one and the same." We've included some of Donna MacDonald's work at the bottom of this letter. Interestingly, Donna contributes 10% of her profits from the sale of her paintings to
Kiva
, an organization that provides loans to people in third world countries to start or expand a business. "A wonderful way to feel like I'm making a difference!" she says.
Donna MacDonald
Life saved by painting
by Rick Rotante, Tujunga, CA, USA The health issue on making art can only be experienced by those who practice painting. When I work, my breathing is slowed and so is my blood pressure. My mental faculties are humming along in tune with the work. Time passes effortlessly and there is no stress within those hours. That has got to be beneficial to your well being. Also, when I demonstrate, I get a natural high. I lecture and paint at the same time and those around me are getting the benefits of good health as a result. Right? I can go as far as to say painting has saved my life. I don't know what I would be doing now if it were not for painting. The only time art causes me any stress is when I don't sell any of it. Now that is stressful.
There are 3 comments for
Life saved by painting
by Rick Rotante
Celiac Disease
by Pamela Sweet, Marinette County, WI, USA I have Celiac Disease (eating grains destroys your small intestine) and had suffered with migraines, also. Migraine is a classic sign of wheat intolerance or Celiac Disease because it contributes to low levels of vitamin D3 due to poor absorption. If you are painting outdoors more, could you be getting more vitamin D3 from the sun? Are you eating less wheat or grains because you are so busy painting? If you can say yes to both questions or only one, maybe the answer to your happiness is in where or what you are doing as you paint and not just the painting. Some interesting sites to visit for more information:
Vitamin D Council
and
Celiac Disease Foundation.
There is 1 comment for
Celiac Disease
by Pamela Sweet
Art as therapy
by Maria Oppenheim, Wiesbaden, Germany If art didn't improve your health, there would be no art therapists. Artists have often seen art as a life saver and have used it as such in their art and their life (which is actually not separable). Think of Niki de Saint Phalle or Frida Kahlo. This doesn't necessarily mean that all art created in a therapeutic situation will go down in art history. Doing art in a therapeutic setting together with a therapist is a different process. What happens to the artist/patient is deeply related to what we feel when we get involved with our colors and brushes.
Art in the waiting room
by Mike Barr, Adelaide, South Australia Apart from the obvious benefits of painting to artists, I'm a firm believer in the health benefits of art to the viewer. A couple of years ago, I had an article published in the Medical Journal of Australia on the benefits of good art on waiting room walls. For too long, doctors' waiting rooms have been lazily plastered with well-meaning but horrific posters on what might ail us! A dissected aorta with globs of fatty tissue being squeezed out, detailed diagrams of clogged arteries or other views of possible internal troubles have been put on show with complete abandon. I can assure the support staff at medical centres that this does not help the people in the waiting room who are already sick! Doctors need to have good art — art that you can walk into and lose yourself for a while. This is much more appropriate in lowering the stress rates in a waiting room!
There are 2 comments for
Art in the waiting room
by Mike Barr
Sitting or standing, feeling no pain
by Mary Susan Vaughn, Charlotte, NC, USA I can attest to the fact that painting truly is one of the best pain relievers. Although not a sufferer of migraines, I have suffered for 35 years with serious back troubles. Surgery aside, which I had 28 years ago for severe scoliosis, and a Herrington rod and fusion in place, I now suffer from degenerative discs in my neck and lower back. I hate talking about this stuff so I'll make this short — When I paint I feel no pain. Literally. I get comfortable, turn on my music, set out my paints, and then find myself taken on a journey of focus that gives my brain no room for anything else. I can stand for hours, occasionally sitting, and feel no pain. However, there have been a number of occasions when after my work day is done in the studio I have trouble moving and need 3 Advil. The hours I spend painting are not only cathartic, but relieving of all stress and pain in my life and I could not ask for a better way to spend my day.
Lupus sufferer relieved by art
by Lynne Hurd Bryant, Hartville, WY, USA I have suffered from SLE (systemic lupus erythematosus) for about 18 years. From 1983 when I earned my BFA until May of 2009, I didn't paint. I raised a family and did a lot of suffering with SLE. One of my children goaded me into taking up painting again and taking it seriously. I had my first bricks and mortar gallery 6 months later; I was meant to do this and do it at this point in my life. From the time I got into that gallery in January 2010 until now, I have not had a lupus flare. This is a lengthy remission for me, as I have had times in my life when I flared almost constantly, having just a few days between when I felt remotely human instead of like a medical case of maladies. The lupus hasn't gone, but it is underground. Plein air painting is still not possible as I am "allergic" to the sunlight and more than just a few minutes in direct light will raise tiny blisters on any exposed skin and give me a nasty fever, so I only do studio work, but I DO studio work! I have the energy to work hard at painting, work a full time job that is not art, and take care of myself. I owe this to the brush.
There is 1 comment for
Lupus sufferer relieved by art
by Lynne Hurd Bryant
The mojo came back
by Lori Farmer, Brandon, MS, USA This past weekend I framed a pen and ink portrait that I did back in 1979 and then created four 12″ square paintings for a long gallery wall in my son's bathroom. I have not created any art for years and was so afraid that my mojo was lost. However, after framing the picture and realizing that the artwork was really worthy of being framed after all these years, my muse slowly crept up, grabbed me and I took off. I finished the other four canvases and I felt ALIVE – had not had that feeling for so long, I'd forgotten the "magic" that takes over when creating. I'm committed to drawing and painting once again and do not want this to slip by me again. It's like being reborn. And, my arthritic knuckles did not ache, nor my back, nor my sinuses, nor any other distracting ailment that usually clings to me during a regular day. The "good goo" drug, the muse, the magic does exist and I'm hungry for it.
Bedside painting distracts and relieves
by Rebecca Gottesman, White River Junction, VT, USA As a painter and teacher of workshops, I have the privilege of also being the "artist in residence" at our local hospital that has a major leading cancer center within it. For 10 hours a week I visit with people who are either in-patient or out-patient dealing with cancer and other diseases. My purpose is to distract and relieve them of their pain, anxiety, and depression while they are receiving their treatments. I have found this work to be the most sacred of all the creative endeavors I have ever undertaken. It is great if I can get the patient to play with materials, i.e., watercolors, beads, etc. But I have found if I waited only for the patients who said yes to play, I would be looking for a long time to find participants. So, instead of only asking the patient to play, I have also developed another million dollar question to get them to participate. I ask them, if they could be anywhere else other than here in the hospital getting their treatments, where would they go that makes them feel whole and wonderful. They smile and describe their favorite place and with that I take my watercolors, sit next to them, and paint their special place for them. Then I sign the watercolor to them and give them the painting to keep! This process may take an hour or more, and in that time I listen and am a great distraction to their pain and fear. I don't know how I am able to paint these places that I have never been to, but I do! It's magic, it's shamanistic and it is wonderful! I find all those years of observation provided me with the vocabulary to execute my work.
There are 4 comments for
Bedside painting distracts and relieves
by Rebecca Gottesman
Cocoon of peaceful creation
by Melanie Hall-Szyszkiewicz, Kelowna, BC, Canada In a workshop, Pei Zhong Chen shared with us moments of his early life in China, where he was born and raised in a very poor family during the years of communist regime and Mao. He told us of his good fortune to be selected from thousands of applicants to receive a scholarship to study art. I had the good fortune to study with Pei Zhong in a variety of mediums, including Chinese water color, charcoal sketching, acrylic portrait and landscape. The man is truly amazing in his versatility and speed. I especially liked the classes when we did the Chinese water color where he would play classical Chinese music, and we would study works of the masters, and try to replicate their style. Pei Zhong told us the Masters all live to a very old age, as to create art is a very peaceful calm existence for both the mind and body. I must say, I felt encapsulated in a wonderful cocoon of peaceful creation for those 3 hour classes. That combination of paint, music and green tea felt oh so healing and wonderfully healthy. Those classes are amongst my most enjoyable and memorable for the peacefulness of just being "one with the creative forces within one's self." The Chinese masters would agree — painting really does improve your health!
Weird but wonderful
by Claudio Ghirardo, Mississauga, ON, Canada I've heard many stories of people having some ailments but when involved in a creative process, there is no ailment. I heard of a composer who developed arthritis years later but he would play the piano regularly just as well as he did in the early days and he played as though he had no arthritis. I remember years back I had this unbelievable headache and had to finish a painting for class the next day. I pushed myself to get the assignment done and suddenly my headache was gone.
There is 1 comment for
Weird but wonderful
by Claudio Ghirardo
Painter's pain relief system featured in article
by Patty Kruger, Scottsdale, AZ, USA I am an artist and a chronic pain patient and I thought you might find it interesting that I was featured in the monthly "Arizona Pain Monthly" magazine because of the way I handle my pain and the fact that I use painting and creativity to help manage my pain. When asked by my physician to be featured in their magazine, my hope was that it would help others. I am "living proof" that getting on the "right side of the brain," can be used to relieve pain.
Anxiety over jurying process
by Pam Talley, Tallahassee, FL, USA I have judged art and selected judges for years. It's always such a mixed bag of results. At our Annual Student Art Show, we invite a different judge each year. Some are better than others. I usually like the ones who are able to balance technical skill with creativity. Winners are elated, losers get their feelings hurt and we are considering doing away with the judging altogether. Do you have any posts that might help me explain the art judging process to my students? I work with children (who take the judging in stride) as well as adults. (RG note) Thanks, Pam. We've previously talked about the sticky business of jurying
here
,
here
,
here
 and
here
.
Archived Comments
Enjoy the past comments below for Can painting improve your health?…
Featured Workshop: Leona F. Brown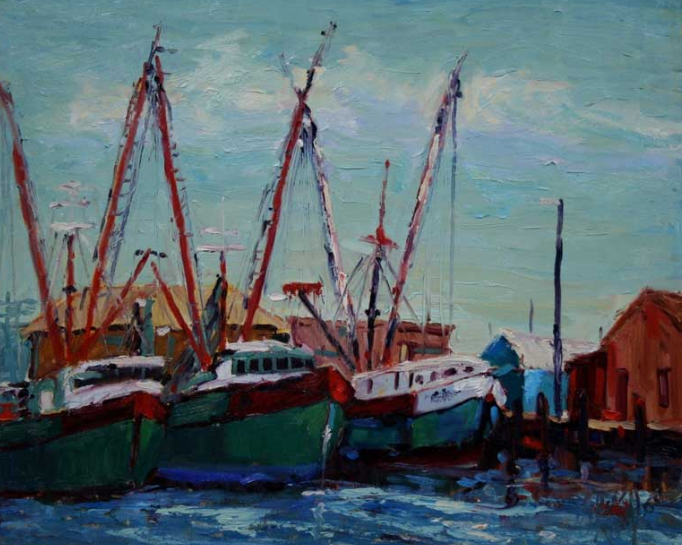 Boats of Port Isabel
oil painting, 20 x 24 inches Ellie Taylor, TX, USA
You may be interested to know that artists from every state in the USA, every province in Canada, and at least 115 countries worldwide have visited these pages since January 1, 2013. That includes Jason Schmenck who wrote, "I get a headache thinking about what to paint, but when I find something and get started it goes away."
Thanks, Donna. Migraines are one of the most frequently reported maladies of artists. So when you mentioned you don't have them when you're painting, it was music to my ears. Migraines are still not fully understood by the medical profession. There are several main types, and adult women are three times more likely to have them as adult men. "Triggers" like stress, hunger, drink, diet and bright or moving lights can set them off. Apparently, a neurotransmitter called serotonin plays a role. Low serotonin levels in the brain may lead to constriction of blood vessels. Serotonergic agonists like triptins, LSD or psilocin can activate serotonin receptors to stop a migraine. Many painters find painting to be a leveling sanctuary in an otherwise frantic world. Perhaps it's because of the heightened involvement, challenge, and attention to detail that painting requires. Fact is, many of us attest to "feeling no pain" while painting. While the act of painting may not perk up your depleted serotonin, it may release something I'm calling "muselocin." This is the nice stuff you feel when you're finding your muse. Yes, others have reported to me that it's important to anticipate a good day rather than a bad one. The potentially afflicted artist needs to set up, squeeze out, choose the right background music and, with a tall glass of cold water, start to work. After a few minutes, mildly hypnotized by the job at hand, the painter-patient becomes pleasantly "lost." I can't attest to great gushes of good goo being released into the blood, but artists tell me they feel like something magic is happening. The élan of painterly process and ongoing accomplishment certainly eats time. It may just head off pain as well. Back problems, anxiety and arthritis also respond to this underutilized and inexpensive drug. Best regards, Robert PS: "Making art is good for your health, especially if it is done in fun." (