Dear Artist, Jacob Collins is a New York artist and art educator whose avowed goal is to be "an old-fashioned painter." Working from life — nudes, still life, figures — in his dark and purpose-lit studio, he laboriously draws and draws out the character of his subjects by the time-honoured method of explore, erase and refine. A modern-day Rembrandt, he eschews the unskilled methodology of many among the current avant-garde. In a recent issue of
The New Yorker
, the wide-ranging writer and art critic Adam Gopnik, whose kids happen to go to the same school as Collins's, tells about learning to draw by Collins's side. Gopnik, armed only with a graduate degree in art history, admits he likes to draw but does it very badly. "For all the years I'd spent talking about pictures," Gopnik writes, "the truth was that I had no idea how to draw or what it felt like to do it. I would mistrust a poetry critic who couldn't produce a rhyming couplet. Could one write about art without knowing how to draw?" People who write about art are often those who are merely confused by it. Confusion, in my experience, seldom dampens enthusiasm. I was once on the board of a highly respected art school where all of the board members but one were lawyers. Further, there's the frequently noted situation where many of our top collectors are scientists and mathematicians. And then again, why do I collect vintage cars? I'm so totally incompetent at their maintenance that I'm disgraced by even the mildly-talented among my mechanical friends. FYI, I bought another car yesterday, but I digress. Gopnik, with great insight, analyzes his own desire to draw and Collins's facility at it. "Drawing is one of those things which sit on the uneasy bending line between instinct and instruction," Gopnik writes, "where seeming perversity eventually trumps pleasure as the card players and the kibitzers interact and new thrills are sought." We have no idea just how 'bad' Gopnik's drawings are, even while he refers to their badness frequently throughout the article. But that's not the point. It is respect that he gains — respect for an elusive art. And we who draw daily get a bit of respect, too. Best regards, Robert PS: "Drawing, I now think, need not be the bones of art, but skill must always be the skeleton of accomplishment." (
Adam Gopnik
) Esoterica: I've encouraged both myself and others to experience the joy of drawing. It may be separate from painting, but it is certainly key to much that is great in painting. To find a line, to make it work, to really see it and know it holds life and energy or is pregnant with feeling, is to experience a kind of excitement that even sensitive observers cannot truly know. If only for the forward march of our own character, we need to fill our sketchbooks.
Collins a rare individual
by Peter Lloyd, Blacker Hill, England Thank you for showing us some of the work of Jacob Collins, one of those rare individuals who achieved his life's goal. He is an old-fashioned painter and an extraordinary one at that. Somehow I suspect that he would disagree with me, that he sees himself as still struggling towards his goal. He can paint the very warmth of skin, the sound of rippling water. He makes me beg for one hundredth of his skill. He has also restored my faith in humanity. Yes, there really are people who still value hard work and hard-won skills, who aspire to excellence in drawing and painting, who see beauty in the world and seek to express it as it really is. Jacob is a rare thing, a contemporary painter whose work I would love to have on my walls.
There is 1 comment for
Collins a rare individual
by Peter Lloyd
The purest inspiration
by Janet Summers-Tembeli, Samos, Greece Great to see there are still artists driven to create like Jacob Collins! Realism in all its forms is the exploration of line, form, color and light and shadow. It's getting to know your subject intimately. It is seeing and eye-hand coordination. That's why I've been a realist painter all my life and why drawing is so important as a foundation of any great painting. The feeling of creating a vision of life in all its detail is exhilarating and unequalled as an artistic experience. It is always a challenge no matter what the subject is or how many times you have painted a similar subject because in nature nothing is perfect and no subject is ever the same. It is the purest inspiration and the closest one can come to the divine.
The good luck of freedom
by Khalil Dadah, Gaza, Palestine I viewed the video of Jacob Collins images of some of his paintings. They are interesting, not only from artistic point of view, but from the feeling that he is living free life in a free society. He is so lucky and I should say that I envy him! Comparing economic, social and cultural life in the West and life here in the Gaza Strip, the place is extremely fearful to fine art painters. I can say that generations of such artists' talents have been squandered on hollow slogans.
Sketch-a-day in pen makes huge difference
by Brenda Swenson, South Pasadena, CA, USA I'm a drawing convert. In 1996 I was challenged to do a sketch-a-day in pen for 10 weeks. For the next 70 days I tossed my pencil and eraser and worked only in pen. At first the task felt overwhelming. But in a short period of time things began to change. Not only did my drawings improve so did my observation skills, design, edge quality, and confidence. It seems like such a simple concept but it does have a way of making a huge difference. My passion for drawing has stayed with me and I have my instructor Chris Van Winkle to thank for the challenge! The smaller size is less threatening For the FUN of it — I like to sketch! Sketching I do for me — Painting I do for others Travel and Personal Journal: an illustrated record of my life. When I draw I really see the subject for the first time. A sketch is complete unto itself. It need not go any further. A place to watch my progress. (My books are numbered and dated) A sketch is a truer reflection of me – a painting is me dressed up and on my best behavior. My sketchbooks are my greatest tool as an artist. A place to explore subjects matter, design, value…
There is 1 comment for
Sketch-a-day in pen makes huge difference
by Brenda Swenson
Basic structure is drawing
by Ramesh Jayaraj, Bangalore, India Drawing is basic structure. When done accurately, painting becomes effortless, rich finish, needs no corrections. Each time before I start to paint (I paint wildlife), I do a drawing on paper. Even if I am repeating the same. This way I never draw on canvas. I directly commence to paint.
There are 2 comments for
Basic structure is drawing
by Ramesh Jayaraj
A community of draftsmen
by Andrew Rush, Tucson, AZ, USA For the past twenty years, a grass roots organization called
The Drawing Studio Inc.
 of Tucson, Arizona has been growing exponentially, providing people of all ages and walks of life a rich range of studio art studies, rooted in the basics of drawing from observation. A non-profit organization, we now serve 600 people per quarter in our studio classes, plus we run a series of outreach art programs for seniors in collaboration with 15 libraries and other senior centers throughout our city. Our philosophy and our history is laid out in the recent book published by myself, not only as a record of the growing interest by many people in the field of visual intelligence, but through a series of 40 essays and drawings I explore the richness the contribution of drawing can make not only to artists but to many other areas of living consciously. Here is a PDF information sheet about the book, entitled,
The Nature of Drawing, A Conversation about Art and Community
 by Andrew Rush.
Creative intuition
by John DeCuir, La Crescenta, CA, USA I tell my students that there is a line that links the hand to the logical side of the brain (depending I suppose if you are right- or left-handed.) And this logical side of the brain simply does not have the skill to direct the hand in such an abstract intuitive enterprise. All its logic and all its measurable exactitude seem useless and it must embarrassingly humble itself before the abstract side of our brain that houses our skills in creative intuition. My father used to tell a wonderful story that while he was being forced to be a concert violinist by my grandfather he would wake early and begin to draw. Then when it was time to practice the violin, off he would go to the near soundproof bathroom where he would put in his two to three hours of practice. But what grandpa didn't know was that in that bathroom, with neither pencil nor paper, he was finishing that drawing in his mind. This he did for 19 years. After touring as a concert violinist for a few years, he abandoned the fiddle for his pencil. The result was a near genius-like ability to create a drawing in his head and then somewhat nonchalantly trace on paper what he had already drawn in great detail in his head. I could go on with stories that would boggle the mind about this right brain / left brain interface. Perhaps the attached drawing, drawn on small pieces of 8 1/2 x 11 inch paper on a plane and pasted together three hours later speaks for itself. I tell my students the only place they are allowed to be found without their sketchbook is the shower….
More freedom in drawing
by Diane Overmyer, Goshen, IN, USA Good drawing skills equal freedom for an artist. Freedom from fear of tackling a difficult subject matter. Freedom to work in public, such as doing plein air painting. Freedom from relying on computers or other machines. Freedom to express oneself at nearly any time or any place. Even though I loved drawing my entire life, it was while I was in art school that I gained the practical knowledge, or should I say tools, to create strong drawings every time I decided to draw. I had the pleasure of studying with two fantastic draftsmen: Alan Larkin and Ron Monsma. Both men are incredibly talented painters, but both also have amazing life-drawing skills. My introduction to drawing class was taught by Alan and it was one of the most time consuming classes I have ever had, but it was a total joy because I was doing something that I loved! I now am so thankful for all of those hours I put in learning to compare negative space, angles and proportions… I often reference skills I learned in those classes when I am beginning my paintings. Those skills have provided me with much satisfaction and a huge amount of freedom over the years! Anyone can learn the basic skills to at least be able to sketch out a composition and begin a painting. It just takes time and effort, but the rewards are well worth it!
First love was drawing
by Gaye Adams, Sorrento, BC, Canada What got me into painting was my love of drawing. As a child I drew from life: the family dog, my brothers, neighbours, the view out my window. I also drew horses from magazines and had some Walter T Foster
books
 to help. I became pretty good at it for a kid. It didn't require instruction, just the doing of it. Years later I returned to my art after a teenage hiatus. As a young adult I started painting and learned paintings would sell and drawings not so much, so the only drawing I would do was for paintings, and most of it from photo reference. Here is what I discovered: My first love was drawing; I will always love it. If I am to grow as a representational painter, drawing and painting from life are mandatory. Drawing well is a skill that requires constant practice (from life!) or it will wane. You never get to keep your current skill level or grow without constant practice. It's a muscle. It's not dissimilar to training for a marathon. You can't train once and expect it to keep you in condition for future marathons.
John Holt
wrote, "We learn to do by doing; there is no other way."
Old car connection
by John F. Burk, Timonium, MD, USA Congratulations on your car purchase. I hope it is something like a Morgan, an Austin Martin convertible, or a vintage muscle car like a Mustang or Corvette with stripes. I tool around in a '96 Ram 1500, sorely in need of paint and a bust at the gas station. (RG note) Thanks, John. It's a '66 MGB which rounds out my British mental health condition including Bentley, Jaguar and Austin. And thanks to other readers — mostly guys — who also asked what this new one was. Of great interest to me is the number of car collectors and auto aficionados among creative people. Is there some sort of atavistic appreciation for a type of art that moves down the street? Does it have something to do with escape from normality? Is it a sentimental classic flashback to other times, other places, where design was based on 'form follows function' and mechanical things were easier to figure out? Or, as mentioned above, are old cars merely a mental health problem that cannot be dislodged from a temporarily disoriented artist?
There are 4 comments for
Old car connection
by John F. Burk
Archived Comments
Enjoy the past comments below for Learning to draw…
 Featured Workshop: Tony Couch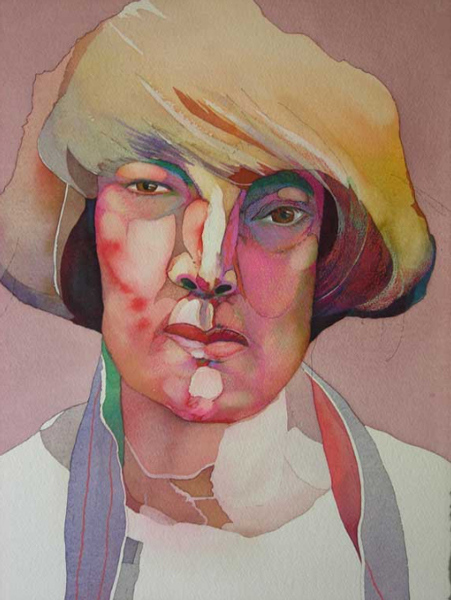 Self-portrait

watercolour painting, 20 x 16 inches Sari Staggs, Redondo Beach, CA, USA

You may be interested to know that artists from every state in the USA, every province in Canada, and at least 115 countries worldwide have visited these pages since January 1, 2013. That includes Suzy Way of Nashville, TN, USA, who wrote, "I get weary of the 'I don't want to draw, I just want to paint' types." And also Seth Andersen of Copenhagen, Denmark who wrote, "When critics like Adam Gopnik begin to see value in skills and thoughtful accomplishments like that of Jacob Collins, we begin to have hope for our world."