Dear Artist, Yesterday, a subscriber who wished to remain anonymous wrote, "I'm represented in galleries across the country. Some do better than others. I've never really understood your earlier comment about it not being desirable to be a 'local' artist. Can you tell me what you mean and give me an understanding of the attitudes of galleries and their clients?" Thanks, Anonymous. When I first started out as a painter I had the presumption that I might become a professional. My early work was pretty crummy, so I was aware of the labels of 'amateur' and 'local.' Further, I noted that artists were often peculiarly appreciated when they hailed from somewhere else. I was also bothered by George Bernard Shaw's remark, "When you know the artist, you think less of the art." Okay, here's the rub: Being an introvert, I didn't want people dropping in while I was trying to figure things out. I was also aware of the relative ease of selling low-priced work to friends and neighbours, and I saw the negative effect this had on artists when they tried to work with commercial art dealers. I resisted the idea of selling my work locally and I had bad attitudes about ballyhoo and what I considered the wrong kind of publicity. I had this idealistic concept that my paintings might be sold by distant dealers at decent prices to honest collectors who happened to have good taste. To make this concept work, you need to be a fairly prolific painter. But I can't tell you how golden it is to get a dozen or so paintings off to another city and then forget about them. The distant dealer, realizing once again that you are a serious artist and that he has local control of your work, is once again free to enthuse. Using this system, a prolific worker is spared of building an oversupply in his own neighborhood. And while the painter so blessed need not be an introvert, he is left free to study, travel, share with others and pursue his muse in relative local anonymity. To be successful in our game you need good work, and someone who thinks it's good work besides your mom. Entrusting others, including distant others, is the key to private joy. Best regards, Robert PS: "You have to be noticed, but the art is in getting noticed naturally, without screaming or without tricks." (
Leo Burnett
) Esoterica: Regarding your stable of dealers, and without delusions of grandeur, you need to see yourself as the gentle and respectful captain of a Trojan trireme. Those guys down below pulling on the oars are your dealers. Some are slumped over their oars, others may even be dead. Yet others are rowing heartily. As long as you are moving forward you have one happy trireme — and as captain you can navigate in pretty well any direction you please.
Shucking the 'local' stigma
by Penny Otwell, Yosemite, CA, USA I have become a "local artist" in a very popular place. I have been fortunate to sell a lot of work in several galleries here in Yosemite. However, this causes me a myriad of challenges with acquaintances who expect a discount on my work. Being single, older, and needing to make a living, I have fallen into this seductive but challenging situation and I know my galleries don't like this. I want my work to stand on its own without the local ballyhoo. I've been struggling with this local label for too long. I agonize over pricing to local clients and even have strangers asking for discounts. I have been moving towards more abstract work and have been studying figure drawing which might be my "out." Mainly I need to find reputable representation from an appropriate gallery far away so I can get out of the local artist syndrome. I really needed your kick in the behind to get me moving on a new path.
There is 1 comment for
Shucking the 'local' stigma
by Penny Otwell
Connecting with out-of-town dealers
by Elizabeth Bertoldi, Toronto, ON, Canada I've noticed that here in Ottawa (Ontario, Canada) most galleries carry works by artists from Montreal, Toronto, and other places farther afield, even California. I have been exhibiting my abstract and non-objective work here for about ten years, in juried shows and art fairs, but I can't seem to break through to these local galleries. I thought perhaps it was the quality of my work, the type of art preferred here, or a prejudice against local artists. How do I go about getting into other cities / places? I can travel easily to Toronto or Montreal, but not usually more than that. Also, some of my works are quite large, and won't fit into my car. Any ideas? (RG note) Thanks, Elizabeth. The best way nowadays is to have a stand-alone website or an online presence such as a Premium Link on the Painter's Keys site. Then you need to cruise the Internet for galleries where you think your work might fit. If you can, find out from the jungle telegraph whether that gallery is doing a job for its artists, paying them promptly, etc., and drop the gallery a note and let them know you are interested in being represented by them. Then the ball is in their pocket. Most dealers who receive requests like this do go and have a look when they have time.
There is 1 comment for
Connecting with out-of-town dealers
by Elizabeth Bertoldi
Cut your teeth in local galleries
by Brian McPartland I'm an artist who sells quite a bit of work locally. Easy, profitable, and fun! Friends look forward to seeing my new stuff and tell me so. Other than sales, I get little feedback from out-of-town sales. Locals tell me what they liked, even if they cannot afford to buy it. Showing art locally results in 10 times more feedback — which I think is very important! The vast majority of readers here will never become artists with a stable of dealers. Conversations about such is unrealistic for most readers — fodder for a pet fantasy. I think that encouraging artists to cut their teeth in local galleries is advice that would be useful to the greater readership. Local showing is a way to build confidence as well.
There is 1 comment for
Cut your teeth in local galleries
by Brian McPartland
Finding galleries you can trust
by Monica Linville, Puerto Rico I know it's necessary to begin dealing with galleries that are away from my local area, but I worry about sending "my babies" off into the unknown. How do you know which galleries to trust and how do you protect yourself from unscrupulous or unprofessional gallery owners? I realize contracts are essential, but when one can't afford a lawyer, the contract is not even worth the paper it's written on. Also, there's no way to know if you're being represented well or if your paintings are sitting in a closet, other than by lack of sales. How long do you give a gallery before you decide it's not working? (RG note) Thanks, Monica. Gallery integrity is discovered by contacting the artists they already represent. Exchange emails or talk on the phone with four or five artists before you contact any gallery.
The real value of 'out of town'
by Paul deMarrais, TN, USA Another appropriate phrase might be 'Familiarity breeds contempt!" There is also that phrase from the bible about a prophet being unwelcome in his home town. How true this seems to be with art. It's only when people outside your area applaud your painting that any of your 'local' friends give you much respect. It can be hard to sell to locals yourself. They seem to think your work should be selling for a hundred bucks. Maybe it did when you started out! I'm an introvert as well. It just seems easier to let someone out of town promote you while you live under the radar most of the time. Conversely, there is gold in being the 'new kid in town' in a different area. How exotic you can be made to seem! If you are socially adept and clean up well, the out-of-town gallery can even have you meet the public now and then!
Ready to have a website?
by Rena Selim, Annandale, VA, USA As an aspiring artist, I've been in a quandary whether to put my works online or not. I have done some very nice paintings, but in my mind's eye, most of my work is not quite where I want it to be. My gut tells me to wait until I have a solid number of paintings that I think meet my highest quality standards. The trouble is, whenever I think I have a painting that I really like, after I look at it over time it doesn't seem that good anymore. So I'm wondering if it's just me being a perfectionist or if I should take a leap and start a website. (RG note) Thanks, Rena. There is some work that will never attract significant interest. There is other work that will win friends. There is no such thing as an undiscovered genius. You may never know until you put it out there.
There are 5 comments for
Ready to have a website?
by Rena Selim
Lovely life in the donut hole
by Judy Palermo, Shoreview, MN, USA This year I have been selling modestly but steadily, and thanks to the Internet, my sales are far from 'local'; only once did I sell to someone in my city that saw my art in our public library. How great is it when a perfect stranger is willing to spend real money to buy your artwork! Most of my friends do not know I am selling; many do not know I even paint. The scope of my public identity has formed into a donut; I am in the center, empty and peaceful hole, and beyond is the rewarding and fun cake all around. That donut hole is nice and roomy indeed.
There is 1 comment for
Lovely life in the donut hole
by Judy Palermo
Rejected by local gallery
by Kathe Vaughan, Chapel Hill, NC, USA Since I have never been a local artist, as an illustrator I sold to international markets, with A.D.s taking care of me but, the interesting story is, when we finally moved back here years ago I took my work to a local gallery that was very big and brokered a lot of corporation art. They "loved" my work but here was the mind-boggling response; they didn't want me, they didn't take "locals." They were afraid locals would "sell" out of their garages." First, I joked I didn't have a garage but more importantly I didn't want initial interaction with clients. I wanted them to market me, secure the commission and then I would get involved with the client. Time is a precious commodity. So, like other artists, clients can e-me initially or leave a message. But I still have to do the initial dance and I hate doing the pricing thing — I mean this is the work; this is the fee(s). I have some wonderful mentors who have advised me to keep the client information clean.
There is 1 comment for
Rejected by local gallery
by Kathe Vaughan
Unpleasant gallery experience
by Paula Ford, Altoona PA, USA There's a little gallery near me that sells all kinds of art from paintings and pottery to jewelry. I had a bunch of items in it and sold every single piece I ever took there. One Friday evening, the owner called to ask if I could make a bracelet in the shop to fit a 2-year-old who had to go to a wedding the next day. I had to tell her to call the child's grandma to get the wrist measurement. I made the bracelet, drove a one-hour round trip the next morning to deliver it to the store, and waited for over a half hour while the owner was late to open the store. I only charged $20 for the bracelet because it was small, I used leftover beads from another project, and it didn't take long to make. The store deducted its 50% commission. To top it off, the store owner treated me like she was doing me a huge favor to get the custom job for me. After deducting for the cost of the clasp and other materials, I probably made $3. Who knows what the gas cost to get there, but it cost me time I could have spent making something else. Every time I would go to her store or run into her at local functions, etc., the owner acted like I was some kind of second class citizen. At receptions and such she would fall all over the non-local artists. ALL of her advertising features non-local artists, but she gets grants from the state of Pennsylvania to help with the advertising. To her, anything from New York City is always better than anything from Pennsylvania. So I just stopped taking my stuff there. Still, she was not as bad as the other gallery owner who put antique teacups on top of my jewelry!
There is 1 comment for
Unpleasant gallery experience
by Paula Ford
Building a local clientele
by Luann Udell, Keene, NH, USA From the very beginning, I told my community how well I was doing. I sent a steady stream of press releases to our local and regional newspapers. Every exhibition I was juried into, every award I won, every book or magazine that published my work — all of it went into a little press release, and ran as articles in our local papers. Within a few years, I went from 'Jon's wife' and 'Robin's mom' to 'famous artist.' I still treasure the first two, but I'm thrilled by the last. The second different thing was I still kept a local presence. Yes, it was hard to see my work passed over time and time again for more traditional work. But I also discovered a sizeable, fiercely devoted audience who cheered my on every step of the way. When times went hard, and galleries started closing, it was this local/regional market that continued to purchase my work and support me as an artist. So yes, go further afield. But know that your best audience might be right under your nose.
Preferences for shipping
by Katherine Harris, Bracciano, Italy Could you please spell out some details for me? 1.) Do you prepare (pack) your own art for shipping? 2.) What shipper do you use? (U.P.S-? Regular Mail? A transport/moving firm? ) 3.) I live in Italy. Can you suggest what would work for me? (RG note) Thanks, Katherine. My assistant packs unframed paintings in bubblewrap and cardboard boxes. We are noted for our neat boxes. We use mostly Purolator (Air) and UPS, as well as the regular mail for smaller boxes. When traveling abroad, I seldom ship directly to dealers. I ship them back to myself in Canada. From foreign locations, I have, on occasions, taken the canvas from the stretchers, rolled them up and sent them by post. We seldom bother with insurance.
Archived Comments
Enjoy the past comments below for The 'local artist'…
 Featured Workshop: Alan & Libbie Soffer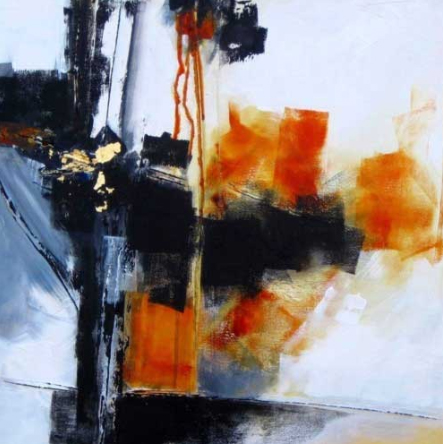 Kimono
mixed media painting, 14 x 14 inches by Ann Sutherland Gruchy, ON, Canada
You may be interested to know that artists from every state in the USA, every province in Canada, and at least 115 countries worldwide have visited these pages since January 1, 2013. That includes Pat Jeffers of Montrose, CO, USA, who wrote, "A prophet is not without honor, except in his own country." Even in biblical days local inferred 'not quite as good.' " And also Steve Eborall of Washington, USA, who wrote, "My dad used to own a 1948 Bentley, and I still have the original owner's handbook. Under the instructions for changing a flat tire, it starts with the words 'instruct your driver to…' It also recommends that 'your driver' should go on a three-day training course at the factory. So I think you can relax and just enjoy your old cars and leave the mechanicals to others. It is, after all, recommended by the factory." And also Skip Rohde of Mars Hill, NC, USA, who wrote, "An 'expert' is defined as 'somebody from out of town.' "