Dear Artist, The great art salesman Joseph Duveen used to tell his customers that buying art would give them immortality. Henry Frick, William Randolph Hearst, J.P. Morgan, Andrew Mellon, John D. Rockefeller and others did indeed achieve immortality through the public museums they endowed to house the art he sold them. Duveen's success was famously attributed to his noticing that "Europe has a great deal of art, and America has a great deal of money." Often criticized for his profiteering and hucksterism, he was not always truthful about a work's condition or even its authenticity — but what does it matter when you're selling eternal life? More than anything, Joseph Duveen gave unexpected immortality to some little-known Renaissance artists — in some cases their art is all we really know of them. Recently a woman told me that the current widespread popularity of painting is partly due to the diminishing belief in the possibility of an afterlife. "I'll only live on through my art," she said, referring to her worldwide trail of paintings. If, as
John Keats
wrote, "A thing of beauty is a joy forever," then the effort seems a reasonable one. God help me if I'm leaving a trail of substandard or ugly. But that's another issue. What is of issue is that art often languishes for several generations before it becomes once again of interest. That's why it's so important to use permanent supports and enduring materials in art which depicts our times and current sentiments. "Art," said
Marshall McLuhan
, "is a rear vision mirror." By this he meant that we have to get past something to see it properly. Note the current enthusiasm for "belle epoch" portraits loaded with period clues and costume drama. As artists, our obligation is to work to the best of our ability and to leave only our top stuff behind. When you're getting ready to go to the big studio in the sky, make sure you first shred your sins. You really don't want those baddies lying around. You never know how much forgiveness there's going to be up there. And the Duveens of tomorrow will be looking once again for quality. Best regards, Robert PS: "When you pay high for the priceless, you're getting it cheap." (
Joseph Duveen
, 1869-1939) Esoterica: There are two excellent biographies:
Duveen
by S.N. Behrman (1952) and
A Life in Art
 by Meryle Secrest (2004). The second is a lot of fun and of particular interest to artists. Duveen was a shrewd tactician with a great understanding of human nature. Flattery and intimidation were not beyond him. Knighted in 1919, becoming a Baronet in 1927, he was not above suggesting that owning art would improve one's social status. Always alert to a possible score, Duveen ferreted out forgotten works through the time-honoured device of payola — he relied on the butlers and maids of England and Continental Europe to lead him to the good stuff that might be flipped across the pond.
Pieces for future archaeologists
by Mike Young, Oakville, ON, Canada Working in stone does give us sculptors the edge in the immortality stakes – for good or bad. I have speculated on how a work of mine dug up by an advanced, or returned to primitive, civilization, say 4000 years hence, will view their abstract "find." A fertility symbol? A Shaman's altar piece? Part of a larger, lost mechanism? Who was the artist, and why did he make it? The list of speculative possibilities goes on and on. Few sales, but such fun. Hey, maybe I'll throw a few assorted pieces into a bog somewhere as a post-post modern installation for the ages.
Huckster to huckster
by Teresa Hitch, Saltspring Island, BC, Canada Joseph Duveen not only helped his some of his clients achieve levels of immortality, but he, with his ability to reach into the depths of men's fears, many of whom were exceptional profiteers and hucksters themselves, was able to be the ultimate huckster and profiteer. Understanding human nature is a valuable asset in art dealing. To be able to motivate people to do things they ordinarily would not do, is what keeps our capitalist system continuing. On a recent visit to Los Angeles, I had the opportunity to visit the Getty Museum, a spectacular monument of immortality, as well as an opulent and generous gift to the public that appears to be timeless. (Getty, also, was a client of Duveen.) The overall experience of visiting the museum, high on top of two mountains, was beyond worldly. If J. Paul Getty is looking down, he must be very pleased.
There is 1 comment for
Huckster to huckster
by Teresa Hitch
Imprint of the Universe
by Alev Guvenir, Istanbul, Turkey An artist communicates through vibrant energy. This energy is an imprint in Universe. Art definitely is immortal. The artist? No doubt, whether famous or unknown, the artist is immortal in his/her work. "What the caterpillar calls the end of the world, the master calls a butterfly." (
Richard Bach
)
A ship of fools
by Peter Brown, Oakland, CA, USA As for "immortality," there is no such thing. At best, one can leave a message, some bit of communication that may have an incredible endurance. The Chauvet Caves in France seem to hold the record for human communication across 35,000 years. The secret of that longevity is that the cave opening collapsed, and no one saw that communication for thousands of years. For any artist seeking "immortality," I would suggest sculpture in granite that is buried deeply under a concrete slab and far away from a subduction zone. My interest in traditional art media is that it has proved trustworthy over hundreds of years. That is enough "immortality" for me. I enjoy the simple fact that I can spend a few hours with my oil paints, on any given day, and perhaps I may communicate with people way on down the road in time. I never make art that needs to be plugged in. I never paint on canvas. I am thinking about making my own cave, painting it, and having it sealed up and hidden. My plight? I am 60 years old and I have not lived for one day when the world was at peace. When I paint my cave, I think my primary metaphor will be, "The Ship of Fools." For indeed, this fabulous blue planet is a ship, and we humans are pretty much fools.
Fallibly human
by Jean Burman, Australia A few years ago some of Renoir's "studies for larger works" found their way into an exhibition that came to our shores from the Musee de l'Orangerie in Paris. In one, the ear was clearly misplaced, and I wondered at the time how he might have felt that such a glaring mistake was perpetuating itself long after he had gone… in a work that he had probably never intended to exhibit in the first place. Needless to say I went straight home and lit a rather large bonfire (grin). But then I thought about it… and realized that the mistake made the man all the more human… his standard all the more attainable to mere mortals like me (if I would only work hard and take enough risks). In many ways it's not "what you do" but "who you are" that will be remembered. Fallibly human and trying hard works for me.
There is 1 comment for
Fallibly human
by Jean Burman
We create to feel alive
by Diane Voyentzie, CT, USA I'm writing you from Seville, Spain. It seems to me just the opposite… we, as humans, may finally be realizing that we are made in the image of God — God, being the great creator. We also must create to feel alive. Whether it is painting, sculpture, writing, dance, architecture, poetry, drawing, raising a family, language, cooking, sports, these are all right-brain activities that enhance our lives. I am more in touch with my spiritual side when viewing, or engaged in, the creative processes of life. What I worry about is the obsession with the virtual life that the young are so addicted to. Walking in the beautiful
Plaza de Espana
, I see many young people with their heads in their iPods. I wonder what Velasquez would think.
There is 1 comment for
We create to feel alive
by Diane Voyentzie
Pride taken in early work
by Ruth J. Kary, Detroit Lakes, MN, USA Sometimes I believe as artists we can be overcritical of our own artwork. I know for myself that I am continuing to improve as a painter and as a photographer, which is my first love. When I'm painting, I always try to paint to the best of my abilities. As such, my earlier paintings cannot be compared to my most recent paintings because of my improving techniques and capabilities and finding my own style. However, I'm still proud of my earlier paintings, because they were the best I could do at the time. Looking at them only reinforces my determination to continue painting and to continue to improve and learn something new every day, both with photography and painting. I feel like we should be proud of those earlier paintings and celebrate the fact that we all continue to do what we love and embrace our continued improvement and love of our artwork to share with those who appreciate it.
There is 1 comment for
Pride taken in early work
by Ruth J. Kary
Cat-damaged painting lives on
by Louise Francke, NC, USA As the years roll by, my inventory increases. I have become ruthless once a year when I do my annual purge. Works on paper do not do well in the southlands, so the ones with any sort of mold get scrapped first. Then it's the panels which haven't sold. If I feel the work is worth keeping, I remove it from the stretchers and roll with the painting facing out. The unworthy ones are either scraped or painted over. Sometimes I will however give them as a gift to someone who really doesn't have the money for a purchase and yet appreciates my humor. So, that particular painting lives on. Recently one surfaced, which was given but for a different reason. A cat had used it as its peeing post while it was awaiting pickup in NYC. (I didn't have the heart to cut it up!) Somehow it came up in an estate sale. The new owners, a young couple with ties to Haiti, loved the piece but knew it had some physical problems and wanted to know the painting's history. They contacted me. Knowing that the oil painting was in a home for the sizable future, I offered to restore the places which had been damaged. The stench of cat was gone but it had done its work on the oil paint (through the original packing materials). I wound up repainting a larger part of the painting than intended. They were extremely happy and have taken her away to their new home up north.
Art collectors
by Stewart Turcotte, Kelowna, BC, Canada I wanted to add a comment to your letter on immortality. As a gallery owner and dealer I disagree with Joseph Duveen in that I don't believe that art need be sold so that every collector of art can attain immortality. Immortality is our highest award and can only be attained by those who excel to the highest tier in any category, including collecting art. Immortality as achieved by an art buyer can only be guaranteed if they surpass a certain bar, meaning they must collect to the level where the art collection is actually named as a national treasure and their name is attached to the collection for having amassed that unique and valuable collection. In Canada, the Thompson Collection at the AGO and the most well known of all, the McMichael collection, fall into that category. To gain the immortality their collection must be made accessible to the public in situ or they must give their collection to a public institution where it can be housed for all can see. Robert and Signe McMichael collected the best of Canadian art for years before turning over their entire collection and the home it was displayed in, to the government of Ontario, with the proviso that Ontario maintain and add to the collection and the estate, and keep it accessible to Canadians, in fact the world, for all time. Ken Thompson donated his huge collection, featuring some of the best paintings ever done by Canadians, to the Art Gallery of Ontario along with funds to build an addition to the gallery to house it. For their forward thinking and insight they have been given a degree of immortality, due to the fact that the collections will carry their names for all time. Every collector can, though, collect something that is part of the continuum that is art and be able to say without stretching the truth the slightest that there is an element of immortality in what they have collected. Art is like a small river that started long ago with a few brave souls with something to say different from their peers. That urge made them scratch something onto the walls of caves in Lascaux or carve a stone into a small female figure named Venus similar to the one found near Willendorf in Germany; that famous sculpture may be the oldest piece of portable art ever done. As each artist since has learned from those who preceded them and then passed on their techniques and knowledge to those that followed until that river has become a huge torrent of art that spans all of the media and gives voice and the freedom of expression to millions now and on into the future until our sun goes nova. The contributions by those artists have given them a degree of immortality because their works and names will be remembered for all time. The true opportunity of purchasing art, then, is not to gain a degree of immortality but to put collectors into direct contact with the classic artworks that have been painted, sculpted, written or spoken by the artists that will be remembered for all time, those who, in our recognition, have become immortal. When you purchase a piece of art by even the most naive of artists, they have been influenced by the immortals to some degree through their mentors and so it is like taking a dipper of water from the river of art and taking it home to feel the impact on you in your own cave. Everyone's connection to art is personal but moving none the less, and this feeling is the connection to the immortality of the artists to whom we have recognized. We all want immortality but it is very hard to achieve and it is something that is achieved only after we are gone and so we will never know if we achieved it.
There are 2 comments for
Art collectors
by Stewart Turcotte
Archived Comments
Enjoy the past comments below for Immortality…
 Featured Workshop: Gibsons School of Art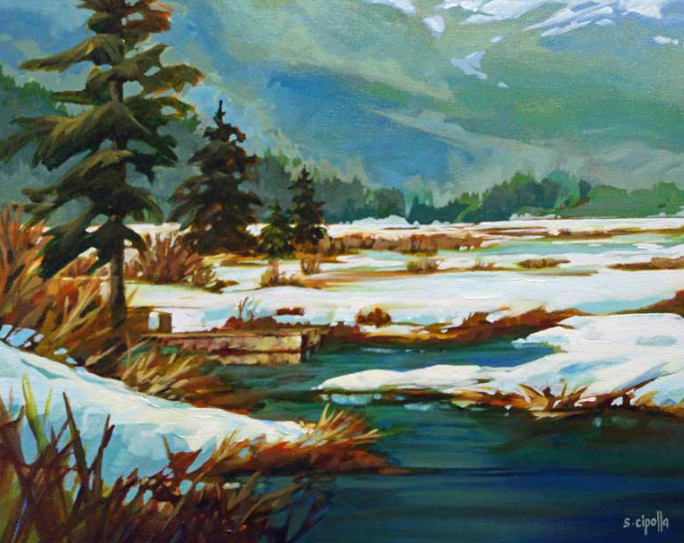 Alta Lake Marsh
acrylic painting, 16 x 20 inches by Susie Cipolla, Whistler, BC, Canada
You may be interested to know that artists from every state in the USA, every province in Canada, and at least 115 countries worldwide have visited these pages since January 1, 2013. That includes Marvin Humphrey of Napa Valley, CA, USA, who wrote, "Thanks for the inspiration to 'weed out' and separate the wheat from the chaff. In the struggle for quality versus quantity, my Inner Pack Rat usually has the upper hand." And also Paul Xavier Runningbull who wrote, "Your immortality is in your art which are your children, but it is your children who are your best lasting art."