Dear Artist, Yesterday, Donna Egan of Cicero, New York wrote, "I don't have a degree in art but have been painting since the '70s. I've taken and continue to take many art classes and workshops. I've found certain shows very political inasmuch as they won't consider artists without art degrees. Do you have any suggestions for non-degreed artists regarding shows and artist resumes, etc.? If you take a class or a workshop from a well-known artist, can you state that you 'studied under' this artist?" Thanks, Donna. There are several questions here, all of them good ones. First, shows sponsored by universities, governments, academies and credentialed art schools tend to include their own folks or a specific group (women, gays, aboriginals, etc.) and exclude others. This is the "political" spin you mentioned. They also tend to have attitudes about the various genres of art — realism, Impressionism, etc. It can be difficult for some outsiders to get a leg up. On the other hand, group shows sponsored by clubs, federations and guilds tend to seriously consider anyone who happens to have the entry fee. In my observation they tend to have less rigid juries and often bend over backwards to accept abstract and conceptual work from outsiders, particularly young people, provided it's not, in their eyes, too silly. To be fair, both types of venue practice incest — in some geographical locations — flagrantly. My personal solution is not to play in either sandbox. Resumes are for people who need to read resumes. In the land of the credentialed, credentials are important. Regular people just like to collect art that is well done, shows some skill and has a life-enhancing quality. To my uninformed and ignorant eye, the latter is preferable to the former. In my world, people don't collect art because an artist has an art degree. They collect because the art moves them. Resumes are often a problem for non-credentialed artists. What is there to put in there? As resumes are relatively unimportant compared to the work itself, you can opt not to bother trying to write one. If you insist on having a resume, it's okay to put in the names of instructors and teachers from your classes and workshops — if you think that might add an olive or two to the martini. You might also leave a few out. You have to be careful who you "study under." Best regards, Robert PS: "Well, something must be done for May, The time is drawing nigh — To figure in the Catalogue, And woo the public eye." (
Thomas Hood
) Esoterica: One of the main problems many artists have with credentialed shows is that the effort upsets the natural flow of personal process. The better artists I know get up in the morning, put on their pants, and go to work. Figuring out where the work is to end up and who they are as artists comes afterward. This is the brilliance and uniqueness of our job. Artists who forget this become caterers and polishers of brass.
Let us not forget the outsiders
by Scott Kahn, NY, USA How often have I been to an established gallery, especially in New York, where a thick book lies on the reception table, with page after page of resume, reviews, etc. And then I look at the work in the gallery and feel that it is absolute junk. Let us not forget that group of self-taught, outsider artists who never stepped foot in any classroom and cared less about even exhibiting, and yet ended up with an audience of avid admirers.
There are 2 comments for
Let us not forget the outsiders
by Scott Kahn
Best part of learning
by Connie Cuthbertson, Fort Frances, ON, Canada Play, I know, is the most important part of learning and I have discovered this many times over the course of my career. (I started painting after showing my 2-year-old how to play with Crayola paints!) Strangely enough, it seems I keep forgetting this important element and it usually comes to light when I see my work becoming predictable. I am currently teaching myself how to work with oils after almost 30 years with watercolour. I am finding it to be an uphill battle… which is exactly why I am doing it. I love a good challenge and the opportunity to play with a new medium is most exciting… and frustrating of course! I learned through play that oil doesn't move around and work for you, like watercolour will, nor does it clean up the same. I have also learned after mucking around that it is most exciting when applied with thick juicy brushstrokes that actually remain 3D, something not possible with watercolour. I plan to play all summer with my new "toy" and know my work will improve because of it.
Credentials convince of value?
by Bob Drake, Damariscotta, ME, USA My take on the credentials issue is that novice collectors, especially those for whom the purchase price is a stretch, use credentials to help convince them of the value of the art they are considering buying. If an artist does not have "instant name recognition" or an arts pedigree of degrees and awards, the potential buyer may not feel that the work is really worth the price, regardless of their own enjoyment of the piece. I suppose this could occur at any price point, but I know it happens fairly often at our local, cooperative gallery.
There is 1 comment for
Credentials convince of value?
by Bob Drake
The educated 'primitive' painter
by Bill Skrips, Blairstown, NJ, USA How interesting that Donna wrote about not getting into shows for
lack
of art education. Since my work tends towards the more folk art "style" and I'm schooled, I face a lot of problems being accepted alongside "outsider" artists — those who have never received training and now make art "from the heart." For many of the shows I apply to, I state very clearly that I have training and hope that this will not jeopardize my chances of being accepted!
Rigid jurying affects creativity
by Audrey Morgan, Port Perry, ON, Canada I've just recently pulled out of a newly formed Studio Tour planning committee… wondering if it was the right thing to do. I was feeling that the rigid jurying process was getting ridiculous. The area for our studio tour is rather small. We all know each other and our work… and suddenly we are focusing on dogma, rules, awards and resumes. My creative work took a back seat to emails, administration and taking care of my queasy stomach! I agree — at the end of the creative day, the only thing that matters is that I have made something that didn't exist before that moment… and that somewhere there will be a person who gets a little tiny jump in their stomach or heart and says, "That's beautiful. I love it!" Pulling away from this group was the right thing to do. Theirs is a sandbox I don't have to play in.
There is 1 comment for
Rigid jurying affects creativity
by Audrey Morgan
Everything else is politics
by Joseph Jahn, Nibe, Denmark Art is entertainment; you don't need to list anything to be a good entertainer. When was the last time you looked at an actor's credentials before you enjoyed their performance? (All those publishers that turned down Harry Potter (15) would agree). Asking for 'papers' before accepting work is ludicrous. Usually only done to limit the entries to an already set agenda which has nothing to do with quality or value. The Art is the content; everything else is politics and the inability of art juries to truly accept their role as arbitrators of quality. Soon they may want your sales record for the last 3 years, before they can make a decision. Don't play that game, just keep on making good art and ignoring today's "Paris Salon."
There is 1 comment for
Everything else is politics
by Joseph Jahn
A pernicious development in society
by Bryan Dunleavy, Titchfield, Hampshire, Southampton, UK As a painter I would not normally admit to having a PhD and several other university degrees; they are not relevant and they get in the way. But I am 'fessing up here to reinforce the point. Ask yourself if it would make any difference to your appreciation of the work of Rembrandt, Picasso, David Hockney or Robert Genn if you knew whether or not they had been to university? No, I thought not! One of the most pernicious developments of my lifetime has been the credentializing tendency in society, led by universities and colleges who have a vested interest in promoting credentials and rewarding those who develop the left side of the brain. In the art world this has led to the abandonment of perception in favour of conception. The skill of drawing has been forgotten or ignored by a second or third generation of academics who talk for hours about "making marks." My heart sinks when I encounter an artist who puts up a string of abbreviations after their name and compiles a list of exhibitions and one man shows. It demonstrates a lack of confidence, if anything, and adds no value. My advice, for what it's worth, is to learn in any way you can. If that means going to college, then do so. Take what you can out of it; enjoy the warm feeling of being awarded a degree as a mark of achievement, then put it aside and concentrate on becoming an artist. This will require years of hard work and commitment and in time your university qualifications will appear marginal.
There are 4 comments for
A pernicious development in society
by Bryan Dunleavy
Art speaks for itself
by Kathleen Zann, New York, NY, USA While I agree that art education and resumes are secondary to good technique and artistic imagination, (indeed many really good painters don't have formal art education) I also believe that fundamentals such as good drawing skills, and color and compositional design theory are essential to producing good work. That said, classes from well known artists are only helpful to the point that they help one develop good technique, leading to developing one's own style. Taking continuous classes encourages emulating one's teacher and limits one's own artistic vision. While some association art competitions are clearly biased, based on the art accepted, I think entering association competitions is useful in that, when judged by respected artists, one can evaluate one's own ability compared to those paintings accepted. Of course, all art is subjective, but in my medium, watercolor, most national watercolor associations' international exhibits tend to attract excellent painters. I think it is beneficial to judge one's own work by those standards. In the end, regardless of the medium, classes taken or celebrity instructors, the art speaks for itself and the only way to improve is to paint — constantly.
Grants need credentials
by Louise Francke, NC, USA Many years ago, having some hours to kill before my flight home from the Woman's Caucus Conference, I wandered into a Madison Avenue Gallery with my suitcase. A conversation began with the owner because of the suitcase. As the talk progressed, he asked if I was an artist and of course I replied yes and would he want to see a resume. His reply: "A resume doesn't show me what kind of an artist you are but slides will." He actually purchased three of my lithographs from a very troubled period in my life when this event was a major stepping stone. On the other hand, I have been rejected numerous times for grants which would have certainly helped. Many said that it was my resume which had an MA but no MFA? I never saw the need to return to school for this piece of parchment since I hated teaching, which I felt siphoned off my energy. All I ever want to do is paint and draw and if my images make you chuckle, then I grin too.
Clarity of conviction
by Tatjana Mirkov-Popovicki, Port Moody, BC, Canada We are told that we have got to have resumes and CVs and diplomas, and statements and memberships and submissions and approvals — but there are many examples how people accomplish their goals, maybe even more likely, without any of those things (burdens? time wasters? distractions?). How come a drop-in clinic doctor is always able to help without a 6-page form I had to fill in for my useless family doctor? In totalitarian regimes the first things that go are opportunities to make personal decisions. There are no choices to be made. Some other, more innocent places get into a similar game (kindergartens, schools, workplaces). The goal is uniformity, because uniformity is easier to rule, which we all know. People get cultivated into looking for rules and missing them and seeking them to save themselves from the perceivably frightening uncertainty. I think that this is a serious thing that can stifle a creative person and it's not an easy thing to shake off. I am sure that your frequent reminders, that there is a whole world of choices out there, are very helpful. I remember coming to a revelation (one evening after some lovely shiraz) that it was entirely up to me to decide what kind of an artist I want to be (the next morning the clarity of that conviction got a bit fuzzy but the gist was noted). I have always hated exclusivity, but I was wrong because that too needs to be understood — each one of us is a part of a complicated, fascinating big picture. The more we know, the more interesting choices we can make. Steven Pinker said that people have an amazing ingrained ability to justify their choices and perceive that they have done well, no matter what happens with them. According to him, we will all eventually be happy, whatever we choose to do. He didn't say at which point this happiness will occur.
Preparing a portfolio
by Robin Shillcock, Groningen, Netherlands I like your take on the "working artist" who gets up in the morning, puts on his pants and goes to work. I have sometimes omitted going to the trouble of putting on my pants, simply wanting to duck into the studio and get started. Some planning is needed, however. In other words, we have to become "thinking artists," meaning that although a resumé is of lesser importance, it is important to have a good one, one that represents what you do and who you are. If you think of producing one, think of going all the way by producing a nice portfolio with images and texts. In France it's called a "pressbook"; French artists tend to take its name literally, and slide newspaper articles into the plastic sleeves, but that makes it look scruffy and unappetizing to leaf through. Newspaper articles are only interesting if they stem from a writer with a good take on art. I prefer a portfolio that gives insight to my approach in art, with a selection of reproductions that are characteristic of my work. I have several of these size A4 portfolios. They lie about during exhibitions for those who need words to go along with the paintings on the walls. It's a bit like the handle on a suitcase. Never as important as the contents, but helps others get a grip. It also helps the gallery owner to spice his or her nonsensical talk about the artist's work with at least some truth and fact. If you want to spend time producing a portfolio, or a resumé, make sure the words fit the images. Forget the lofty art museum speak — boil it down to what you are doing, what you have done and spend less space on what you are striving for because that interests nobody if you haven't arrived where you want to be. It reminds me of the text in a museum catalogue in which the artist went on and on about the beauty of cloudy skies, and the importance of painting them well, while the accompanying image showed a huge Canadian goose up close and some cloudy sky in the background.
Selection process
by Katherine Tyrrell, UK It's sometimes easy to see hurdles where none exist. It's also possible that the importance of the resume may be more rooted in some countries and not others. Here in the UK, I regularly review the annual exhibitions of a number of the national art societies and art competitions in the UK for my blog
Making A Mark
. The emphasis in the UK is primarily on judging the artwork, not the artist. My knowledge of the selection process used for group shows run by groups of artists suggests that most selection panels are hard pressed to allocate enough time to give each entry proper consideration. They rarely, if ever, read an artist's resume (which takes more time than looking at an image) particularly those which select on the image only and ignore the name of whoever submitted it. Most art societies — at the local, regional and national levels — don't even ask for a resume. In general, I think many artists might be surprised at how little time is given over to the consideration of individual entries by artists. However, if they were in the selectors' shoes and had to give up time to review the very many entries which are submitted they might understand why this is. I've been a member of a selection panel and I've seen the range of entries submitted for a major open exhibition and believe me it's possible to arrive at a decision on an awful lot of artwork very fast. My advice to people entering artwork in group shows has always been to make sure that it "reads well." That's because it's typically going to be looked at from a distance for a few seconds. So — in summary — few selectors for group shows have the time to start reading resumes as well. Art competitions vary. Most are going to similarly focus on the image alone and not consider anything else — including the name of the artist and their resume. However some may use a resume to sift. This is likely to be the case where the competition has specific criteria for who can enter (e.g. lives and works in the UK) and the resume is used to check that the artist fits the criteria. I publish lists of selected artists for art competitions and national exhibitions of art societies on my blog. In doing so, I always include a link to the websites of selected artists. I can assure you, after having looked over the years at the websites of very many artists, that (a) not all selected artists are professional artists i.e. they earn most of their income from art (b) not all selected artists have a degree in fine arts and a significant number of successful artists are self-taught. Interestingly, what I do find again and again is that a number of people who are successful in getting selected for open art exhibitions have a background in or make an income from illustration. I can only assume that this is because such artists are trained in coming up with images which have impact even when you see them for a few seconds. Which, when you understand how the selection process often works, makes sense to me. A final point — those wanting to develop an artist's resume or statement might find my two "resources for artists" sites useful. These both provide pointers but also reference the various sources of advice available on the Internet and the feedback I get is that many people have found them useful. How to write an Artist's Statement. How to write an Artist's Resume or CV — this one suggests that you check carefully what information organisations are asking for as some people seem to use the words CV, Biography and Resume as if they are interchangeable despite the fact they are actually different things.
Archived Comments
Enjoy the past comments below for Getting a leg up…
 Featured Workshop: Gibsons School of Art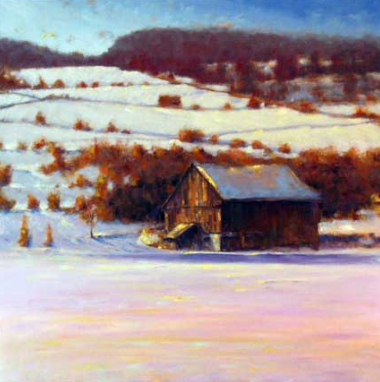 Beaver Farm
oil painting, 30 x 30 inches by George Perdue
You may be interested to know that artists from every state in the USA, every province in Canada, and at least 115 countries worldwide have visited these pages since January 1, 2013. That includesMarco Bell of Sarasota, FL /New Orleans, LA, USA, who wrote, "I just had to laugh when reading the 'Esoterica' regarding pants. You see, I'm a Nudist."