Dear Artist, Yesterday, Kristen Dukat of Findlay, Ohio wrote, "I began my journey at the University of Toledo in Fine Art. Lacking confidence, I switched to Art Education. I felt I couldn't take the rejection from galleries and shows and what it takes to be a real artist. I just wanted to paint beautiful things — I wasn't looking for angst or meaning or whatever it is that the experts say makes art. I actually won a scholarship for 'student with the most promising portfolio' but, nevertheless, my work wasn't accepted into the annual student show. I was defeated. I didn't pick up a brush for seven years. This year I started again — one small painting a day. Suddenly people are showing interest and I'm invited into shows. I had almost given up in despair because I was petrified by rejection — maybe I still am. How does someone get past that?" Thanks, Kristen. A crisis of confidence happens more often in art school than when folks work on their own. The teaching environment, for many reasons, has the ability to destabilize and bring out fears like the fear of rejection. Not surprisingly, the lone worker is often better able to focus and build an image of self-worth. While the private studio can be a place of self-delusion and misguided progress, it is the freer environment. Artists need private ego-force to thrive. You can't blame teachers, and you don't want to blame yourself. There is someone you can blame — his name is Buggg. Buggg is an incredibly ugly humanoid monster with long spikey wattles hanging from his misshapen face. He's been with you from when you were a kid. There's a Buggg that hangs out with all of us. He lurks behind you, walks with you, sleeps with you. His sole aim is to see that you don't realize your dreams. At art school your Buggg grew very big and strong. The seven years you mention was the time it took to knock him down to size. You did it by making those small paintings. Buggg doesn't like to see those paintings because they put him in his place. Keep making art and your Buggg will grow small and inactive. When you have made a lot more paintings, your Buggg will be quite stiff and you will be no longer petrified. Best regards, Robert PS: "Evolution has programmed us to feel rejection in our guts. This is how the tribe enforced obedience, by wielding the threat of expulsion. Fear of rejection isn't just psychological; it's biological. It's in our cells." (
Steven Pressfield
) Esoterica: Buggg also wants us to procrastinate, use soporifics, be destructive and to sabotage ourselves. He wants us to fear rather than embrace. He wants us to criticize rather than encourage. He wants us to see evil where there is good and he wants us to demonize others. He wants us to be neurotic and paranoid rather than trusting. He wants us to hate rather than love. Buggg is more than an art problem, he is a menace to all mankind. By knowing about him we are better able to beat him.
Art and Fear
by Nancy Yu, Tivoli, NY, USA There is an apparently little known book dealing with the fear of producing you own art called
Art and Fear
. It is an easy read geared to the tender sproutings of new artists (notice I did not say young.) I found it very helpful in dealing with my own fears. I'm surprised it has not caught on more. A small invaluable book. Salve for the artist soul.
The War of Art
by Lucy Bates, Fruitvale, BC, Canada Steven Pressfield's book
The War of Art
has strongly affected my life. I identify with many of the different attitudes he talks about that stop us from doing our work, and one being fear of rejection. Fear can be a good thing; it can be a measuring device. "The more scared we are of a work or calling, the more sure we can be that we have to do it." He explains how to overcome the enemy. In this book he calls it "resistance."
There are 2 comments for
The War of Art
by Lucy Bates
Be your own judge
by Elizabeth Concannon, St. Louis, MO, USA Early on, I began to evaluate the overall decisions of judges, etc. and two things occurred: 1. A judge told me that he would look at a selection of submitted art and make the choices instinctively. "And," he said, "If I were to judge it this afternoon instead of this morning, it would likely be an entirely different exhibit." Allowing for the fact this is not a universal standard, I concluded, "A Judge is a Judge" and that's all. 2. I became proactive, and I used all of the reject notices (which I had religiously saved) to wallpaper my basement bathroom. And I had to laugh at that silly move every time I used the bathroom, but laughing is good. Don't let others stop you from being the best judge of your own work; but be sure to keep your own standards high and informed.
Gone to the dogs
by Deon Matzen, Clinton, WA, USA I am experiencing a different kind of rejection. I win awards, am published in national magazines, in lots of shows around the U.S. with a long impressive resume. I get great kudos in newspaper reviews and from people attending shows. I am a representational oil painter with a large body of work which focuses on vanishing rural America with rural landscapes and old trucks. The crux of the problem is I don't sell anything. I teach part time to provide some income. My students grow to be great painters and I often wonder if my calling is more teaching than painting. I paint small dog portraits to make a few dollars, but I can't seem to make any sales of the work that comes from my heart. Pet portrait commissions and the teaching tide me over, but I would really like to sell the works to which I have a real emotional connection, the works that give me great personal satisfaction.
There are 4 comments for
Gone to the dogs
by Deon Matzen
A mean system
by Sari Grove, Toronto, ON, Canada Art schools are populated by artists who teach, not the much rarer breed of teachers who love to teach. You enter an environment where everybody, including most of your mentors, is the competition and the competition doesn't like fresh young things with art scholarships for most promising portfolio. So they decide to cut you down to size and they do. I went through a "normal" university education, avoiding the segregation that an art school can create. I have been able to maintain my sense of self by avoiding that pack. You can get an education nowadays without subjecting yourself to that kind of submissiveness, by reading and informing yourself through online research. You are and were probably better than they were, staff included, and they knew it. Being rejected by people who are beneath you is usually a good thing – it sets you free from a world of smallness. Here is a quote I wear on my sleeve: Proverbs 22:29 New International Version "Do you see a man skilled in his work? He will serve before kings; he will not serve before obscure men."
The rise of an art fair
by Kath Hankel, Jefferson, IA, USA I suffer from much the same thing as Kristen. I procrastinate with the best of them, but I also feel there has been a giant shift in the art world. I feel that Richard Florida's book and speaking tour
The Rise of the Creative Class
has done a lot to advance the average person's perception of purchasing original art. He pointed out that communities thrive when there is a high concentration of creative people. People like the visual assortment. Florida came to Des Moines, Iowa many years ago and spoke to a large audience about this concept. Des Moines listened and put on a huge and very successful art fair. That was ten plus years ago. Mo Dana was the driving force and she did everything well. She passed away several years ago. They recruited quality artists from across the country as well as from Iowa. It was held in downtown Des Moines, Friday to Sunday on the third weekend each June. First rate advertising, food venders and performers. People came in droves. They bought original art for their newly built homes. After a few years there were so many artists who wanted to take part they started an alternate show in a large building at the fairgrounds. It, too, became very successful. After a few years, the Des Moines' art fair was chosen as best in the country. Voted there by the artists that participated. They sold well and were treated well. There's a lot of very good quality art being produced by a lot of people. And people like owning it and living with it. I ought to know. I have a nice collection. The down side of this is that I see so much good art I get a complex about producing anything as good as what's already out there and I pull back and don't work on it as much as I should or could.
There is 1 comment for
The rise of an art fair
by Kath Hankel
Face to face with Buggg
by Kristin Newton, Tokyo, Japan When I was in art school, I was doing rather radical photography. I've still never seen anything like it. My photography teacher was constantly irritated with my eager questions and the next semester we had a new teacher. When we were showing our portfolios to the new teacher, he said to me, "Oh, you're the reason the last guy quit." I lost all enthusiasm for photography at that point and went into glass, another way of playing with light. At that time the world of glass wasn't ruled by politics and I could do what I wanted. Sometimes rejection shows us what direction we really need to take. Years later, that teacher showed up at one of my exhibitions and was saying how wonderful my work was. He didn't remember me at all, and I didn't have the courage to tell him that because of him I went in a better direction. Probably about the same time as that major rejection occurred, I had a dream one night that I'll never forget. I was in an art gallery with some wonderful artwork that I was surprised to learn was mine. Suddenly a tree appeared in the middle of the gallery and began glowing with green light, a tree of life. I was in awe! Then a horrible face appeared, trying to strangle me. I woke up with shock and found my own hands around my neck! You gave him a name — Buggg! I thought it was just me! You are certainly right that Buggg is more than an art problem; he is a menace to all mankind. If we know about him, we are better able to beat him. Whenever he has popped up, it's a real struggle to defeat him. Recently my brother came up with a great idea. He imagines Bruce Lee, the Kung Fu star, attacking Buggg so he'll stop "bugging" us. That actually works pretty well. I live in Japan and there are great Buddhist statues of fierce warriors guarding the temples. I also use those images sometimes when Buggg is pestering me. That must be our challenge in life, to conquer Buggg and find out whom we really are — a real Harry Potter adventure!
There is 1 comment for
Face to face with Buggg
by Kristin Newton
Eye opening experience
by Brenda Swenson, South Pasadena, CA, USA Rejection from shows is a touchy thing for most artists. In the beginning when I received a rejection notice, I would mope around for days. And, trust me, I received a lot of rejections! I felt personally rejected, hurt, unrecognized, unappreciated… My husband began to dread me entering competitions. I can see why! About 10 years ago my education and understanding of how a show was judged was increased when I became the Exhibition Director of the National Watercolor Society. The society is one of the highest rated associations in the watercolor community. The annual international exhibition is selected with the greatest of integrity. The first year I was the Exhibition Director I had an eye opening experience. I sat in the room while the 3 judges selected the show. The judges view paintings projected on a screen. No talking is allowed and the judges vote yes or no with a device. No one knows how the other is voting until the end of the day. On this day the judges had to select 100 paintings from over 1300 entries. It is a very long day. In the first round of viewing all the paintings, more than half were rejected. How long do you think the judges view each painting? — 2 minutes, 5 minutes…? How about an average of 20 seconds! My painting was rejected in the first round, and my heart sank to the deepest lows. That evening I cried and I poured my heart out to my husband. Through Mike's great wisdom, understanding and love, I came to realize I was giving ultimate power to someone who didn't personally know me. From that day forward I decided I wouldn't give that kind of power to anyone except those who I have a trusted and loving relationship with. I still haven't gotten into that show but I have gone on to write two books, achieved signature membership in two international watercolor societies, and I teach internationally and abroad. I would say life is good!
The birth of Buggg
by Norma Hopkins, Manchester, UK It's so comforting to know Buggg actually exists! From the courage of this artist Kristen Dukat, actually voicing the fear, you have made me visualize silly Buggg and put a dunce cap on him. I made him look ridiculous by tying a pink ribbon on the wattles on his silly face. He is the one blushing with embarrassment now. My mother wouldn't allow me to realize my dream to go to Art School when I was fifteen years old, school-leaving age in Britain then. I was born in 1944 just as WW2 was finishing. She said that wasn't for me; she said I must go to work. She made my eldest sister take me to get a sewing job in a sweat shop. But that was when Buggg was born. He was already forming, though I didn't know it, but that was the moment when he grew so fat and ugly he sat on me and squashed me flat. Years later, after a period of marriage and motherhood, I trod on his toes, pulled my tattered self-confidence together, returned to classes, studied hard, got all the necessary qualifications to go to University and subsequently achieved a BA (Hons) in Embroidery in 1984. I was 40 years old. Yes, it is textiles. Later I achieved a Post Grad study in Education. I sort of copped-out a bit and side-stepped into textiles. I am a bit sad that I didn't take Fine Art but I couldn't allow anyone else to say, "That's not for you." However, I approach my work as one approaches a painting. I am now 67 years old–I did teach for 18 years, 7 of them in Prison Education and 11 years in Adult Ed. My students asked me to continue so I still teach a little. After my husband died, almost 3 years ago now, I lost all of my colour. I have no idea where Buggg went during this time. It wasn't him who stole it. I am still in recovery from my bereavement. I met my husband just before I left School when I was 15. It would have been my Golden Wedding this August. I felt like my life had been wiped out in a single moment! I got all my work out to look at, pictures that I had collected over time, everything. The curve was prevalent in all! I was really surprised! Buggg never actually destroyed me!! He has shrunk to the size of a thimble. I am Triumphant.
There are 2 comments for
The birth of Buggg
by Norma Hopkins
Rejection breeds determination
by Robert Wade, Australia Have you missed out on gaining selection for that big show which you so desperately wanted to make? If you have, then welcome to the club! Personally, I have probably been rejected from more major shows than any artist I know. Nobody wants to receive that dreadful rejected slip in the mail, rather like a parking ticket on your car, to feel that you have just been kicked right in the teeth, and that the "masterpiece" which you have sweated over, fretted and worried about, and then finally considered to be good enough to submit, has been passed over by the Jurors. What a great blow to your pride, what a feeling of resentment, what a bitter pill to swallow this can be! Do I like being knocked back? No way… who would? However, there are quite a few guidelines in jurying a show, and it is just as well to consider some before blowing your top. The judge, or panel of Jurors, will have a number of requirements in making their choice of paintings, not the least of which will be to present a well balanced exhibition from the work submitted. Now, if you happen to have painted a large vase of daisies, and so have ten others, then someone must miss out and bad luck if you are one of them! We never get to know why we didn't make it, so we are left to wonder why. However, having been in the role of Judge so many times myself, I know that the Judge is trying so hard to be fair and honest. All paintings must be selected in an anonymous way, with total disregard for the name of the artist. This is not all that easy, as, like one's handwriting, the artist's style is so personal that the signature is almost unnecessary, but it must be absolutely ignored when making decisions. As it is usually a panel making the selection of works in all the major exhibitions, it means that a majority decision is necessary, so that if two Jurors really love your work, but three are only so-so, then sorry old chum, you are out. The American Watercolor Society's Annual Exhibition in New York is perhaps the most prestigious in the world, certainly one of the most difficult in which to achieve selection, so everyone wants to be hung in an AWS show. Submission is by 35mm slide, one only per artist, and usually there are 2000 or more applications, and, from these, the Jurors have the monumental task of choosing about 100 works for the show. This means that about one in twenty gets in, and that sure is tough competition. I have submitted annually since 1981, have been accepted just four times, so 1981 through 2010, that's a long time between drinks! The Royal Institute of Painters in Watercolours, London, works on a different system, and the only submissions possible are actual framed works. It makes for a very expensive freight bill, especially as each artist may submit up to six framed pieces. When freight from Australia to London is adding up to some hundreds of dollars, then rejection hurts even more, right in the hip pocket! I submitted to the RI annually for ten years, and each year some were accepted, but one year not a single one got into the show. Well, do I feel embarrassed to disclose my rejections to you? Not at all! Every painting which I have submitted to all of these distinguished Societies has been my best possible work at the time, and if that were not good enough then I must try harder. Remember this… Constant acceptance breeds complacency and mediocrity, rejection breeds determination and ultimate success. Don't hold grudges against the Judges. Determine to paint something better to submit next year. So, if at first you don't succeed, then you can count yourself as pretty normal! Rejection helps to keep us humble, (and so does watercolour) and it's extremely good for the soul. Talking about that, I was recently Guest of Honour of one of Melbourne's larger Art Societies. After the official proceedings were through, we all gathered for a cup of coffee and cake. One of the Society's longest serving members came over to me and said "They seemed to be making a bit of a fuss over you, but I didn't catch your name?" "Wade," I said, "Robert Wade." "Oh," he said, "What sort of a role do you play in the art game?" Like I said, humility is good for you.
There are 3 comments for
Rejection breeds determination
by Robert Wade
Buggg defeated!
by Kristen Dukat, Findlay, Ohio, USA Side note to this story: Sunday, I completed my first show for my paintings at the University of Toledo. As I set up my display on the campus that I had not returned to since 2005, I felt the old anxiety cropping up, and even saved the front part of the booth for last, so the other artists there would not see my "attempts." However, by the end of the day, I had sold 10 paintings and made many new friends and conversations about my art. I am so glad I kept with it. What a great feeling to overcome the Buggg!
There are 2 comments for
Buggg defeated!
by Kristen Dukat
Archived Comments
Enjoy the past comments below for Petrified by rejection…
Featured Workshop: Robert Genn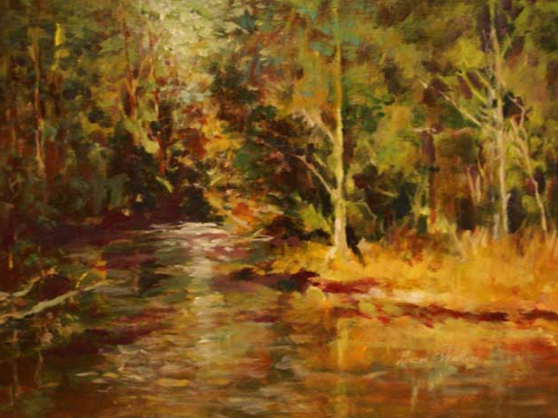 Turkey Creek
acrylic painting, 16 x 20 inches by Roscoe Wallace, USA
You may be interested to know that artists from every state in the USA, every province in Canada, and at least 115 countries worldwide have visited these pages since January 1, 2013. That includes Anonymous, who wrote, "I put Buggg behind bars."