Dear Artist, Readers of this letter frequently ask if I think there's some sort of malaise in art these days — particularly in Western Art. Some want to know if it's all to do with the economy. Funnily, this question gets asked in all economies, good and bad. Generally speaking, when economic times are good more art is out there, and some of it gets mighty hard on the eyes. When times are slow, as they are in some areas right now, the collectors left standing seem to be hell-bent for "quality." My frequent answer to those who are perplexed by recession is to take it as an opportunity to quietly go to work to improve quality. My idea is to be a private malaise fighter. These days I think artists need to dream bigger dreams. North American painters particularly suffer from limited exposure to better work. Isolationist glue and democratic learning systems may be partly to blame. But there's hope. Psychologists have now determined that changes are taking place in the human brain. Some are able to use search engines as an extension of their brains, and others are not. Knowing how to find things is the new knowledge. Knowing how to perk up your brain makes for a better you. In our game, a properly perked brain may be the key to improved quality. Recently, several readers have drawn my attention to the work of István Sándorfi. He was an early subscriber to this letter, and I was sorry to hear that he had died. István was a Hungarian national born in 1948, who spent much of his working life in Paris. Affected by the violence of the Hungarian Revolution and the problems he saw in political systems, István took early refuge in drawing and painting. Advertising illustrations, portrait commissions and painting sales eventually brought a degree of security. Later, exhibitions of his remarkable oils were held in many countries. Maybe not all of us are using the full extent of our brains. Maybe we need to see that the world of art is a far larger and more wonderful place than we previously thought. Is it possible that Google may help us to realize our dreams? Best regards, Robert PS: "Dream lofty dreams, and as you dream, so shall you become. Your vision is the promise of what you shall one day be; your ideal is the prophecy of what you shall unveil." (
James Allen
) Esoterica: Some among us have become such media junkies that we never have time for our own evolution. But there's a big difference between leafing randomly and going on purposeful searches for personal ends. The Internet is the new reality of experiential study. One thing leads to another. Quality can find quality. The ready mind is readily enriched. Creative evolution speeds up. Dreams may be sooner realized.
Fascinating images
by Nathan Chilvers, Paris and Berlin Seeing such work as that of István Sándorfi, while it may not be everybody's favorite, nevertheless shows that there are still people who know and understand anatomy and yet can get angst and mysterious tension into otherwise readily accessible work. You have to admit, without prejudice, that the work is not only clever but fascinating. I, for one, while I am only a collector of art and not an artist, find the work fascinating. I do not mind that anatomy is missing. After all, the Venus de Milo has no arms. I only wish I had bought Sandorfi before his prices went up.
There are 15 comments for
Fascinating images
by Nathan Chilvers
Disturbing images
by Jackie Knott, Fischer, TX, USA Mr. Sandorfi was a technically superior artist but I find his images of women particularly disturbing… dismembered, isolated, barren environments, often portrayed in a sacrificial posture, features obliterated… without knowing his mindset I can't fathom what he is trying to convey. It makes me uncomfortable. As to Western art undergoing malaise, it is suffering from the same chronic condition it was born with… too much sentimentality. Historically accurate work of the West can be painted well. Contemporary Western art doesn't have to be the same worn images to the point they are repetitive.
There are 4 comments for
Disturbing images
by Jackie Knott
Business lessons missing
by Indigene Gaskin, Ardmore, PA, USA I enjoy reading your letters. They are always thoughtful and informative and I agree with most of your opinions and reflections. But, telling an artist who is not making sales, who depends on art as a livelihood, who may have dependent others, to take these recessive times to go deeper into the art is not enough! I think the artists who are writing to you see you as a successful artist, who may have some tips, words of wisdom or just plain encouragement on how to move forward during these times. Remember, a lot of the over-40 crowd was not taught business lessons in art school. If they've made it this far, it has been by hard work, patience and, sometimes, just luck! Those of us who are self-taught strive even harder, because we have to! Sure, we can all get better — that's what I believe most artists who are a part of your mailing list do and want; that's a given.
There are 2 comments for
Business lessons missing
by Indigene Gaskin
Believing in yourself
by Rick Rotante, Tujunga, CA, USA "Maybe we need to see that the world of art is a far larger and more wonderful place than we previously thought." (
Robert Genn
) I believe this is at the crux of the matter with art today. It isn't taken seriously by many of those who do it. If we were to see ourselves as Michelangelo every time we paint, maybe we all would stop making "pictures" and start creating "art." Greatness is within, if you believe it. The trick is to really believe it.
There is 1 comment for
Believing in yourself
by Rick Rotante
A cash cow
by Mary Susan Vaughn, Charlotte, NC, USA I find that when times are tough (and believe me, Robert, they are tough as nails right now here in the US) cows become very popular. Maybe there is something in our brain that tells us we won't starve if we support cow paintings.
There is 1 comment for
A cash cow
by Mary Susan Vaughn
People still buying
by Diane Overmyer, Goshen, IN, USA I have sold more work consistently this year than in any other year prior to this. I am, however, now devoting more time to creating and marketing my work, rather than just depending on gallery sales. And even though I have sold more paintings, most of those have been 11 x 14 or smaller in size. So, of course, my earnings correlate. But two or three small painting sales are just as thrilling to me as one large painting sale! People are still purchasing art, they are just being more careful about how they spend their money.
There is 1 comment for
People still buying
by Diane Overmyer
Pushing the envelope
by Sharon Knettell, Woonsocket, RI, USA Diane Arbus's teacher, Alexey Brodovitch often said to his students, "If you see something you have seen before, don't click the shutter." I was reminded of that one day when my model showed up with green stripes in her hair. I was embarking on what I thought was a new take on pastel ballerinas à la Degas. I realized that I was just regurgitating the past and not adding myself, my life or my era into the equation. I have nothing against the resurgence of classical realism per se; long lost skills and craftsmanship are being reborn and I celebrate it. However, far too often I see many artists rehashing the same shopworn themes, boats at a dock, still-lifes with one flower falling on the tablecloth, Victorian ladies at the seaside. Trite picture after trite picture. I suppose that just learning these painting techniques makes one feel justified in not pushing the envelope. If you can paint like Jacob Collins then you can fly with simple classically-painted figures from life, but you really must learn your craft to do that well — most don't. Artists like Steven Assael and Nicolas Uribe paint just as beautifully and
are
pushing the visual envelope and are making exciting and visually powerful images. Often as artists, we must frighten ourselves and take that tightrope over the canyon to the other side. We must allow those ideas to flourish that we damp down because 'clients' or 'galleries' might not find them pleasing or saleable. The galleries are flooded with these undistinguished paintings. If you must do trite 'potboilers' to survive, then sign them with an illegible cartouche, then next time try something you don't think will sell — just for yourself.
There are 4 comments for
Pushing the envelope
by Sharon Knettell
Correcting Shakespearian prose
by Paul Austin, West Drayton, England
When quoting from the Bard of Avon; You really ought to check his Sermon; Be sure to use his words succinctly; With accuracy…….distinctly; For he most surely never dream'd; That you'd misquote his prose — esteemed; Especially since, as we all know; One check on Google soon would show; I know you'll change your quote, Anon; "We are such stuff…….As dreams are made (not of, but) ON."
There is 1 comment for
Correcting Shakespearian prose
by Paul Austin
Archived Comments
Enjoy the past comments below for Art that dreams are made of…
 Featured Workshop: Hollyhock (Cortes Island) with Robert and Sara Genn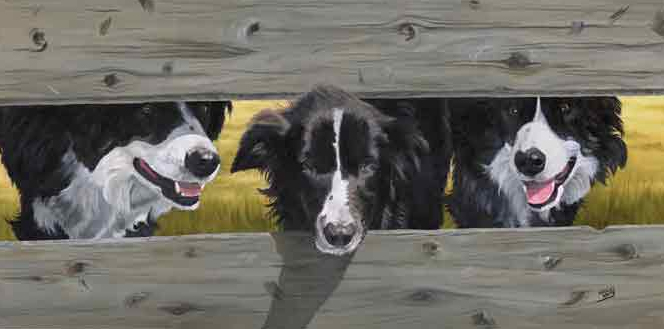 Ready, Willing and Able
oil painting, 15 x 30 inches by Lesley White, Kamloops, BC, Canada
You may be interested to know that artists from every state in the USA, every province in Canada, and at least 115 countries worldwide have visited these pages since January 1, 2013. That includes Catherine Stock of France, who wrote, "Tretchikoff meets Dali. Not my cup of tea." And also Susan Holland of Seattle, WA, USA, who wrote, "I cannot think of a better tribute to art and the breadth of its reach than your presentation of István Sándorfi's chillingly powerful works. I am still mesmerized by image after image of magnificently painted humans transmitting the realities of a world most of us are not aware of. There is no rebuttal to such evidence of the benefits of visual technology to the artist in us all."