Dear Artist,
Growing up hunting and trapping in rural Texas, Wyman Meinzer believes he's covered every foot of the Badlands. "In August in this region, Texas is a virtual hellhole," he says. "And I've seen some cold weather… as cold as it gets in this country and my dad telling us to go saddle up our horses and the winds out of the north are 30 miles an hour and it's 15 degrees and I was thinking, 'My God. Not today, please.'"
During his early twenties, Wyman would spend four months of winter living in a trapper's cabin, hunting all day and skinning the animals in the evening. He kept meticulous records, measuring his kills from nose to tail, aging them by their teeth and making a fingerprint in their blood next to an entry in his diary. "I was raised as a cowboy. It's a tough life. I lived and breathed the outdoors," he says. He'd also make notes about his observations in the field. "From that I felt I could learn and study the natural history of the animal. It was part of me, it's what fed my soul at the time."
"In order to be a good predator hunter is to shoot quick and shoot accurately," says Wyman. At 26, he picked up a camera. He'd noticed that when he left the trapping cabin and climbed out of the canyon in the mornings, the light would be skimming the ridges while the canyon stayed frosty and white. "The contrast, it just fascinated me, which was a telling prelude of what was to come." Wyman began collecting rejection slips to his photo submissions. "It was an inspiration to me," he said. "They pissed me off first. I made up my mind: I'm gonna make myself be good enough to be published. They're gonna want my images some day."
Sincerely,
Sara
PS: "Whenever I go into the field and take a camera and I call a coyote in within 15 or 20 yards and I get a great image, I get that same elation. But yet he lives another day and I love to hear them howl at night and he'll be one of them." (Wyman Meinzer)
Esoterica: After four years of rejections, in 1979 Wyman Meinzer's photographs were published in National Wildlife Magazine and Texas Parks and Wildlife, almost simultaneously. Over the next decade, he would become one of the biggest cover shooters in America. In 1997, he was designated the official state photographer of Texas. "I appreciate more now going out and photographing an animal instead of shooting," says Wyman. "It's that progression, that evolution that we all see in life, going from a to z. And you need to be at z at my point in life. You need to be at z."
Sara Genn: New Paintings runs until November 2, 2018 at Voltz Clarke Gallery, 141 East 62nd Street, New York City. If you're in the neighbourhood, we would love to see you there.
https://voltzclarke.com/exhibitions/sara-genn-exhibition/
"I've been able to maintain this life of independence and freedom because it was instilled in me a long time ago. I think out of sheer hardheadedness and willingness to endure and maintain the lifestyle that I've known has kept me as kind of a free spirit." (Wyman Meinzer)
Featured Workshop
May 12, 2019 to May 18, 2019
Come and paint with me in Lucca, Italy, May 2019!!
My painting holiday workshops are all about the fun of painting in a supportive group environment and is suitable for all levels. Mostly, we'll be painting en plein air (a nice quiet locale in which to play with our paints!) and enjoying the fresh air. I know Lucca like the back of my hand and will take you to some of my favourites spots!! Each day will start with a short theory session, with an emphasis on quick value sketching then a demonstration of the day's painting subject out on location. We will also explore subject selection and strategies to tackle complex subjects. After a lunch break, I will let you loose to paint and then come and help each student in turn throughout the afternoon.
After a well-deserved siesta, we'll meet up for aperitivi and on to dinner; Lucca's favourite dining spots will be waiting for us with a special menu just for us!
Tuition, meals, luxury en suite B&B accommodation, on-ground transfers and excursions are all included!!
E1895 Euros per painter, no single supplement
For more information email Amanda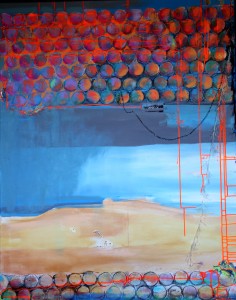 Hurricane
Featured Artist
I'm a contemporary painter who loves to travel the world over finding pictures to paint, and capture on photo…check out my website and travel with me on my blog "The Traveling Artist Blog."  http://www.meljosieart.com