Dear Artist,
I'm laptopping you from the second row of a downtown movie theatre, where the Tribeca Film Festival is premiering one of its 100 feature selections. To my right slumps a solo, bespectacled cinephile, fine legs crossed in corduroy. To my left, a millennial can't resist fondling her phone. Near hysteria, and in jangly bangles and bronchitis, she beeps with her seatmate while opening and closing her purse.
Afterward, the cast and crew stand under a yellow spotlight to answer questions. Even with a few heavy-hitters under his belt, the writer/director smiles with the first blush of love as he talks about how the film got made. He draws an imaginary arc on the floor with the tip of his shoe, gazing dreamily and clutching the mic. The actors eyelash in a row beside him. Even the Oscar-winner, squinting into the audience's iPhone flashes, has acquiesced in this moment of scrappy togetherness.
Earlier, I stood at the back of a small, black-event space in the Meatpacking district and watched the movie's producer shake hands with the room. He's here to sell. Amongst the champagne cocktails and mini-beef-sliders, my producer-friend hustled between huddles of darty eyes like a bee to his blossoms. "In the beginning I was an outsider, too," he told me. "Now I'm on the inside, and it's just a big party. I'm working all the time. I like to make films, I like to solve problems, I'm always finding money."
We painters have it easy. Unless we're working in diamond dust, our funding is simple. The cost of making a painting is positively monk-like in comparison to making a blockbuster. And we don't have to sell the thing half a dozen times before it can get in front of an audience. Some might say you've got to gamble big to win big, but in the world of art, great oaks from little acorns still grow.
Recently, art critic Jerry Saltz wrote a review of the new Whitney Museum for "New York" magazine. In his introduction he described the recent travesty of contemporary art museums' quest for bigger and more costly spectacles. He used words like "fun-house" and "photo-op." He made an example of the Los Angeles County Museum's $10 million installation of a boulder suspended over a trench. Saltz reminisced about his childhood wanderings with his mother through an art museum's permanent collection and the life-changing discovery of room upon room of simple storytelling on canvas in pigment and brushwork. It was love, and it was priceless.
Sincerely,
Sara
PS: "I used to be a yes-man. Now I'm a no-man." (Anonymous)
Esoterica: Amongst the festival parties and next-day lunches, my producer friend gets to hang with his cast and crew, and soak up the downtown vibes. Spring teases with a balmy, Prussian sky and apple blossoms, casting the iron facades of Tribeca with a heightened romance. Late into the night, the producer's biggest star takes him uptown to the home of a friend — a painter — to be changed by the freedom of a paint-splattered floor. You can't put a price on it.
[fbcomments url="http://clicks.robertgenn.com/funding-art.php"]

Featured Workshop: Margie Samuels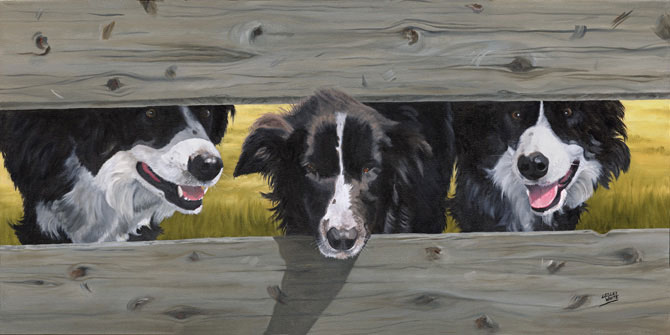 Ready, Willing and Able
oil painting, 15 x 30 inches
by Lesley White, British Columbia, Canada
You may be interested to know that artists from every state in the USA, every province in Canada, and at least 115 countries worldwide have visited these pages since January 1, 2013.
No Featured Workshop
No Featured Workshop