Dear Artist, Among our fellow presenters at our recent workshop at Hollyhock on Cortes Island was 82-year-old Benedictine Brother David Steindl-Rast. David is perhaps unlike your standard idea of a Roman Catholic monk. He's a free-ranging purveyor of wisdom, apparently open to other traditions, a revolutionary against rigid systems and personally pitching a greener, gentler, safer, less ignorant earth. I thoroughly picked up on his ideas about gratefulness. It might be that gratefulness is the very basis of an evolved creative life and a life well lived. When creative folks begin to see their work as service, they gain fresh power to do well and perhaps greatly. This service need not be in the honour of a deity or even a higher power. It is however, the internal recognition of a higher calling. When we produce work for charity, as unsolicited gifts, with a sense of mission whether commercial or not, or merely for the joy of honouring the gifts of our environment, we begin to extract our true power. As people serve well, so are they grateful. As people are grateful, so do they serve well. Our world is currently suffering from pervasive setbacks. Rioting, dishonesty, greed and malfunction haunt the streets, offices and chambers of government. The true enemies of mankind — fear, ignorance, hatred, poverty and starvation seem once again on the rise. A murky pall of hopelessness and despair floats above our cities and towns. As we watch the world's juices being squeezed, it is easy to say "why bother." We artists, often the sensitive ones who struggle alone, are not immune. Nevertheless, taking our materials into our hands, we begin to move along a higher path. Rising to serve, we raise both our quality and our self-worth. To feel the clay between the fingers, the brush in the hand or the sound of music plucked, blown or struck, is to move toward the grace of gratefulness. Life is a privilege, and those of us who choose the path of creativity, may just be the most privileged of all. We all have our unique motivations. In all the cults and orthodoxies, and in the absence of them, simple gratefulness need not be overlooked. For some, the mere gift of a new day may be enough. Best regards, Robert PS: "Gratefulness is the great task, the how of our spiritual work, because, rightly understood, it re-roots us." (
David Steindl-Rast
) Esoterica: At Hollyhock my easel was left set up overnight under an apple tree. In the early dawn I saw from a distance it was visited by a doe and two fawns. Silently I approached, and the three deer tiptoed lightly into the woods — but not before each took one last apple. Could I not be blessed by the near presence of such beings? Could I ever find a greater reason to pursue my day? Could it be so difficult to be grateful?
A magical dream
by Philip Koch, Baltimore, MD, USA I once had a dream where I am walking alone through a moonlit meadow looking for my French easel. Coming around a bend I spy in the distance my easel set up for the next day's painting with a small herd of deer surrounding it. Some glance at the easel and the painting in progress on it, but most content themselves with grazing peacefully. It was completely magical. To me that dream felt like a real visit from the Muse. I treasure my memory of it.
Celebrating the beauty
by Helen Duley, Australia Gratefulness is greeting the new sunrise over the mountains each day, and being able to work most days despite a long history of poor health. With my drawing, I try to celebrate the neglected beauty of the Australian Wetlands, and to re-imagine the mystery and magic of our Black Swans in particular. Australia is not a country that rewards its creative people, particularly those ones like me who come from poor backgrounds. Thank you for such an inspiring letter and the courage that it gives me.
There are 5 comments for
Celebrating the beauty
by Helen Duley
Grateful for the deer
by Kim Werfel, Pittsboro, NC, USA I moved out here in Chatham County three years ago from a more suburban Wake County, NC, about 40 minutes away. The towering pines, the sound of silence and the beauty of nature feed my soul here every day. But when I look out my window and see the deer, my heart quickens every time. I feel so blessed by their presence, their grace and beauty. This has inspired a series of pastels that I'm far from done with. I paint commissioned portraits of pets and people, but love painting the deer just because they refresh my spirit. And yes, I am very humbled and grateful for the privilege and the gift of their beauty.
There are 3 comments for
Grateful for the deer
by Kim Werfel
Thankful for a rural life
by Barbara Boldt, Glen Valley, BC, Canada Just prior to reading your amazing letter, I sat on the deck in front of my rented modular home. The sun was setting, the air was mild, and out here, just 5km out of the busy little community of Fort Langley, I find peace and quiet, a perfect place to paint my paintings, which always celebrate the natural world. I was quietly giving "thanks" for my life as it is now, away from the business of the commercial world, surrounded by huge maple trees, one of my favourite subjects to paint! The fields beyond my little place stretched out in the evening sun, and again, I wanted to thank the powers that be, for everything surrounding me, including my very special companion, 18-year-old Emily, my cat!
There are 2 comments for
Thankful for a rural life
by Barbara Boldt
Art, the great anti-depressant
by Brenda Behr, Goldsboro, NC, USA Thank you for reminding us to be grateful. As an American citizen it is easy for me to slip into worry about the economy, my livelihood as an artist, the two wars for which the U.S. has practically bankrupted itself, lives lost, the environment, on and on. I don't like the crybaby inside me that nowadays often shows its face. Instead, I like to be grateful to those who care enough about my work to enjoy it, praise it, and on occasion support me with a purchase. By painting, I enjoy paying tribute to a tree that I know has survived worse times, a tree that is made all the more beautiful by the storms that have twisted her branches. Yesterday I enjoyed conversation with another artist who remembers the Great Depression, who fought in WWII, who continues his work knowing it's the best anti-depressant. In an email letter last week I wrote to supporters and other artists, "Whistle while you work. Smile as you paint. It will remind you (and others) how fortunate you are."
There are 2 comments for
Art, the great anti-depressant
by Brenda Behr
Gratefulness in action
by Victoria Castle, Freeland, WA, USA I'm envious of your time with Brother David. We couldn't be at the Invitational this year and missed being with everyone. Brother David has been one my spiritual teachers for 20 years, isn't he wonderful! We live on Whidbey Island so know many of the participants. Now I'm sorry I didn't get to meet you there, maybe next year. A dear friend had her 60th birthday party and I wanted something special for her. So I meditated on her, what she meant to me, and painted a picture for her that was informed by who she is. It was joyous, fluid, and a source of great delight to her. There's gratefulness in action as a source of inspiration to the artist.
Art for positive change
by Bill Hibberd, Summerland, BC, Canada Certainly gratefulness prepares us to create in a healthy and an uninhibited manner. I want to believe that positive art influences hearts and minds. I'm not so confident that art has ever been instrumental in terminating war, hate or fear. It would be encouraging to hear any examples where that's been the case. What I am sure of is that art does affect change in individuals, so maybe it follows that a community of art appreciators will steer society down a saner road. That's if we artists hold up our end and create art that causes people to consider the positive and the edifying.
The spiritual foundation of art
by Margot Hattingh, South Africa I was brought up as a Catholic, and learned that if you look beyond the stereotype, you will find deep spiritual truths and many people like Brother David — who embody the true meaning of the word Catholic. It means broad-minded, all-encompassing or universal. Though no longer a practicing Catholic, the one thing that has stuck indelibly is the ruthless self-questioning of motive and integrity. A sense of mission to contribute, celebrate and commemorate the life and heart of this world is the foundation of my creativity. To paraphrase
Marc Chagall
 — "I don't go to church, my studio is the church, paintings are my prayers, my way of saying thank you, thank you, thank you." — How absolutely amazing and wonderful. Unfortunately for me, or rather my finances, I've mostly not managed to equate making money with 'mission' on a gut level, even though I've tried. It's a true high wire act balancing a sense of mission and integrity with the necessity of making a living. As soon as the balance tips toward just making money, ego takes over and I forget the spiritual foundation and purpose of my work. The spark or oomph to actually do and make just evaporates and I become paralyzed with indecision. I then have to start the process all over again from the beginning — what and why to get to how and do. And yes, I think creators, whether of words, music, visual art or movement, are specially privileged. That privilege demands the price that we mirror back to the world, to remind everyone what is of real value, of real importance — the good to be celebrated and protected, the bad to be changed and the ugly to be made beautiful.
There are 2 comments for
The spiritual foundation of art
by Margot Hattingh
Accessing the cosmic balance
by Wayne Haag, Sydney, Australia The timing of your article coincides with my current thinking regarding art and my service to others with the art that I create. Whether that be professionally or otherwise. I have recently completed an oil painting for an online magazine. The author whose story I illustrated doesn't know it yet, but he will be receiving the original painting in the mail soon. Such was the interaction and satisfaction that I derived from this 'job' that money was the last thing on my mind. It was both a pure service to others and yet also deeply gratifying to me. Some cosmic balance was struck where all the pieces fell together and all involved were deeply gratified in their own way and not a single dollar came between us! I don't recommend this for every job or painting created as we all need to eat and pay rent, but it is the beginning of a co-synchronous exchange where service to others and personal artistic satisfaction can occur simultaneously. If only we could expand this to all aspects of our lives!
The 'Bliss List'
by Penelope D Rothfield, Chicago, IL, USA I keep a book (actually several) called "Bliss List" which is a blank book made by Smithson, the British stationary maker. It is a very tiny leather covered book which I can bring everywhere to work on, or just to read and be happy! I include lists of things that I love and people I love, and also include sayings I like that inspire me, as well as drawings and photographs I like. I often Google images (well-known paintings/painters or anything at all) that mean a lot to me and print out tiny versions of the images to glue into the "Bliss List." Looking at all of the things/people I love makes me feel very grateful!
There are 2 comments for
The 'Bliss List'
by Penelope D Rothfield
Archived Comments
Enjoy the past comments below for Gratefulness…
Featured Workshop: Burdick/Lyon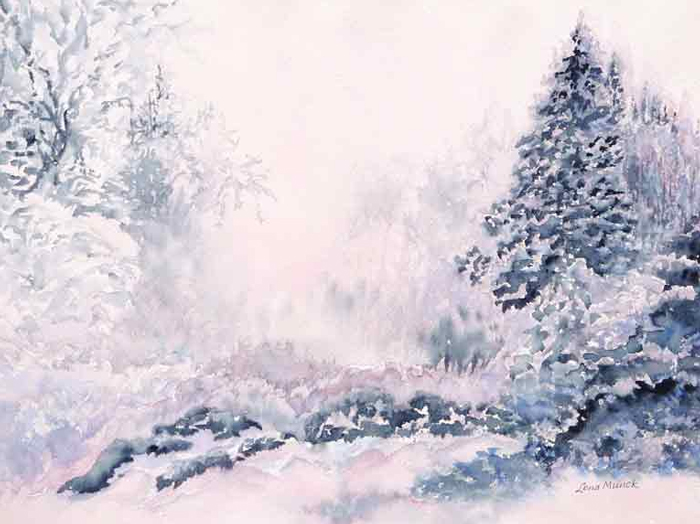 Fresh fallen snow
watercolour painting, 12 x 16 inches by Lona Munck, Canada
You may be interested to know that artists from every state in the USA, every province in Canada, and at least 115 countries worldwide have visited these pages since January 1, 2013. That includes Rupam Borah of India, who wrote, "You have truly inspired us today." And also Richard McDiarmid of Vancouver, BC, Canada, who wrote, "An uplifting note for all — it reminds me once again, of an old line of wisdom : Abundance flourishes in a grateful heart."