Dear Artist, According to the recently released UN World Happiness Report, Canada's population is the fifth happiest in the world. Denmark, Norway, Finland and the Netherlands, in that order, are happier. The USA ranks 11th, the UK 18th. According to the report, Togo, Benin, Central African Republic and Sierra Leone had the most unhappy people. Apart from income, the greatest determinants of human happiness are family ties and tribal instincts. A lot has been made of the fact that the happiest nations are Northern ones where the citizens struggle together against an inclement environment. If this were true it seems to me the Russians would be rated happier, but they're not. The only time you see them get up on the table and dance is after 14 vodkas. And, as everyone knows, Mexican babies are by far the happiest. Check out a Mexican day care sometime. Further, if tribalism is so hot, you'd think some of the Middle Eastern nations would be up there, too. Statistics tell us that happy nations have a lot of clubs. Canada is awash with them. What self-respecting prairie town doesn't have a quilting group? What church basement in the Great White North doesn't have a Thursday Painting and Sketch Club where nodders endure a "short meeting and financial report" before the night's featured demo-doer? We Canucks are such a happy bunch. But what about the art that issues from all this glee? Do tribalism and togetherness improve creative quality? Some people will swear on a stack of
Robert's Rules of Order
that they do. Others are not so sure. In my humble observation, artists who struggle on their own generally do best. Are these just a few of the unhappy loners who are chasing their tails, hell bent on throwing a monkey wrench into our uncontrolled laughing? It seems to me the best club is the Great Universal Brotherhood and Sisterhood of Painters Dead and Alive (GUBSPDA). It's sort of virtual but it meets 24/7. The last person who signed up for these free Twice-Weekly Letters at one minute to midnight yesterday was Shailaja Poddar of Hyderabad, Andhra Pradesh, India. Somehow I think we are all a bit happier when we admit we're in this together. Best regards, Robert PS: "It's not in the pursuit of happiness that we find fulfillment, it's in the happiness of pursuit." (
Denis Waitley
) Esoterica: Art clubs and guilds are primarily a North American and UK phenomenon, although some other nations are catching on. A club's main thrusts are mutual learning, gentle competition, networking and marketing. Clubs tend to neutralize the traditional model of rugged individualism and egocentricity that many now see as a hazard to the growth of quality and integrity. In clubs, in theory, all is fair. The strong are encouraged to encourage the weak until the weak become strong. That's when the formerly weak tend to leave the happy club and strike out on their own.
Swaying connection
by Anita Marshall, The Woodlands, TX, USA Someone, and it could be you, recently mentioned the fact that though we are alone we are actually connected to everything. That has helped me as I vacillate between loving groups and running from them. I'm wondering if I am connected enough or disconnected enough. Enough is enough and I have resorted to self-coaching my way back into a group. Thank you for your humor and keeping all of us artists connected! There seems to be something fishy about the top 5 and did the Vikings bring it to Canada?
There is 1 comment for
Swaying connection
by Anita Marshall
No work in a vacuum
by Richard Gagnon, Knowlton, QC, Canada The BBC News report that I saw put Bhutan in the top spot but did confirm that Canada was in fifth. Could this be due to a longing for the days of colonialism? Whatever the case, the comment on clubs reminded me of the painting lessons I used to attend and in retrospect it was more like a club with weekly dues than a school. The interaction also spurred productivity. A painter does work alone to a great degree but in my mind cannot work in a vacuum. Criticism and appreciation, if only verbal as opposed to monetary, is vital.
Phenomenon widespread
by Diane Williamson, Tyabb, Australia You say art clubs are "primarily" a North American and Canadian phenomenon. However, I must enlighten you that here in Australia there are literally thousands of art groups, clubs, societies and artist-run galleries, one of which I am a very active member. Every town, no matter how small, has a historical society, sewing group, knitting, painting, craft, weaving, ceramics, life drawing, felting, meditation, yoga, exercise clubs and last — but always well attended — an Art group that meets regularly. Most places have many art clubs and groups who meet informally and any town with more than about 1000 people will always have an art society that exhibits regularly. I guess that makes Australians a very happy lot! In fact, ask just about any Australian and they will tell you we know we live in the best country in the world. Inspiration for our art is everywhere, from the deserts to the rain forests, from the sea to the clean, blue, unpolluted skies. We use a lot of fresh clean colours here and we have so many fantastic artists and I get to meet new ones constantly at our gallery. Being "isolated" on our big island is wonderful in many ways.
There are 3 comments for
Phenomenon widespread
by Diane Williamson
Urban sketchers
by John Crowther, Los Angeles, CA, USA While clubs and guilds may not yet be flourishing around the world, it's relevant, I think, to mention 
Urban Sketchers
, a non-profit online drawing "community" with thousands of active international members whose mission is "is to raise the artistic, storytelling and educational value of location drawing, promoting its practice and connecting people around the world who draw on location where they live and travel." I constantly derive inspiration and, yes, happiness from the daily posts.
Sisters in paint
by Carmen Beecher, Satellite Beach, FL, USA I became much, much happier when I became part of a group of women artists,
Pieces of 8
, who meet weekly to paint, go on retreats together, and generally are inspired and supported by each other. It may be more in the female character, because we would all love it if our husbands had such a group. We are never bored, always excited and dreaming up new projects and challenges. It's a local chapter of GUBSPDA that is thriving, and I wish I had discovered these Sisters in Paint earlier in my life.
There is 1 comment for
Sisters in paint
by Carmen Beecher
Class encouragement and private sweat
by Laurell Hamilton, Joggins, NS, Canada My eyes popped when I saw the words 'Thursday Painting… group'! The Sackville Art Association's 'Thursday Painters' have been meeting and painting for 15 years, mostly under the inspired instruction of water colourist Joan Gregory of Moncton, NB. More recently, we have been receiving instruction from several very able artists from within our group. The Sackville Art Association (Sackville, NB) is 76 years old this year and counts among its early and long-standing members Lawren Harris and Alex Coleville and, more recently, well-known Nova Scotia artist Tom Forrestall. Without the active and ongoing creativity of Thursday Painters, I think the association would be a bare shadow of itself. Over time, I have noticed that those who progress the most in skill and vision are attending class
and
painting madly at home in between! Although I have learned a great deal from our skilled instructors and have benefitted from the honest feedback and encouragement that are integral to our class, without the sweat equity paid out in my Postage Stamp Studio, not much would be happening on the creative side.
Important group function
by Loraine Wellman, Richmond, BC, Canada I'm not entirely sure about the "happiness" link and art clubs. For the executive, they can be a lot of work. And, as for the struggle, we all have to struggle and grow on our own. However, a group such as Richmond Artists Guild serves an important function. We bring together all ages and backgrounds for a sense of community in a common interest. We have the stimulus of an interesting demo once a month for which the coordinator chooses a variety of methods and approaches. One demo alone is pretty much worth the year's fees. We aim to support each other and have group shows and workshops. We are all in this together — each with our own strengths and weaknesses. Some may have achieved more recognition but we don't see a division between "strong" and "weak." Who is to judge? We can all learn from each other, as is very evident when we have a guest artist doing a critique.
Group benefits
by Karen R. Phinney, Halifax, NS, Canada You certainly have it on the nose about clubs being a source of bonding, inspiration etc. I belong to a painter's group (one of several) here in the Halifax area. Our club meets on Tuesdays in a fire hall outside of the city. It was originally a city-run extracurricular activity, and it morphed over time and circumstance into a separate gathering. We now have a waiting list. There are 24 of us, and we come over the whole day to the meeting place. No lessons, just women, painting together, laughing, socializing and supporting. I am stunned at the talent, initiative, creativity and originality of this group. We have parties, too. We meet for about 8 months of the year, and have a wingding of some sort at Christmas and when we part in the spring. I feel very lucky to be part of this group. The friendships I have from it, the support when I have a show of my work, whatever, is worth a great deal. I know those gals are all there for me and for each other. That is priceless. And it does make me happy, and I'm sure I am in good company there.
There is 1 comment for
Group benefits
by Karen R. Phinney
Safety in numbers
by Terry Mason, Sarasota, FL, USA I run a plein air group here in Sarasota, Florida. We paint once a week together. Given the alligators and other critters there is some safety in numbers. We have about 300 members and in season we have about 20-30 come paint every week. The organization, Light Chasers, is about 7 years old and we just had our very first show. We had over 500 people at our opening. What I have observed is that the group dynamic does factor in the individual painter getting better over time. Our folks that come regularly really have improved a lot and are quite serious about improving. Our senior, nationally known members show up and are generous with their time. They don't mind if someone watches a "start" or paints beside them. Indeed, we are setting up some type of mentorship program. The senior painters seem to realize that it helps us all when we are all better painters. And the other thing is that we have worked with the other groups also pushing plein air and representational painting in this town. It's looking more and more like representational painting is claiming a bigger slice of the gallery and museum showings here. Given all the growth internationally in representational painting, it looks like we are earning a greater share of the buyers now, too. I do think that the camaraderie makes a difference here in both how often an artist paints outside and just plain getting better overall. I know that my own work still gets powered by showing up every single day most often, but the painters here in this town that work together are both getting better as painters and selling better, too. Maybe both alone time and shared responsibility for market growth works… both for selling and for improving personally in our work. Seems to work well here.
There is 1 comment for
Safety in numbers
by Terry Mason
Appreciation
by Shailaj, India/Singapore Thanks for such a warm welcome from you and the other members of the group. Want to give a small background about myself. I have studied commercial arts and specialized in computer graphics and have worked for almost 8 years in the field of web design and Internet gaming for kids. I could say my career and the www evolved at the same time. Much later I realized I have a natural flair for painting and decided to paint. I used to paint earlier but for the past 4 years haven't as have very young kids, two girls 2 and 5 years old. So have been so very tied up and happily involved in parenting them. But of late I have had some time and hence am looking for getting back in the grind, though gradually. I haven't sketched or made too many drawings, as I come from a commercial arts background. I am in a confused situation as I want to be a professional artist in the next 2-3 years but have yet to develop a distinctive style. Hence I have joined the group to understand what other artists think, and see their perspective. My roots are in India and I stay in Singapore (in a very manicured, urban setting) so I can't see a path for myself on what I should paint and call my style and draw inspiration from. As yet I don't have an idea, however I would like to have one before I start on my journey as an artist. I don't have a network of friends of similar interests so I find being a part of this group will be very enriching for me. I do oils and portraiture fascinates me a lot. Thanks for your letters I feel so involved so soon.
There is 1 comment for
Appreciation
by Shailaj
Archived Comments
Enjoy the past comments below for The happiness factor…
 Featured Workshop: Tony Couch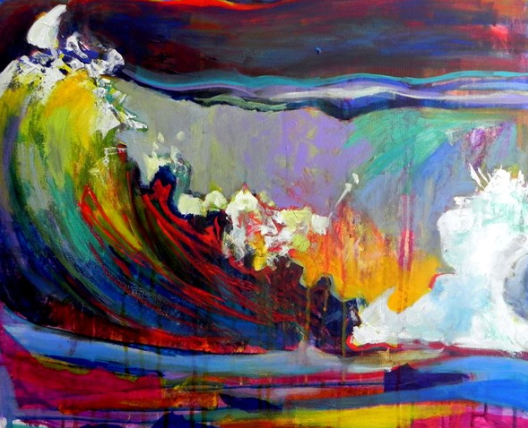 Big wave
mixed media painting, 24 x 24 inches by Colin Whitebread, Canada
You may be interested to know that artists from every state in the USA, every province in Canada, and at least 115 countries worldwide have visited these pages since January 1, 2013. That includes Claudia Roulier of Idledale, CO, USA, who wrote, "I know that the Scandinavian countries have the highest suicide rate in the world. It seems to me that this study may be flawed." And also Fran Steinmark of Florida, USA, who wrote, "Your letter made me feel happier today."