Dear Artist,
Last week, on the same day the Governor of California issued a statewide "stay at home" order, our neighbourhood small-batch ice creamery launched an online payment system and let locals know they could pick up pints, curbside. This small business, which is run by artists, had already begun posting daily flavours on social media. It was a natural evolution made real by a changing-world urgency. Like ice cream, art should be small-batch, experiential and on hand in a crisis.
Young artists who've grown up with social media have always understood the need to have two practices: the first, making art in the real world and the second, presenting that art to the digital world. So intertwined are their digital personas with how they function as creative people that producing work for online experience is built into life.
With twenty percent of the global population now asked to stay home, artists of all digital stripes are in a unique position to reorganize and shape what art can be, online. While galleries and museums scramble to survive by engaging and retaining marooned art lovers with inspiring online encounters, as makers, artists can try to answer the future's emotional, spiritual and aesthetic needs with new forms of connection, authenticity and intimacy — the stuff art has always striven to provide in the real world.
While mega galleries and art fairs are building million dollar online viewing rooms and granting access to pre-approved collectors in need of exclusivity, artists can be exempt from the simulation of real-world environments designed for maximum economic results. Instead, let's find not-yet-thought-of ways to connect and communicate our universal human truths and try to fill the emerging, fresh needs of the soul. In the age of isolation, it is, perhaps more important than ever.
Sincerely,
Sara
PS: "Necessity is the mother of invention." (Plato)
Esoterica: In my studio, time and tasks stretch in a rhythm of slow-motion play. Outside, the garden grows busy with once-invisible creatures, bolder now in the public spaces once occupied by human traffic. An introvert exhales as the outside world locks stride with her inside yearnings. The knowledge that we're all experiencing — together in this temporary, alternate system whereby home is the unifier and the preservation of life a fragile priority — presents a chance to re-imagine the world. "The creative act is not hanging on, but yielding to a new creative movement. Awe is what moves us forward." (Joseph Campbell)
"It is by going down into the abyss that we recover the treasures of life." (Joseph Campbell)
Have you considered a Premium Artist Listing?  With each letter, an artist is featured at the bottom of this page. The Premium Artist Listings are a means of connecting artist subscribers through their work and cost $100 per year. Proceeds from each listing contribute to the production of The Painter's Keys. 
I wish each and every one of you well during this global health crisis and encourage you to flatten the curve by staying at home with your creative materials. I hope our Painter's Keys community can be a source of friendship and creative inspiration during this time and always.
In friendship, Sara 
"Out beyond ideas of wrongdoing
and rightdoing there is a field.
I'll meet you there.
When the soul lies down in that grass
the world is too full to talk about." (Rumi)
Featured Workshop
September 12, 2020 to September 17, 2020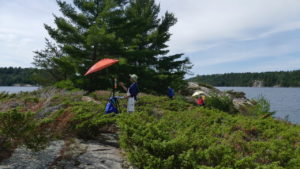 The Killarney are of Ontario is in what is called the 'near north'. The landscape is wild and rugged. Giant granite cliffs plunging deep into the glacial lakes. There are no roads leading to our painting locations. We travel by a large, sturdy pontoon boat. This is a self-catered retreat. You bring your own provisions and cook your own meals in our fully equip cabins at a northern camp. Our instructor, Keith Thirgood, has been teaching artists his own unique approach to painting for over 12 years. Learn how to find order in the chaos, control your colours and create paintings that work. Learn modern colour theory, values, shapes and lines, what makes for a good painting. This retreat is suitable for beginners wanting to learn to paint in a fun, outdoor location, as well as more experienced studio artists who want to try plein air, plus artists who are looking to loosen up and paint in a more post-impressionist style. To find out more and register, please visit www.wilsonstreetstudios.com
Featured Artist
My aim as a painter is to bring to life a slice of the world as I experience it. Light, color and form are my vocabulary.