Dear Artist,
In his latest book, A New Earth: Awakening to Your Life's Purpose, Eckhart Tolle discusses how the human mind is almost constantly engaged in private thoughts. These inner rumblings reflect our personal trials, dreams, needs and obligations. To function properly as a creative person, an artist must divorce himself from some of this clutter and begin a process of rebirth into another mode. "Even though people may travel," says Eckhart Tolle, "they tend to remain where they have always been — in their head."
Early yesterday morning, my daughter Sara and I were painting at the end of the Laniloa Peninsula, Oahu, Hawaii. From a parked car nearby, a young man in a white shirt and tie watched her out of the corner of his eye. As I passed by, he rolled down his window and said, "That girl just took out a canvas and started painting. She hardly drew things out at all." The fellow and I struck up a conversation. He turned out to be a Teaching Assistant from the nearby Brigham Young University at La'ie. He was "having a quiet read and some meditation."
I told him the girl was my daughter and that she was working "alla prima — all at once." Then he said, "It looks quite a lot like play." Later, when Sara and I were going over our day's efforts, we agreed the young man had got to the truth of the matter. As far as plein air painting is concerned, play has its own methodology:
Feel and relish the environment.
Get into a "be here now" state of mind.
Start your work anywhere.
Look cleanly and with an uncluttered mind.
Be joyous and unencumbered in your stroke.
Work everywhere at once when you can.
Try to leave your strokes alone.
Do not labour or think too much.
Don't sweat the small stuff.
Let the painting tell you what it needs.
Though it may be small, make your picture big.
Without being a wimp, serve your subject.
Don't verbalize your sight — sense the being.
Surrender to earth's beauty and wisdom.
If you make errors, fix them in good humour.
Be suspicious of what you've been told, how you ought to do things, and what you ought to think.
Best regards,
Robert
PS: "If uncertainty is unacceptable to you, it turns into fear. If it is perfectly acceptable, it turns into increased aliveness, alertness, and creativity." (Eckhart Tolle)
"Van Gogh didn't say, 'That's just an old chair.' He looked, and looked, and looked. He sensed the Beingness of the chair." (Eckhart Tolle)
Esoterica: The plein air act requires a mental transformation and a shift in consciousness. Playful looseness is a virtue. Running on old methodologies or rigid game-plans can be detrimental. Sara and I both remarked on the value of amateurism. Amateurism can induce clear sight and creative optimism. At least you are not held in check by a lot of stuff you already know.
This letter was originally published as "The courage to play" on March 4, 2008.
Have you considered a Premium Artist Listing?  With each letter, an artist is featured at the bottom of this page. The Premium Artist Listings are a means of connecting artist subscribers through their work and cost $100 per year. Proceeds from each listing contribute to the production of The Painter's Keys. 
I wish each and every one of you well during this global health crisis and encourage you to flatten the curve by staying at home with your creative materials. I hope our Painter's Keys community can be a source of friendship and creative inspiration during this time and always.
In friendship, Sara 
"True creativity flows only from stillness. When stillness becomes conscious, the spiritual dimension enters your life and you begin to be guided by an intelligence far greater than the human mind." (Eckhart Tolle)
Featured Workshop
July 31, 2020 to August 5, 2020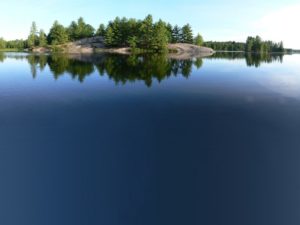 This retreat is an homage to early pioneers of plein air painting. We canoe-in and camp, paddling every day to our painting locations. This is a self-catered trip. We provide the canoes, life jackets and instruction. You bring your own provisions, tents, etc. The scenery in Kawartha Highlands is fantastic. Bald rock faces, sparkling lakes, majestic trees. Every direction you turn is another painting. Your instructor, Keith Thirgood, has been camping and canoeing all his life, and teaching artists his own unique approach to painting for over 12 years. Learn how to find order in the chaos, control your colours and create paintings that work. Learn modern colour theory, values, shapes and lines, what makes for a good painting.
If you need advice on the camping portion of the retreat, we have you supported. Even brand new canoeists have no trouble with this gentle adventure. This retreat is suitable for beginners wanting to learn to paint in a fun, outdoor location, as well as more experienced studio artists who want to try plein air, plus artists who are looking to loosen up and paint in a more post-impressionist style. To find out more and register, please visit 
www.wilsonstreetstudios.com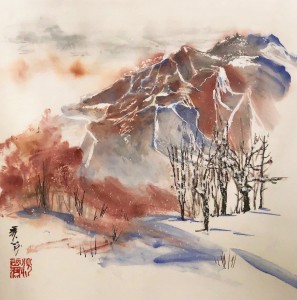 Midwinter Chill
Featured Artist
Los Angeles-based artist Lisa Chakrabarti works in a variety of media: oils, acrylics, pastels, watercolors, graphite and colored pencils. Focusing on a style she calls "romantic naturalism" – impressionism based largely on subjects in the natural world – her works have found their way into galleries in Los Angeles, Florida, Colorado and New York. In 1995, after being introduced to sumi-e and Chinese ink painting by Asian friends, Lisa became captivated by the apparent freedom and subtlety of this ancient medium.  This shift in focus has informed her work ever since.