Dear Artist, Several years ago, a friend and I thought something might be learned by watching every Woody Allen movie in chronological order. Allen has made at least one film per year non-stop for the past 50 years, beginning with
What's Up, Tiger Lily?
in 1966. By the time he made
Annie Hall
in 1977, he'd made some iffy stuff, made almost the same movie several times, exaggerated his strengths and flaws, and entered into what many feel is the golden period of his own story telling. In the midst of all this movie watching, I wondered how I might bang out my own colossal oeuvre in just a few hard-hitting decades. How tough could it be? By committing to quickly and reliably completing ideas, I may just come out the other side with a whole lot of work. In painting, the distance between an idea and its execution is simpler, and overhead is minimal. Compare that to making a movie (or an album, or business, or skyscraper.) "How difficult it is to be simple," said
Vincent van Gogh
. However infinite its poetic complexities, painting's mechanics are elegantly straightforward. On top of this, the speedy ones are often the better ones. In terms of time, knitting an afghan is a bigger undertaking. Painters can exploit these advantages: work alone and eschew committees, funders and permission givers. You don't have to wait for the boom-rigging guy to come back from his coffee break to get on with it. As painters, we answer only to ourselves when cranking up the pace. If every painting begins with an idea, every idea has an "idea life cycle." Components are: — Inspiration — Obstacles — Planning — Work — Changes — Finishing — Assessment Speeding up the idea life cycle leads to a greater number of completed ideas, and more completed ideas increase your chances of getting a good one. With supplies at the ready and studio time protected, you have the opportunity to improve technically, deepen concepts and become more efficient. Innovation flows when work flows. "I produce music as an apple tree produces apples," said composer
Camille Saint-Saens
. Dad said, "You can't be an apple seller without apples in your apple cart." Sincerely, Sara PS: "A jug fills drop by drop."(
Gautama Buddha
) "And one more thing…" (
Steve Jobs
) Esoterica: The most prolific inventor in the world is Kia Silverbrook of Sydney, Australia, who holds 4669 utility patents (that's 2337 more than Thomas Edison). Silverbrook's fields include computer graphics, video and audio production, scientific computing, factory automation, digital printing, molecular electronics, genetic analysis and solar cells. Pablo Picasso is said to have had at least seven major periods. It's estimated he made over 1,885 paintings, 1,228 sculptures, 2,880 ceramics, 18,095 engravings, 6,112 lithographs, 3,181 linocuts, 7,089 drawings plus 4,669 drawings and sketches in 149 notebooks, 11 tapestries and 8 rugs. "What one does is what counts," said
Picasso
, "not what one had the intention of doing." [fbcomments url="http://clicks.robertgenn.com/idea-life-cycle.php"]
Featured Workshop: Ken Hoen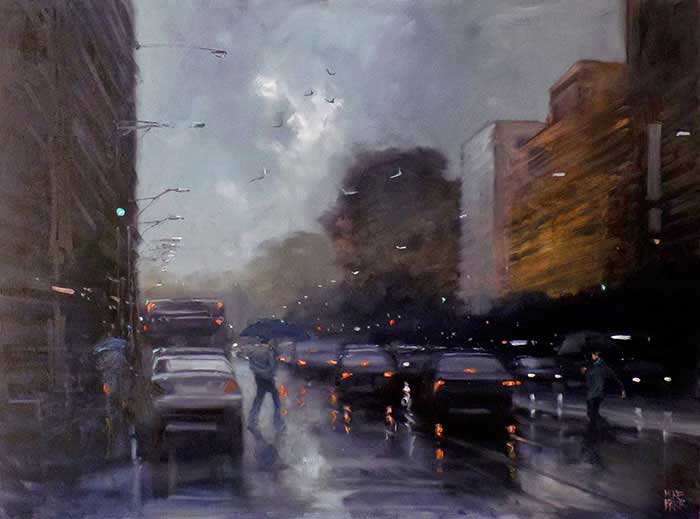 Rain on Grenfell Street
oil on board, 80 x 60 cm by Mike Barr, Australia
You may be interested to know that artists from every state in the USA, every province in Canada, and at least 115 countries worldwide have visited these pages since January 1, 2013.