Dear Artist,
Growing up, my Dad used to casually throw out an idiom that went, "There's no such thing as undiscovered genius." Over time, as my brothers and I embarked on slow-burning careers in the arts, we internalized his words as a call to work as hard as possible. We fleshed out this ethic with another favourite family strap-line: "Keep busy while waiting for something to happen."
When I was about 30, I sought the advice of a professional who advertised in the yellow pages as a "change specialist." When I told him about the global dearth of undiscovered geniuses, his eyes drooped with pity. "You are incapable of managing your life," he said, and asked for my credit card. He suggested a cure of twice-weekly sessions for six months. On the drive home, I decided that coughing up $400 a week for therapy would make my life even more unmanageable.
First identified in 1978 by psychologists Pauline Rose Clance and Suzanne Imes, imposter syndrome is defined as a feeling of inadequacy that persists despite evident success — believing that luck is the reason for any gains. Originally thought to have originated with family dynamics, it's now believed that imposter syndrome could be caused by everything from neuroticism and behavioral habits to systemic discrimination, stereotypes about competence and intelligence, internalized sexism and the patriarchy. Once thought to exist only in women, further research has found that imposter syndrome is merely a form of perfectionism.
In art, the most prevalent cases of personal doubt appear among the successful. If you have imposter syndrome, you may actually be good. "I have written 11 books," wrote Maya Angelou, "but each time I think 'Uh-oh, they're going to find out now. I've run a game on everybody, and they're going to find me out.' Perhaps it has something to do with loving work that is difficult to do well. And doing work that you're compelled to do, regardless of reward. My Dad often mused that he felt like he was getting away with something, but all the while, I noticed he was devoting himself to the work at hand.
If you're wondering about your own feelings of fraudulence, you can take Dr. Clance's Imposter Phenomenon Scale Test, here. And while self-doubt in the arts can manifest as jealousy, depression or hopelessness, consider it, instead, as a call to work. Commit to a path of lifelong learning. Channel your attention towards developing ideas and keeping a vigil for your own quality. Consider also that perhaps imposter syndrome in artists is merely a safety catch for the ego force required to strive in the direction of genius in the first place.
Sincerely,
Sara
PS: "I am not a writer. I've been fooling myself and other people." (John Steinbeck)
Esoterica: One of the most common techniques for managing imposter syndrome is an exercise called, "reframing," which is simply coming up with new ways to respond to challenges. Over time and with practice, reframing allows us to disrupt unhelpful thought patterns. Think, for example, of your feelings of doubt not as a hindrance, but as a skill for reflection and improvement. Insecurity is a kind of hunger. Don't let it eat you alive, but rather cultivate work habits and a conviction to being good. As artists, we're designed for insight and to strive for deeper and more beautifully executed ideas. "Competence," said Canadian astronaut Chris Hadfield, "means keeping your head in a crisis, sticking with a task even when it seems hopeless, and improvising good solutions to tough problems when every second counts. It encompasses ingenuity, determination and being prepared for anything."
Have you considered a Premium Artist Listing?  With each letter, an artist is featured at the bottom of this page. The Premium Artist Listings are a means of connecting artist subscribers through their work. Proceeds from each listing contribute to the production of The Painter's Keys. 
"Ignorance more frequently begets confidence than does knowledge." (Charles Darwin)
Featured Workshop
August 19, 2020 to August 21, 2020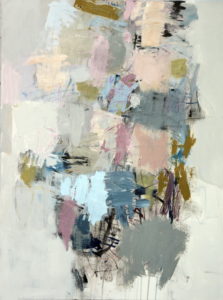 Have some experience painting, but want to explore the elements of non-objective painting in more depth, increase your confidence and creative intelligence? Boldly Abstract 2 is for you.  As in Boldly Abstract 1 we will cover aspects of color, composition and mark making however through a series of more challenging exercises meant for those with more painting experience. Learn how to fix an unsatisfying painting.  We will share our extensive knowledge of the art business with you, covering such topics as the mechanics of running your own art business, applying to galleries and the ins and outs participation in art fairs.   
August 19, 20 and 21
9 am to 4:30 pm
$950  Bring a friend and save $50 each.  Take both workshops and save $100
https://artbycat.com/page/1-Workshops-Prints.html
Featured Artist
We live in a fractured world. Wars, famine and power games are forcing people to abandon their homes and their way of life in hopes of finding peace. For lack of education or specialized skills, the poor are not accepted into our northern communities. They stay in the camps on the borders of turmoil, separated from local community. Animals are caught in the crossfire. Even the trees and the rocks suffer the agony of imbalance. This chaos is evident in my work. In between the rivulets of paint and the textural accidents I choose colours and forms to suggest a landscape where beauty continues to reign. We can still change the tide and build a new world harmony. Certainly, contemporary will focuses on gold instead of beauty. Yet, beauty is essential to the wellbeing of the planet. She is essential to the survival of humanity.