Dear Artist,
Last month, director Martin Scorsese, when asked in an interview what he thought of blockbuster superhero franchise movies, replied that in his opinion he doesn't think they're cinema. After a deluge of outrage at this remark, Scorsese penned an op ed in Monday's New York Times to explain that over the past 20 years the movie business has changed, as have many art forms. "The most ominous change," he wrote, has come "stealthily and under cover of night: the gradual but steady elimination of risk." To Scorsese, the exploration of the unknown for both an artist and her audience are what make a work of art.
Cinema as art, writes Scorsese, is based on the backbone of auteurship — what he calls "the unifying vision of an individual artist" — in other words, art needs an artist in order for it to be art. Because most of the movies made today are "market-researched, audience-tested, vetted, modified, revetted and remodified until they're ready for consumption," he says, they minimize or completely eliminate the riskiest factor of any creative endeavour — the artist. As a result, filmmaking is split into two fields: A worldwide audiovisual entertainment industry — and cinema. Overlap between these two fields is increasingly rare because the financial dominance of the first threatens the existence of the second.
If you're thinking that Scorsese is ignoring the time immemorial artist-patron relationship and that money has always corrupted the creative process, he says that unlike today the old Hollywood studio system was at least a productive force. "The tension between the artists and the people who ran the business was constant and intense, but it was a productive tension that gave us some of the greatest films ever made." For his current inspirations, Scorsese cites his peers: Paul Thomas Anderson, Claire Denis, Spike Lee, Ari Aster, Kathryn Bigelow, Wes Anderson. "When I watch a movie by any of those filmmakers, I know I'm going to see something absolutely new and be taken to unexpected and maybe even unnameable areas of experience," he writes. "My sense of what is possible in telling stories with moving images and sounds is going to be expanded."
Sincerely,
Sara
PS: "[Cinema] was about confronting the unexpected on the screen and in the life it dramatized and interpreted, and enlarging the sense of what was possible in the art form." (Martin Scorsese)
Esoterica: Martin Scorsese was born in Queens, New York in 1942 to a seamstress and a clothes presser, both aspiring actors. Before he started school, his family moved to Little Italy where Martin was raised as a devout Catholic. Because of his asthma, Martin couldn't play sports, so his family went to the movies instead. After failing out of a preparatory seminary while still in high school, Martin enrolled at NYU and would earn an M.F.A in film studies there in 1966. Seventy-six-year-old, Oscar-winning director Martin Scorsese, known for his masterpieces "Taxi Driver," "Raging Bull," "Goodfellas" and "The Departed," says that art's death cannot be simplified to a matter of supply and demand and giving people what they want. "If people are given only one kind of thing and endlessly sold only one kind of thing, of course they're going to want more of that one kind of thing."
"For anyone who dreams of making movies or who is just starting out, the situation at this moment is brutal and inhospitable to art. And the act of simply writing those words fills me with terrible sadness." (Martin Scorsese)
The Letters: Vol. 1 and 2, narrated by Dave Genn, are available for download on Amazon, here. Proceeds of sales contribute to the production of The Painter's Keys.
"It was an art form. There was some debate about that at the time, so we stood up for cinema as an equal to literature or music or dance. And we came to understand that the art could be found in many different places and in just as many forms." (Martin Scorsese)
"So, you might ask, what's my problem? Why not just let superhero films and other franchise films be? The reason is simple. In many places around this country and around the world, franchise films are now your primary choice if you want to see something on the big screen. It's a perilous time in film exhibition, and there are fewer independent theaters than ever." (Martin Scorsese)
Featured Workshop
November 20, 2019 to November 27, 2019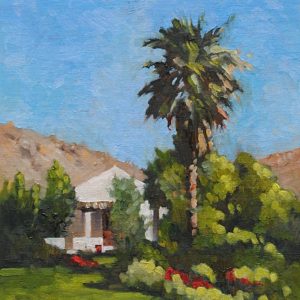 Join Canadian artist Sheree Jones as she shares her passion for painting "from life" at this idyllic coastal retreat.
This workshop is designed for experienced beginner & intermediate oil (and acrylic) painters.
The small group size guarantees plenty of one on one instruction.
While you're busy creating art, your friendly hosts at Casa Buena will be working hard, ensuring that your stay is a memorable one.
Outstanding food, accommodations, and field trips will satisfy your desire for both comfort and adventure. Non painting partners welcome.
For more information visit:
http://www.casabuenaartretreat.com/retreatSheree.htm
or contact Sheree:
sheree@shereejones.com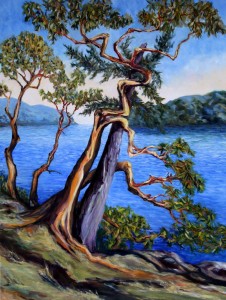 Southern Gulf Islands Afternoon 48 x 36 inch oil on canvas by Terrill Welch
Featured Artist
I am a landscape painter exposing the mystery in an ordinary day.