Dear Artist,
In a recent clickback, a letter from George Trabert of Walnut Creek, California brought our attention to the "Stance of the Matador." Transferred from the bull-ring to the way an artist might address an easel — like a matador — pelvis thrust forward, brush at arm's length, a defiant, bullfighter look. This week I've been so wired with George's matador stance that I've been thinking about buying a "suit of lights" — at least a pair of tight pants. Anyway, it's all attitude. Attitude is the killer application. "Bravo," George, and thanks for the tip.
Standing defiantly at the easel has not always been my bag. I'm generally a sitter. But last night, hand on hip, I was flashing my brush like a sword and got to thinking about my various easel attitudes. Aircraft, balloon, horseback, car-seat, car-roof, bicycle, motorcycle, art-dog, bed, as well as all kinds of boats and other floaters. All these contrivances and odd locations came with their own nuance of attitude.
Surely one of the most underexploited painting stations is the "lazel." I've built several of them. The lazel is an easel device that permits the artist to go to work in a reclined position. Lazy afternoon, down at the bottom of the garden, lazel's your cup of tea. With lazeling you can relax. This is a good thing. There's not the energy nor the clutter of the studio-office, but that's the point. With the beguiling sounds of nature at hand, private lazeling adds a high level of contemplation and trance. You can also drum up a feeling of holiday-making and laid-back timelessness — attitudes useful to the muse. I like the thoughtful, painterly progress that my lazel permits. One stroke here suggests another stroke there, sort of thing. It may seem lazy, but it's amazing what you can drag out of a good lazel. I've asked Andrew to put up a couple of shots of mine in action. See below.
Work need not be completed at any one painting station. It seems to me that gathered assays work best when they are reviewed later under different stars, different attitudes. As Lawrence of Arabia said to Auda abu Tayi: "Nothing is written."
Best regards,
Robert
PS: "The art of an artist is a continuous chain of little inventions, little technical discoveries of one's own, in one's relation to the tool, the materials and the colors." (Emil Nolde)
Esoterica: Time and again artists write to say how much they value the input of our correspondents in the clickbacks that are accessed from every twice-weekly letter. This information and insight-sharing has a high level of stimulation and idea-breeding potential. When you can go among friends and pick up something like the "Stance of the Matador," and make it happen for yourself, you know you are onto a good thing.
Lazel

Value in standing to paint
Elizabeth Azzolina, Cherry Hill, NJ, USA

The "Stance of the Matador" is an appropriate description of the feeling I get when I'm standing at my easel. There, before me, awaits my next challenge. I am alert and ready with all senses go. As I stand and paint, I feel I have a stronger focus and vision. Through my academic training, instructors encouraged, if not mandated, that you stand at your easel. So perhaps part of this lean toward standing has become habit, but I see it as a positive tool in my painting discipline.

Art flat on a table
by Brad Greek, Mary Esther, FL, USA

My stance is more likely described as the "Hunchback of Notre Dame." My main studio is the kitchen table. I lay the canvas flat and stand over it. Painting in oils or acrylics, this technique is perhaps training me for watercolour in the future. It also limits the size of canvas to the size of table and arm's length — which is perfect for abstract work — you can rotate the work and come in from all directions. Painting on an upright easel is a challenge for me, so the lazel might be a "break-in" easel. Great idea!

Dueling with the canvas
by Denise Bezanson

My partner Ron refers to it as "Dueling." He looks like a fencer when he paints, and he attacks the canvas. He'd describe painting as a fight, a fight with composition, colours, and a fight with his own brain. I'm sure you know what I mean. Painting is a lonely sport. But what always gives us a chuckle is when his grandmother keeps asking, "How's your hobby going dear?"

The lunge of John Singer Sargent
by Joseph Guggino

The "Stance of the Matador" posture reminded me of John Singer Sargent and descriptions of him at his various easels. They described him lunging at the large canvases, putting some quick dabs on, then lunging back to see his canvas from a distance, then lunging back at it over and over again. It must have kept his portrait subjects entertained.

Warrior energy in painting
by Steve Hovland

My therapist has remarked that I am applying my "Warrior Energy" to my painting efforts. (This comes from a Jungian perspective on archetypal energies.) Mostly it comes out as persistence — of covering one piece of paper after another with paint in order to develop my technical skills, and not being discouraged by failures.

More versatile lazel
by Randy Fenton, Poconos, PA, USA

I plan on modifying my own lazel to be more portably mobile, wheels sound good, possibly with an adjustable back support (like yours), and a slightly narrower seat, to allow for a full range between lying back relaxed work and a good ol' white-knuckled hunchback attack.

Shoot from the hip
by Nicole

Here in freezing weather we sometimes have a tendency to get claustrophobic. Therefore my favorite stance is "shooting from the hip," that is to say being totally uninhibited and free. This works quite well for me when I start a painting or at that point in the work when I have become so taken with a figurative detail that I have lost all sense of the "big picture."

Richard Schmid choose your weapon
by Jill Musser, CO, USA

Along the same lines as attitude at the easel might be attitude about the brushes. Every time I choose which brushes or palette knives I think I want for the painting task at hand, I remember something that Richard Schmid said, "Do not just pick up the brushes you used and cleaned yesterday because they are there. Put those back, look at all of them, and then choose your weapon, like a type of gun or a certain type of sword. You are going into battle and you want the best weapon for the job." It's true!

Evil device
by Linda Harbison

I read your definition of the lazel aloud to my 14-year-old son, (who was sitting in a recliner drawing at the time) and I said that he could use one. However, instead of an "easel device" that permits an artist to work in a reclined position, he thought I said an "evil device" that prevents an artist from working in a reclined position. He watches too much Anime. I'll try to enunciate better next time.

Benefits of prone position
by Marilyn Califf, Memphis, TN, USA

The lazel is a grand idea. I find that when I'm in a prone position, staring dreamily at the ceiling or the trees or the clouds, I get really good ideas and sometimes resolutions to problems I'm having either with painting or relationships. And most of the time those ideas are ones I would have never thought of otherwise. Amazing isn't it how that Universal Energy out there communicates with us? I also get many great ideas when swimming laps (which I do all year round). There is something about repetitive actions that is meditative.

More benefits to standing position
by Linda Saccoccio, Santa Barbara, CA, USA

When I stand up to paint I access energy from my connection with the earth through the body, the space around it and the energy above. There is a trust in my whole body to engage in the painting. There is a feeling of losing control and that is when spontaneity can occur. I guess I am the type of person who is invigorated by the physical working of my body. Perhaps it is the release of endorphins and other energy that enlivens me and allows me more joy in painting when it has a physical component. Perhaps the encumbered feeling when working seated occurs because it allows more mental habits to control and create stagnancy. When I stand I'm automatically less rigid and broader in my approach.

Journalist requires pass to workshop
by Linda Young

I produce an annual art retreat which brings students together from around the U.S. for a weekend to enjoy taking mixed media workshops. This year, I've been approached by a member of the press who has requested a free press pass into many of those workshops. This person is not interested in interviews with the artists or students outside of the workshops, but rather wants to attend full workshops as any other student would, benefiting from the full instructional day.
I am in a quandary about this. Giving the artists press coverage could be a very good thing for them, but what about the students who have paid for the privilege of being in that classroom? Would they lose valuable time that might be taken up by interruptions from the press person? I'm just not sure that this would be a win-win situation. After all, the real reason for the workshops is to provide a learning and nurturing atmosphere as well as fun, creativity and camaraderie. What's your take?
(RG note) Could be a ruse to get in on a free workshop. Then again she might have some sort of speculative story in mind about the phenomenon of workshopping — an idea that will not be fully formed until she sees what the artists are up to. My thought is to err on the side of generosity. It might be due diligence to candidly take a look at the track record of this journalist. Get an idea if there is any chance that what she might do will result in publicity for your workshops, or in some way further the careers of those you are trying to empower.

Mystique, value and scarcity
by Kathy Partridge, Clinton, NY, USA

This afternoon I was poking around in some old clickbacks and found one from 12/18/01 Gallery Blues, that was particularly interesting. In response to one person's letter, you wrote, "The idea, the game, is for you to get paid more than they're worth. Your prices are too low. Improving your dealer representation can help you build prices by creating mystique, value, scarcity." I wonder if you might care to elaborate on this, especially this idea of "creating mystique, value, scarcity" around one's art. Is this my job, or the gallery's or both? And how?
(RG note) It's partly the dealer's job and partly yours. I like the idea that the dealer keeps track of what the artist is up to and shares this magic with collectors. Unfortunately, many of us who are dedicated to producing quality work do not always do dynamic things that might make it into the public eye. And further, unfortunately, there is the jaded but popular observation that it doesn't matter a damn what the work looks like — as long as the artist is a salable commodity. As far as your own business of "creating mystique, value and scarcity" you can't do much better than: "The artist has changed her name to 'The Artist' and has taken up nude skydiving (perhaps on horseback) with a torn parachute." Compromise is best. Mystique and baloney are close cousins. I'd like to think that in the world of quality art one needs only the slightest whiff of baloney. The better the quality, the less the baloney.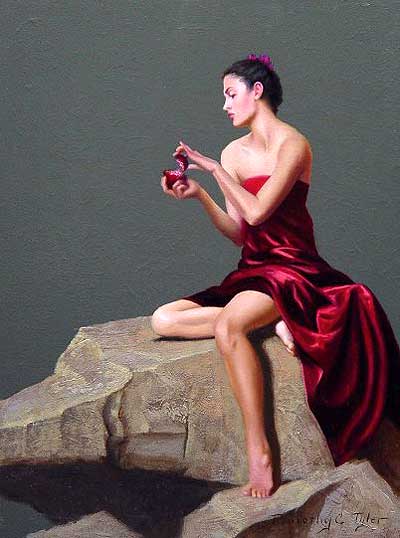 Persephone in the Underworld
oil painting by
Timothy Tyler, Siloam Springs, AR, USA
You may be interested to know that artists from every state in the USA, every province in Canada, and at least 115 countries worldwide have visited these pages since January 1, 2004.
That includes Janet Faulhabe who wrote, "Frida Kahlo painted most of her paintings in bed — smart woman!"
And also Loraine Wellman who wrote, "Try bicycle tights. They are comfortable and have a bit of Lycra support for long sessions at the easel!"
No Featured Workshop
No Featured Workshop