Dear Artist,
Jacob Collins is a New York artist and art educator whose avowed goal is to be "an old-fashioned painter." Working from life — nudes, still life, figures — in his dark and purpose-lit studio, he laboriously draws and draws out the character of his subjects by the time-honoured method of explore, erase and refine. A modern-day Rembrandt, he eschews the unskilled methodology of many among the current avant-garde.
In a recent issue of The New Yorker, the wide-ranging writer and art critic Adam Gopnik, whose kids happen to go to the same school as Collins's, tells about learning to draw by Collins's side.
Gopnik, armed only with a graduate degree in art history, admits he likes to draw but does it very badly. "For all the years I'd spent talking about pictures," Gopnik writes, "the truth was that I had no idea how to draw or what it felt like to do it. I would mistrust a poetry critic who couldn't produce a rhyming couplet. Could one write about art without knowing how to draw?"
People who write about art are often those who are merely confused by it. Confusion, in my experience, seldom dampens enthusiasm. I was once on the board of a highly respected art school where all of the board members but one were lawyers. Further, there's the frequently noted situation where many of our top collectors are scientists and mathematicians. And then again, why do I collect vintage cars? I'm so totally incompetent at their maintenance that I'm disgraced by even the mildly-talented among my mechanical friends. FYI, I bought another car yesterday, but I digress.
Gopnik, with great insight, analyzes his own desire to draw and Collins's facility at it. "Drawing is one of those things which sit on the uneasy bending line between instinct and instruction," Gopnik writes, "where seeming perversity eventually trumps pleasure as the card players and the kibitzers interact and new thrills are sought." We have no idea just how 'bad' Gopnik's drawings are, even while he refers to their badness frequently throughout the article. But that's not the point. It is respect that he gains — respect for an elusive art. And we who draw daily get a bit of respect, too.
Best regards,
Robert
PS: "Drawing, I now think, need not be the bones of art, but skill must always be the skeleton of accomplishment." (Adam Gopnik)
Esoterica: I've encouraged both myself and others to experience the joy of drawing. It may be separate from painting, but it is certainly key to much that is great in painting. To find a line, to make it work, to really see it and know it holds life and energy or is pregnant with feeling, is to experience a kind of excitement that even sensitive observers cannot truly know. If only for the forward march of our own character, we need to fill our sketchbooks.
This letter was originally published as "Learning to draw" on July 19, 2011.
The Letters: Vol. 1 and 2, narrated by Dave Genn, are available for download on Amazon, here. Proceeds of sales contribute to the production of The Painter's Keys. 
"Drawing is still the bottom line." (Robert Genn)
Featured Workshop
July 25, 2019 to July 28, 2019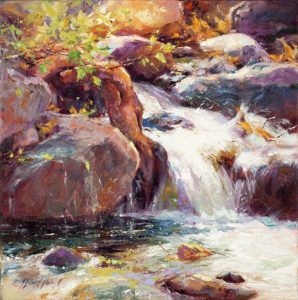 Learn to make water look wet, reflective and splashy! Painting water that looks wet requires some basic knowledge of the dynamics of how water moves and how objects are reflected in its mirror surface. Techniques will be demonstrated to address the various puzzles with which the artist is faced when painting this stunning, fascinating and challenging subject!
This workshop takes place at Port Townsend School of the Arts, 2 hours' drive from Seattle. For more information, and to register, visit our website: ptarts.org 
Julie Gilbert Pollard's workshop is limited to 12 participants. Save your place today!
Registration deadline: June 5.
Featured Artist
Robert's technique includes a tradition of strong design with patterns of color and form, with a pervasive sense of personal style. Grand themes are transposed onto small panels and larger canvases in a manner similar to members of the Group of Seven. Most of Robert's work is in acrylic. He has also done considerable work in oils, watercolour, and silk screen printing.