Dear Artist,
Different from an artist statement, which is a written description in support of your work for the purpose of a deeper understanding of it, a mission statement can be one sentence that summarizes your purpose, values or goals. You may feel this kind of thing is obvious or that art is simply a form of breathing, but it can also be fun to try to encapsulate a raison d'être — even if just as an exercise for clarity, in this moment, for your work and life.
This week, for example, many of the Western world's museums are confronting their histories in the face of a global movement for racial equality. And while the traditional function of a museum has been to collect and celebrate cultural objects, it is time to reckon with the context of this collecting and re-evaluate how best to do that. To get some ideas, I checked the mission statements of a few of my favourite museums and noticed that the most effective institutions were also the most specific about their passions:
"Devoted solely to showing the work of living, especially young, artists, with a brief to show work no more than five years old." (The Aldrich Museum of Contemporary Art, Ridgefield, Connecticut)
"It is a site for the dynamic exchange of ideas about art and society." (The Studio Museum in Harlem, New York)
"Bringing together and integrating the visual arts with the natural world." (The McMichael Canadian Art Collection, Kleinburg, Ontario)
When crafting your own mission statement, focus on why you make art and try to be as concise as possible. Use simple language. Try for a single, powerful sentence. Is there emotion? See if you can include a verb, so that your mission is actionable. "The artist has a special task," wrote American historian Lewis Mumford: "that of reminding men of their humanity and the promise of their creativity." If you memorized your mission, could you say it as a mantra when striding towards your easel?
Sincerely,
Sara
PS: "I care, and therefore I offer this." (Alice Walker)
Esoterica: In contrast to your artist statement, your mission statement can either be a private thing, just for you, or a public declaration. It is also malleable and evolving, just like you. With the goal of inspiring each other, I invite you to share yours in the comments, below. Here are a few more ideas:
"The highest purpose is to have no purpose at all. This puts one in accord with nature, in her manner of operation." (John Cage)
"That frame of mind that you need to make fine pictures of a very wonderful subject, you cannot do it by not being lost yourself." (Dorothea Lange)
"My job is to comfort the afflicted and afflict the comfortable." (Mark Twain)
"I have always wanted my art to service my people – to reflect us, to relate to us, to stimulate us, to make us aware of our potential. We have to create an art for liberation and for life." (Elizabeth Catlett)
"I am interested in evolution within my thinking. I am not interested in the evolution of my paint." (Kehinde Wiley)
"The purpose of art is the gradual lifelong construction of a state of wonder and serenity." (Glenn Gould)
"Always be smarter than the people who hire you." (Lena Horne)
"I paint for the sole purpose of magnifying the privilege of being alive." (Robert Henri)
"The purpose of life is to remember." (Henry Miller)
Have you considered a Premium Artist Listing?  With each letter, an artist is featured at the bottom of this page. The Premium Artist Listings are a means of connecting artist subscribers through their work. Proceeds from each listing contribute to the production of The Painter's Keys. 
"Find purpose, the means will follow." (Mahatma Gandhi)
Featured Workshop
August 19, 2020 to August 21, 2020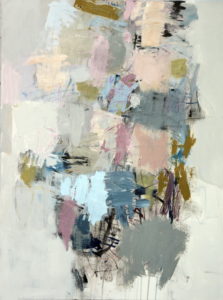 Have some experience painting, but want to explore the elements of non-objective painting in more depth, increase your confidence and creative intelligence? Boldly Abstract 2 is for you.  As in Boldly Abstract 1 we will cover aspects of color, composition and mark making however through a series of more challenging exercises meant for those with more painting experience. Learn how to fix an unsatisfying painting.  We will share our extensive knowledge of the art business with you, covering such topics as the mechanics of running your own art business, applying to galleries and the ins and outs participation in art fairs.   
August 19, 20 and 21
9 am to 4:30 pm
$950  Bring a friend and save $50 each.  Take both workshops and save $100
https://artbycat.com/page/1-Workshops-Prints.html
Featured Artist
We all need beauty, especially at a time when it appears to many that the world is in chaos.
Painting is the way I view my life, and it helps me keep my mind straight and my eyes on the positive. I look for beauty wherever I go. For that reason, I know that my life will not be long enough to paint all the ideas that I have.
I am painting because the Lord put the passion and desire in my heart to glorify Him in this way.
I have dedicated my life since 1983 to creating a body of work that testifies of His Creation, majesty, power, beauty, life and love.
Light and how we see it on the earth is the subject of all of my paintings.
I paint the landscape because I believe that we can see the Creator in His Creation, if we just look for Him there.
Since all who are sighted may see our surroundings, I believe this is one of the most evident ways we may see Him.
If I were to give a name to my entire portfolio of paintings, I would call it "The Sight of Heaven Touching Earth."This Scripture, Romans 1:19-20, is foundational to all of my work: For what can be known about God is plain to them, because God has shown it to them. For his invisible attributes, namely, his eternal power and divine nature, have been clearly perceived, ever since the creation of the world, in the things that have been made, so they are without excuse."
 Beauty, order, and the possibility to love is all around us—all we have to do is want to see it.