Dear Artist,
In this new world, I, like you perhaps, have spent the last few weeks revisiting old baking tins, ornaments, addresses, recipes, music, film, imagery, stories and memories. At the moment, many of us are doing it without our special people – our familiar motifs made even more important as the primordial symbols of our former selves. Like the overture at the beginning of a symphony, our themes were established early and are resampled now in big and small ways, in flavours and objects and cultural emblems. Now they pour forth; reimagined, rejected, regurgitated or tweaked in real time as our own, fleshed out symphony, recycling early themes for that spark of recognition that happens when we experience something old, anew. As the introduction, the overture merely provided the material with which to play and innovate with forever – reinforcing the touchpoints that tether us to our origins.
Defined in the Urban Dictionary as "when something completely new makes you feel nostalgia for something old," and submitted as a new word suggestion to the Harper Collins English Dictionary in 2019, the word "newstalgia" encapsulates an aesthetic that's not quite "retro," but rather proves that culture constantly seeks the new by referencing the motifs of history. You need only to think of the music of Amy Winehouse to get how the zeitgeist craves what is both familiar and totally fresh.
While studying the timeless white bottoms of a herd of mountainside Big Horns this morning, my walking companion mused that the etymology of "familiar" must carry the same root as the word, "family." I thought of our collective, cultural canon, organized for group consumption and implanted as aesthetic truth. I followed her footsteps along the path like a safe and predictable drumbeat. "These known moves we make, the aesthetic experiences we long to relive, the motifs we riff upon — they are, perhaps all simply just manufactured substitutes for our mother's face," I said. She chuckled. These past weeks I'd witnessed her pour love on her children, home from university for the holidays, and send and receive care packages to and from her mother in Canada. Later, at the google box, I found that the origins of both "familiar" and "family" are the Latin famulus, meaning "servant." I called my Mum, whom I am missing.
Sincerely,
Sara
PS: "I am convinced that there are universal currents of Divine Thought vibrating the ether everywhere and that any who can feel these vibrations is inspired…" (Richard Wagner)
Esoterica: In art, newstalgia can be lightning in a bottle. It strikes at the subconscious with an ineffable comfort, and we seem to assign works that possess it with qualities we associate with the originals: authenticity, quality, rarity, cool, thoughtfulness, even happiness and connection. It's why, in a pastoral landscape, we want a red barn, why a cottage chimney needs smoke, why a chugging tug must bash against her vital whitecaps and why forward-thinking architects are at this moment looking back, to reference the rooflines and façades of postwar, baby boom tract homes — if only to inject a little joy and social connection into new and futuristic case studies. "Without culture, and the relative freedom it implies," wrote Albert Camus, "society, even when perfect, is but a jungle. This is why any authentic creation is a gift to the future."
It is with my warmest gratitude for your continued  friendship that I wish you and yours a very, very happy holiday season.  Sincerely, Sara 
You can stream this perfect Vince Gauraldi Trio Christmas album, here. 
"I find the earliest years of my life are the source of my best inspiration." (N.C. Wyeth)
No Featured Workshop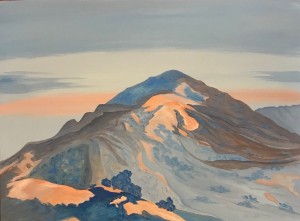 Cow Mountain View
30 x 40 inches
Featured Artist
The move to Northern California spurred my desire to paint the landscape – motivated in part by the fear that I would wake up one day and it would all be gone! I had some kind of doomsday concern, tantamount to extreme climate change or bombs going off like Hiroshima —something drastic.
The Wildfires of 2017 were traumatic, we experienced three on our land that year.
In processing the fire experiences and living with the constant awareness that what happened then can happen again.  I produced  a short film entitled:: From the Ashes – Fire, Survival. and Renewal, about how our community responded to the Redwood Complex Fire 2017.The is film available for free screenings to community fire councils and art institutions.  I am working on part two.
In 2020, largely due to the ensuing California wildfires, we chose to sell our 195 acre place and move back to the East Coast, where our families live and we are creating a new life and farm.
I am still witnessing and interpreting the landscape.
Jaye Alison Moscariello