Dear Artist,
I always thought it was just my problem. Every time anyone — friend, art dealer or family member — wanted to take a look around my studio, I felt I needed to apologize and tell them, "Nothing much here right now. Come back later."
One day, several years ago, I dropped in on an elderly painter who lives nearby. At her studio door she warned me there was "nothing much here right now." I insisted on seeing around her studio anyway. Every square inch of the place was filled with her art. Canvases ten deep leaned against the walls. Pastels in multiple piles a foot thick lay on large tables. I began to suspect that my "Nothing Much Here Syndrome" (NMHS) might be a universal condition. I wondered what might be at the root of this deception.
For some time I've observed that only the really poor artists are totally pleased with their work. I've also noted that most who toil for quality are lacking in even modest amounts of post-creation glee. As perfectionists and optimists, the better artists fantasize that their work may get better. It seems a mark of competency that these folks often hide their talents under a bush. In the land of the truly good, there is the tempting illusion that the truly good stuff will be created "later."
Humans, of course, are probably hard-wired to be makers of things. But, as widely noted by smarter pundits than I, human beings are deeply flawed with incompetence and inadequacy. Schools, universities and colleges exist on this principle. People are widely advised there is no cure — other than to become a student and to keep trying. Here's the point: the stations of our trying are not only of interest, they are the windows of our vitality, our personality, and become the very ports of our progress. Advice: Be strong, open 'er up, let in the interlopers — that stuff's worth looking at.
Hard-wired also is the artist's need to sail the high seas and get away from the studio legacy. Intuitively, while we may love our studios, we also suspect them. The travelling artist has the benefit of being a more genuinely empty vessel, at least to start with. Newly virginal, with only optimism and without a nagging history of "not much here" — you have a clean canvas, a fresh slate, an empty sheet, and there's nothing to do but fill 'er up.
Best regards,
Robert
PS: "Hope springs eternal in the human breast." (Alexander Pope)
Esoterica: In 1493 when Christopher Columbus first came to the Lesser Antilles, he named this island Virgin Gorda because it looked to him like a big woman. Such, I'm told, might be the fantasy of one who has been long at sea. And much of what we think we know and believe, I'm also told, is a fantasy as well. So if an island can be a woman, I can be a lousy, undeserving artist who has nothing much to show. Or I can be a decent one who is prolific and available. The trick is to believe in the latter but still remain displeased. Even Columbus was displeased: when he came ashore here he saw no future in coconuts.
This letter was originally published as "Nothing much here right now" on March 16, 2007.
Have you considered a Premium Artist Listing?  With each letter, an artist is featured at the bottom of this page. The Premium Artist Listings are a means of connecting artist subscribers through their work. Proceeds from each listing contribute to the production of The Painter's Keys. 
"As I breathe, I hope." (Cicero)
Featured Workshop
October 17, 2022 to October 23, 2022
October 17 – 23, 2022
San Miguel de Allende
Painting Mentor – Amit Janco: Artist, Author, Labyrinth Designer, Founder of Heartshops and Retreat on Your Feet (Creativity and Walking Retreats)
Join this 7-day journey through self-expression to unleash your bottled-up creativity, with a brush in hand – and openness in your heart. Calling non-artists too! Each day, you'll stand up to paint; yes, you'll be painting on your feet, and moving about – thereby activating the brain, the body and ALL senses. No need to come with a plan; watch the colors and brushstrokes come alive; and see the magic and mysteries unfold, as you greet your square of paper anew, every day. Our accommodations and studio are in an enchanting former bordello, just a stone's throw away from San Miguel's historic center, with its gardens, cobblestoned alleys and marvelous colonial architecture. Inspiration abounds!
Details at https://amitjanco.com/uncorking-your-creative-core-paint-walk-write-in-mexico/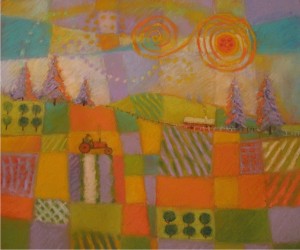 Sunrise Over the Farm #2
original pastel 15 x 15 inches
Featured Artist
Mary's interest in pastel painting began during her years at Whitworth College in Spokane, WA where she majored in art and elementary education. Though she has worked in watercolor and oil as well as calligraphy, her interest has consistently turned primarily to pastel because of the medium's potential for glowing, vibrant color and the harmony achieved in bringing together lights and shadows.