Dear Artist,
Creativity researchers at the UCLA are continuing their decades-long studies of the biological origins of creativity. By testing what they call the "Big C" – exceptionally creative visual artists and scientists – scholars are inching closer to discovering how creative brains are different. Researchers tested Big Cs against another group qualified with only a very high IQ; the brain scans revealed the differences between being super smart and super smart, plus super creative.
Not surprisingly, these brain images have shown that rather than following known paths and connections in brain activity and routes, highly creative people seem to prefer to forge their own roads. Often less efficient but full of novelty, these roads between regions in the brain are more specific, random and varied. Researchers observed that highly creative people were more likely to bypass the usual big hubs between brain regions, opting for a "road less travelled" and arriving in surprise locations. Big Cs were also extremely efficient at processing while at rest, but worked harder and longer at creative problem solving. Based on areas of competence and creative expertise, Big Cs took less time and energy at specific tasks, but took the long route when it came to broad and abstract idea generating.
Regardless of whether or not you might be a Big C, consider consciously applying the rules of the road less travelled to your outside world, to see if you can get to moseying around in your skull. "Never, ever backtrack if you can at all help it," said my Dad to me often, while mosey-driving. Also, "When looking through the viewfinder of your camera, keep your other eye open, should something go flying by in the periphery."
Sincerely,
Sara
PS: "Our results showed that highly creative people had unique brain connectivity that tended to stay off the beaten path." (Ariana Anderson, professor and statistician at the Semel Institute for Neuroscience and Human Behavior, UCLA)
Esoterica: If observation is one trigger for a novel idea, veering off the beaten path is an obvious choice. This less-travelled road can then become a creative habit – and one that can provide a lifetime of invention and a muscle memory for summoning new thought or for cultivating an evolving mind. "The painter unfolds that which has not been seen," wrote Paul Cezanne. For today, let go of your knowns, preferences and systems of execution. Take the tertiary road to your proverbial Humptulips. Turn over a mossy rock. For the purpose of inviting aesthetic experience, for conjuring art, "Everyone is in the best seat." (John Cage)
Have you considered a Premium Artist Listing?  With each letter, an artist is featured at the bottom of this page. The Premium Artist Listings are a means of connecting artist subscribers through their work. Proceeds from each listing contribute to the production of The Painter's Keys. 
"Only a new seed will yield a new crop." (Maharishi Mahesh Yogi)
Featured Workshop
June 27, 2022 to June 30, 2022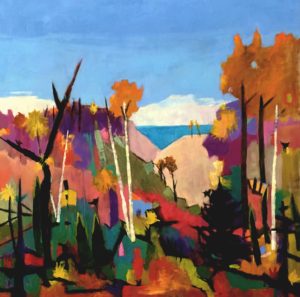 Permission to Paint Expressively Series   Session 1     
June 27-30, 2022
Join Ellie Harold for "Expressive Painting: Color from the Inside Out."  Do you struggle with color? For chromophobics or anyone who would like greater freedom in their use of color, this workshop focuses on activating and applying your innate color sense. Content, process and lightly structured exercises allow you access to a wider range of color expression in the safe space of Ellie's studio, located only 3 blocks from Lake Michigan near Sleeping Bear Dunes. "Expressive Painting: Color from the Inside Out" has the potential to transform not only your art but your life! Details and registration at www.EllieHarold.com.
Featured Artist
Sometimes we see what no one looks for–images that have waited for us to find them. If we are lucky, these images will wait while we try to capture them with paint on canvas. They will probably change as we reach for them. I believe that if we clearly and honestly record what we see, we will be surprised, enriched, and sometimes stunned by what we've found.
There is almost always a narrative in my paintings as I believe that a story may be introduced in a scene. The viewer must fill in the before and after with unique eyes and experience, but enough can be presented to set a challenging stage if the work is successful. 
Along with being a visual story teller, I've been called a colorist, surrealist, patternist, and sometimes a texturist. I'm an Atlanta artist–an oil painter for over twenty-five years–with a studio in Brookhaven. I love working with oils because each painting session results in a new revelation of what they might do. There is a mystical quality to each painting and each day for me.
Finally, and always, there is a spiritual quest in my paintings. Driving that are the essential questions of why we are here, what we can or should or might do here, how we got here, and where we might be going. Just as I believe that there is a spirit in all things, I try to instill a bit of that spirit into each brushstroke.