Dear Artist,
On Saturdays, my mom used to take me along when she went shopping in the big department store. Inevitably we rode the elevator to "Notions" on the third floor. "What are notions?" I asked one day on the way up. "They're things you didn't know you needed, but when you see them you have a notion to get them," she told me. Mom seemed to wander around in a mental daze, picking up things like needles, buttons and cuticle remover. She once bought a red pincushion "so grandma can have a place to organize her pins." Pin organization was one of my lesser concerns in those days, and this sort of frivolity only confirmed how much I hated stores, a prejudice that lingers against many stores to this day.
A notion, as well as being a department in a store, is a state of mind where you do something on a whim. It's largely triggered by seeing an item, handling it and figuring out how it might be used. In marketing terms it's called "point of sale" and apparently it works better than peering at a screen.
Over the years I mellowed and now consider attendance at well-stocked art-materials stores a desirable deviation and an art in itself. Materials-shopping can actually be a creative event not unlike the experimentation that happens in the studio.
You need to be relaxed, open-minded and prepared to stay in the store just short of the time it takes to get picked up for loitering. I recommend putting your hands in your pockets for the first while and then only handling stuff on the second pass. Well-stocked stores are loaded with new gadgets, tools and materials that invite pause and the inevitable creative question, "What could be?"
Novelty is vital to the stimulation of life. This Christmas, for example, Dorothy the Airedale played harder and had more fun with this year's ball than with last year's. It's in human nature. The same old same old is transmogrified by the creative crossover triggered by seemingly minor novelties. New neural paths are sparked by caving in to notions.
Best regards,
Robert
PS: "The true method of knowledge is experiment." (William Blake)
"I didn't think; I experimented." (Wilhelm Roentgen)
Esoterica: On Boxing Day it took me about an hour to find the thing I wasn't looking for. There was a bunch of them in a bin in all shapes, sizes and configurations. The one I got was a rubber spatula-type thing about an inch wide with rubber prongs like a short springy comb. I don't know what it's called, but it has "Catalyst by Princeton" on the handle. When I got back to the studio I didn't take off my coat before trying it out. When used to push around relatively thick paint and combined with glazing and scumbling, it provided a few textural touches I'd been missing.
This letter was originally published as "Cultivating 'notions'" on December 30, 2012.
The Letters: Vol. 1 and 2, narrated by Dave Genn, are available for download on Amazon, here. Proceeds of sales contribute to the production of The Painter's Keys. 
"Life is 'trying things to see if they work.'" (Ray Bradbury)
Featured Workshop
February 19, 2020 to February 26, 2020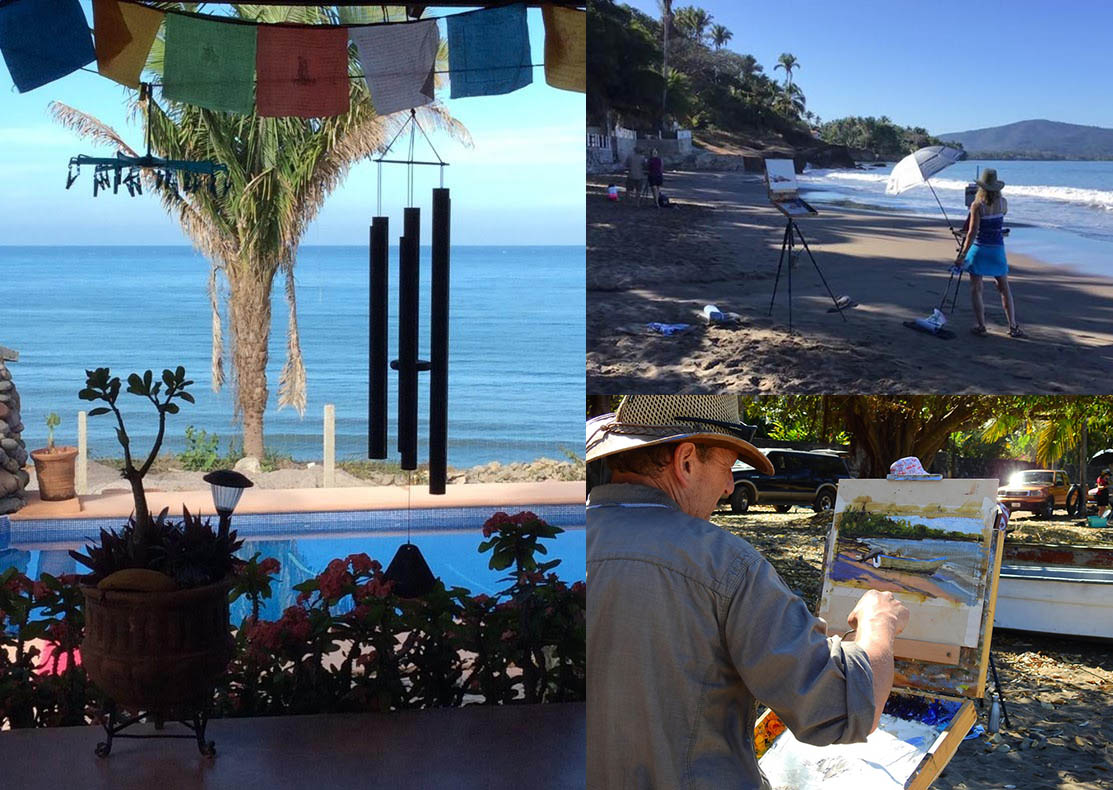 If you live in the cold north like I do, this is the BEST thing you can do with a February – believe me! Join me, Hermann Brandt for my 4th annual PLEIN AIR workshop/retreat on the west coast of sunny Mexico. Casa Buena Art Retreat Center is a beautiful private residence overlooking the ocean. While our vivacious hostess, Jane Romanishko takes care of almost every need, I will guide you through the process of identifying, designing, composing and painting the gorgeous land and seascape that surrounds us. Medium: oil or acrylic.
At the end of each day, we gather on the veranda by the pool and critique our work – it's a beautiful thing :-)
I endeavour to run a friendly, encouraging, no-pressure workshop so beginners are welcome. Minimum of 6 participants. IMPORTANT: Registration by 1 Dec 2019
I look forward to painting with you
Featured Artist
There's a hush… a palpable electric presence radiating from some of the paintings in New York City's Metropolitan Museum of Art and in the galleries of the Frick Collection.