Dear Artist,
When asked recently about plans for my work in 2020, I found myself struggling for words. I wanted to please the person who had asked, but I simply didn't know the answer. How does one predict the future of the most powerful and mysterious, unfolding force of one's life? While the nuances, challenges and pleasures are all-consuming, they remain impossible to plan or describe before they appear. Even the process is in flux. And while many artists find talking aloud useful for keeping them on track, for me, there's a kind of guilt when I do it — as though I've somehow betrayed the gift of my Hero's Quest. My Quest only reveals herself to me when I pick up my brush.
After this latest bout of uneasiness, it dawned on me that it probably has something to do with fear. Self-doubt is unpleasant — it's why some people avoid making New Year's resolutions. "Vulnerability is not weakness," wrote Brené Brown in her 2015 manifesto Daring Greatly. "I define vulnerability as emotional risk, exposure, uncertainty. It fuels our daily lives." And so I won't ask you about your plans for your work in 2020. Instead, I'll invite you to ponder with me some ideas for creative development, with a preference for behavioral tweaking over sweeping productivity goals, which may or may not advance your ideas or growth. Instead, habits, developed over time I've noticed, can change outcomes and determine the course of a life. Here are a few ideas, which are implemented by practicing:
Instead of a painting a day, what about every day for painting?
Experiment more. Try adding or omitting one stage in your existing process.
Three hours in the morning, first.
Change your ground colour for two months.
Cut your palette in half.
Leave paintings 10% unfinished as a gift to yourself for the following day, with the idea that you'll decide if it's actually already finished, tomorrow.
Stronger design.
Better, more specific titles.
One neat area.
Two mysterious areas.
Three material areas — surface quality, edgemanship and brushwork, because you are making a painting.
Be a more powerful translator of that which you are celebrating.
Sincerely,
Sara
PS: "I want to be in the arena. I want to be brave with my life. And when we make the choice to dare greatly, we sign up to get our asses kicked. We can choose courage or we can choose comfort, but we can't have both. Not at the same time." (Brené Brown)
Esoterica: Earlier this month, while dreamily wading through the low tide at St. Kilda Beach, an artist friend pointed out what she felt might be a good habit. "You are regularly creating opportunities for happiness," she said. I accepted her observation as true.
"Vulnerability is the birthplace of innovation, creativity, and change." (Brené Brown)
Wishing each and every one of you happy holidays and the very best for 2020. Thank-you for your continued friendship. With gratitude, Sara
The Letters: Vol. 1 and 2, narrated by Dave Genn, are available for download on Amazon, here. Proceeds of sales contribute to the production of The Painter's Keys. 
"Every day, in every way, I'm getting better and better." (Émile Coué)
Featured Workshop
May 1, 2020 to May 3, 2020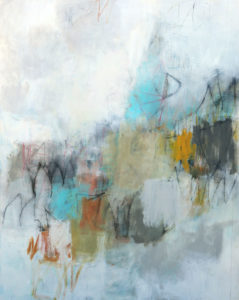 Experience beautiful early spring in Santa Fe, NM.  Develop your own unique marks and painting vocabulary in this 2 1/2 day abstract acrylic workshop.
We will work on paper, and for those who like, unstretched canvas, using conventional and unconventional mark making tools and drawing media.  Via guided exercises you will practice a variety of marks and learn how to create a work rich with history and depth through the process of layering these marks with acrylic paint.
This class is suitable for beginning and intermediate painters.  Cost is $595.00  Materials list provided one month prior to the workshop or can be provided at an additional cost of $100.00
https://julieschumer.com/julie-schumer-workshops/
Featured Artist
Robert's technique includes a tradition of strong design with patterns of color and form, with a pervasive sense of personal style. Grand themes are transposed onto small panels and larger canvases in a manner similar to members of the Group of Seven. Most of Robert's work is in acrylic. He has also done considerable work in oils, watercolour, and silk screen printing.