Dear Artist,
My friend Carla co-leads exhibition tours at the Museum of Contemporary Art in Sydney. She does it as part of Bella Plus Connect — a monthly community drop-in program for people with disability or access requirements. Art enthusiasts of all ages and abilities are invited to meet and connect with each other and artist educators to explore the galleries and develop their own art practices.
"I like being a part of the tours because it's made me more mature and confident. I've learned to use eye contact and be sociable and friendly," said Carla in a recent interview for the MCA about the tours. "I'm good at co-hosting and being a gallery rules ambassador." For Carla, who'll turn 30 this February, co-leading tours at the MCA is just one of her many interests including her dance class, cooking, hanging out with friends, travelling, watching movies, going to the gym, following her favourite Rugby League team and her job at Fox Sports.
And Carla's gallery tours are just one of several parts of the Bella Program — a collection of individually tailored programs including ones for creative learning in schools, for groups, for families, for people living with dementia and a special exhibition room that annually commissions a totally interactive, sensory-focused installation called The Jackson Bella Room Commission. Another program called Bella Plus Art Partners features 3-month, one-on-one, individually tailored professional and creative mentorships for adult artists with special needs. All of it is offered by the museum, free of charge.
Named for Belinda Jackson, a jeweler, who died in 1990 at age 29, The Bella Program was established when Belinda's family wanted to commemorate her creativity by supporting other artists. First, in 1992, they began what is now the longest-running exhibition of Contemporary Art in Australia, Primavera — the MCA's annual exhibition of young Australian artists aged 35 and under. The following year, the Jacksons formed the Bella Program. Bella currently welcomes 3000 children and adults with disabilities into the museum and a world of art.
Sincerely,
Sara
PS: "The tours make me feel happy and better – it's helped me build skills, make friends, be social. It's good fun to be here. I feel welcome and I enjoy the activities. Everyone respects each other." (Carla Hage)
Esoterica: "Recognizing the importance that creativity played in their own daughter's life, and deciding to share this with other artists, curators and broad audiences, publicly acknowledges the value of art," said Hannah Mathews, Primavera's 2008 curator. "This is something we need more of in Australia: a commitment to and a valuing of art and culture as sustaining elements for a healthy, educated and enriched country." When asked to reflect on her experience co-leading tours for Bella Plus Connect, Carla said, "Take a deep breath. The people here are friendly. Art is for everyone."
Happy New Year to each and every one of you. I hope you'll say hi to Carla in the comments! Sara 
The Letters: Vol. 1 and 2, narrated by Dave Genn, are available for download on Amazon, here. Proceeds of sales contribute to the production of The Painter's Keys. 
"Ability is of little account without opportunity." (Napoleon Bonaparte)
Featured Workshop
November 20, 2019 to November 27, 2019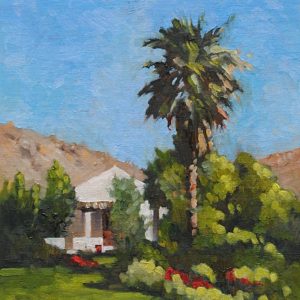 Join Canadian artist Sheree Jones as she shares her passion for painting "from life" at this idyllic coastal retreat.
This workshop is designed for experienced beginner & intermediate oil (and acrylic) painters.
The small group size guarantees plenty of one on one instruction.
While you're busy creating art, your friendly hosts at Casa Buena will be working hard, ensuring that your stay is a memorable one.
Outstanding food, accommodations, and field trips will satisfy your desire for both comfort and adventure. Non painting partners welcome.
For more information visit:
http://www.casabuenaartretreat.com/retreatSheree.htm
or contact Sheree:
sheree@shereejones.com
Featured Artist
I am a self taught artist, I work in oil, Acrylic and watercolour also in Pastels. Started painting In Ashcroft with Mr. Campbell. I taught my self how to paint by studying professional artists' work through reading, TV programs, educational DVD and work shops.