Dear Artist,
Model-making artist Joe Fig has produced a remarkable book, Inside the Painter's Studio, in which he visits and photographs the studios of dozens of well-known New York contemporary painters. He also records each artist's answers to a number of set questions, many of which are practical ones concerning studio layout, painting processes, work hours and habits, clean-up times, unique tools, titling, the use of assistants, and advice for younger artists. His second-to-last question, "Do you have a motto or a creed that as an artist you live by?" picked up a range of answers, both predictable and insightful.
Many of these painters didn't want to admit having a creed. Alex Rockman, Ryan McGinness, Mary Heilmann, Eric Fischl and Inka Essenhigh gave a flat "no." Chuck Close defined the attitude a little more closely: "Inspiration is for amateurs — the rest of us just show up and get to work."
Dana Schutz said she couldn't remember any of her mottos, while Joan Snyder just laughed at the very idea of having them.
Some of the answers were lengthy. The word "truth" was prevalent. Steve Mumford admonished, "Try to be absolutely truthful to yourself and almost try to flout popular taste in seeking out what it is that you really are interested in doing." Billy Sullivan said it was important "to be honest in the work and to have fun." Malcolm Morley used only one word: "Fidelity."
"Do what you want to do," was the advice of Fred Tomaselli, while Matthew Ritchie said, "Remain interested in what you're doing." Will Cotton said, "Ask yourself daily if you're excited."
Julie Mehretu felt her motto was, "to really put everything into my work so the work returns that to me." And Amy Sillman observed, "You're going to die so you may as well make the most of it."
Barnaby Furnas said it was important to realize, "there are no mistakes," while Bill Jensen said, "You have to let the paintings lead you." April Gornik told us, "Great art should be vulnerable to interpretation." And James Siena said, "Your success will come out of the work you do, not who you know, what parties you go to, or what you wear." Ross Bleckner also took the high road: "Bring something new, something beautiful and something filled with light into the world."
Best regards,
Robert
PS: "If you hang in there, you will get somewhere." (Chuck Close)
Esoterica: "I'm very happy that I've had the chance to be a painter," said Philip Pearlstein. Of all of them, Gregory Amenoff seemed the least narcissistic: "Artists need to support other artists," he said. "When younger, you're part of a community, when older you need to create opportunities for the younger ones. In the meantime you have a responsibility to work fiercely in the studio in exchange for the privilege of making things the world doesn't necessarily ask for." And Joe Fig, the guy who compiled all this? He has a sign over his door that reads: "Focus, Discipline and Faith."
This letter was originally published as "Do you have a creed?" on January 4, 2011.
The Letters: Vol. 1 and 2, narrated by Dave Genn, are available for download on Amazon, here. Proceeds of sales contribute to the production of The Painter's Keys. 
"To float like a cloud you have to go to the trouble of becoming one." (Robert Genn)
Featured Workshop
February 26, 2020 to March 4, 2020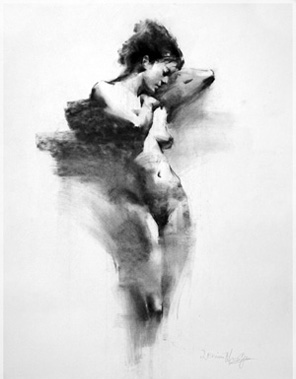 Learn from the Master! The way to do accurate drawing with painterly approach. Join us for this 7 day retreat with 4 day workshop in magical settings of Mexican back country with one of the best instructors of drawing the human figure. From short pose gesture and anatomy studies, to long pose painterly approaches, students will learn step by step the drawing methods, human proportions, anatomy and much more. Live model with small class size will insure lots of personal attention.
Henry Yan has been teaching at Academy of Art University in San Francisco for more than twenty years. His book, "Henry Yan's Figure Drawing – Techniques and Tips" published in 2006, has been widely used by art students and professional artists in the US and internationally.

Casa Buena Art Retreat is a calm and beautiful place to relax and explore your creative energy. Non painting partners welcome.
For more info check http://www.casabuenaartretreat.com/Retreat_HenryYan.htm
or contact Jane at janerom@shaw.ca
Featured Artist
Candace studied at the Ecole des Beaux Arts in Angers, France but it is her travels in the deserts of Africa and Oman, Antarctica and the Arctic, and sacred sights of Machu Picchu and Petra that serve as her true place of learning. A desire to combine these experiences with a deeper understanding of her own spirituality has provided the underlying focus and inspiration for her paintings.