Dear Artist, Model-making artist
Joe Fig
 has produced a remarkable book,
Inside the Painter's Studio
, in which he visits and photographs the studios of dozens of well-known New York contemporary painters. He also records each artist's answers to a number of set questions, many of which are practical ones concerning studio layout, painting processes, work hours and habits, clean-up times, unique tools, titling, the use of assistants, and advice for younger artists. His second-to-last question, "Do you have a motto or a creed that as an artist you live by?" picked up a range of answers, both predictable and insightful. Many of these painters didn't want to admit having a creed. Alex Rockman, Ryan McGinness, Mary Heilmann, Eric Fischl and Inka Essenhigh gave a flat "no." Chuck Close defined the attitude a little more closely: "Inspiration is for amateurs — the rest of us just show up and get to work." Dana Schutz said she couldn't remember any of her mottos, while Joan Snyder just laughed at the very idea of having them. Some of the answers were lengthy. The word "truth" was prevalent. Steve Mumford admonished, "Try to be absolutely truthful to yourself and almost try to flout popular taste in seeking out what it is that you really are interested in doing." Billy Sullivan said it was important "to be honest in the work and to have fun." Malcolm Morley used only one word: "Fidelity." "Do what you want to do," was the advice of Fred Tomaselli, while Matthew Ritchie said, "Remain interested in what you're doing." Will Cotton said, "Ask yourself daily if you're excited." Julie Mehretu felt her motto was, "to really put everything into my work so the work returns that to me." And Amy Sillman observed, "You're going to die so you may as well make the most of it." Barnaby Furnas said it was important to realize, "there are no mistakes," while Bill Jensen said, "You have to let the paintings lead you." April Gornik told us, "Great art should be vulnerable to interpretation." And James Siena said, "Your success will come out of the work you do, not who you know, what parties you go to, or what you wear." Ross Bleckner also took the high road: "Bring something new, something beautiful and something filled with light into the world." Best regards, Robert PS: "If you hang in there, you will get somewhere." (
Chuck Close
) Esoterica: "I'm very happy that I've had the chance to be a painter," said Philip Pearlstein. Of all of them, Gregory Amenoff seemed the least narcissistic: "Artists need to support other artists," he said. "When younger, you're part of a community, when older you need to create opportunities for the younger ones. In the meantime you have a responsibility to work fiercely in the studio in exchange for the privilege of making things the world doesn't necessarily ask for." And Joe Fig, the guy who compiled all this? He has a sign over his door that reads: "Focus, Discipline and Faith."
Apologies to Joe Fig
(RG note) Thanks to everyone, including Joe Fig, who wrote to tell me that Joe's book is called
Inside the Painter's Studio
, not
Inside the Artist's Studio
. There must have been some dirt in my scotch. The excellent book is available at Amazon,
here
, and Joe Fig's personal website is
here.
Crossing the sea of canvas
by Marion Boddy-Evans, Isle of Skye, Scotland My motto is derived from a line by the poet Rabindranath Tagore. His original says, "You can't cross the sea merely by standing and staring at the water." I read it as, "You can't create a painting merely by standing and staring at the canvas." Wishing for something won't make it happen, I have to try. While there aren't any guarantees I'll get across the sea of canvas as successfully as I'd like, or at all, if I don't try then I'm guaranteed failure.
There are 2 comments for
Crossing the sea of canvas
by Marion Boddy-Evans
Studio dreams
by Jenny Adams, Sechelt, BC, Canada Reading this latest letter I am reminded of how far I may have to go…all this great commentary from established artists. I am new to painting. I struggle with inspiration which makes me an amateur, which by Chuck Close's definition I am an amateur. Ironically after reading your Dec 31st letter Robert, I printed this line from your esoterica on a sheet of letter size paper and posted it on the door to my studio; "The studio is a place of dreams, and dreams, though always vulnerable, are good for us." I guess you provided me with my 'creed' — thanks.
There are 2 comments for
Studio dreams
by Jenny Adams
Following your bliss
by Deborah Strong, Langley, BC, Canada Having struggled with making the leap from part-time wannabe artist to full-time somewhat-struggling-but-finally-at-peace-with-myself artist, I subscribe to a quote by Joseph Campbell: "Follow your bliss, and the life you ought to be living is the one you are living." I interpret this to mean that if we are true to ourselves, then the universe will unfold as it should. It's been 18 months since I stepped off the cliff from gainful, boring employment to the uncertainty of an artist's life, and I have never felt so good.
There is 1 comment for
Following your bliss
by Deborah Strong
We are not alone
by Virginia Urani Wow, How do you do it? I feel like you sent this to me personally. My dream of having an art studio in the woods away from my house has come true but I haven't yet moved in. Along with the joy of having my own little 12'x12′ space came unforeseen angst; how to set things up, how to structure my time, and sudden feelings of pressure and fear that I won't be creative and productive. YIKES! I simply can't believe that I opened my e-mail and found a supportive voice saying you are not alone and here are some ways that others think and work. Perfect. I've ordered the book, printed this post and I'm starting to enjoy the curiosity of seeing what happens.
Happy accidents
by Carol Lyons, Irvington, NY, USA "Less work for Mother" is my creed and motto. As an experimental artist devising methods, water-based on paper, I go with the flow, and fast. I find the most efficient and economical result using accident in art. It works for me and I am comfortable joining those in art history who have done so. As Lionel Lambourne, curator of Victoria and Albert Museum, London, wrote to me "the history of "accident" in art is a fascinating story — from Leonardo recommending people to copy stains and cracks on a wall right up to Cozens, Victor Hugo, Sam Francis, Jackson Pollock… and now you!"
There are 3 comments for
Happy accidents
by Carol Lyons
I did it my way
by Lynda Davison, Covington, TN, USA I believe that every artist shares at least one creed… "I did it my way." No matter how many other art experiences we have, reading art books, attending art exhibits, taking art classes, observing life, etc., when we face that canvas or whatever, the end result is the blend of all these experiences; but they all combine differently through the eyes of the artist. No matter how many times the subject matter has been done, for us artists, each one was done "my way." Every artist has followed this creed and it's always there whether we admit it or not.
All art is a gift of the Holy Spirit
by Bill Skuce, Sooke, BC, Canada As a new Baha'i back in 1966, it was something of a jolt for me to learn that according to the Baha'i Teachings, "Work is worship." Later I came across a few quotes from the sacred writings which began opening my mind to the concept of art as "worship." These have become increasingly meaningful, stimulating and encouraging to me in more recent years. Two of the quotations follow: "I rejoice to hear that you take pains with your art, for in this wonderful age, art is worship. The more you strive to perfect it, the closer you will come to God. What bestowal could be greater than this, that one's art should be even as the act of worshipping the Lord? That is to say, when your fingers grasp the paintbrush, it is as if you were at prayer in the temple. ('Abdu'l-Baha, in a letter to an artist) "All art is a gift of the Holy Spirit. When this light shines through the mind of a musician, it manifests itself in beautiful harmonies. Again, shining through the mind of a poet, it is seen in fine poetry and poetic prose. When the light of the sun of truth inspires the mind of a painter, he produces marvelous pictures. These gifts are fulfilling their highest purpose, when showing forth the praise of God." ('Abdu'l-Baha)
The door is open
by Betty Brooks Here is my creed without a studio, just a place in the garage. "The door to art is open." Enter and bring your cat or your dog, a canary or a radio, some pen and ink, oils or watercolors, paper, canvas, materials of any kind, old memories, a friend, a critic, your quirks and foibles, dreams and realities, limitations and frustrations, breakthroughs and break downs, idols and Achilles heel, your blind spots and your sore spots, the dream you had the night before, your happy dance and sad sack stance, a cast of butterflies to fill the air, some hanging out in your stomach, your stretch and reach etc et etc Bring all you have which is to say bring yourself.
There are 3 comments for
The door is open
by Betty Brooks
Inspiration an old fashioned concept
by Tatjana Mirkov-Popovicki, Port Moody, BC, Canada I think that a "creed" or those vision/mission things sound old fashioned nowadays, so no wonder some artists didn't respond. But the essential question "what are you about" must have an answer. I often think what artists might be about and I see the most prominent types as those who are (too?) seriously committed to their own truth, the playful lifestyle lovers, eternal seekers, fatalists, and money-grabbers. I am sure I would come up with a different list if you asked me tomorrow, though — I like the Amy Sillman's — that's what I would answer when my mind goes blank, funny answer, but it doesn't really reveal anything about her. Fred Tomaselli's goes down to the essence, it's obvious that he thought about this thoroughly. But what I find most interesting is our obsession with "studios." When did this trend start? Is it a sign of the good life in the western world? I am reading the Georgia O'Keffee's biography, and this famous artist who lived and breathed art, made most of her paintings either outdoors or in a modest apartment. She managed to be very prolific, respected, exhibited and sold regularly, and lived a long healthy life. She was obsessed with her painting subjects, quality of materials and presentation of her paintings, but I didn't find that she was at all concerned with the comforts of the studio layout. So, it sounds a bit funny to read about all these studios that (millions?) of us are furnishing and at the same time read about O'Keefe. Maybe we are missing something more important, and investing into something unimportant.
There are 2 comments for
Inspiration an old fashioned concept
by Tatjana Mirkov-Popovicki
Archived Comments
Enjoy the past comments below for Do you have a creed?…
Featured Workshop: Heli-painting with Robert Genn in the Bugaboos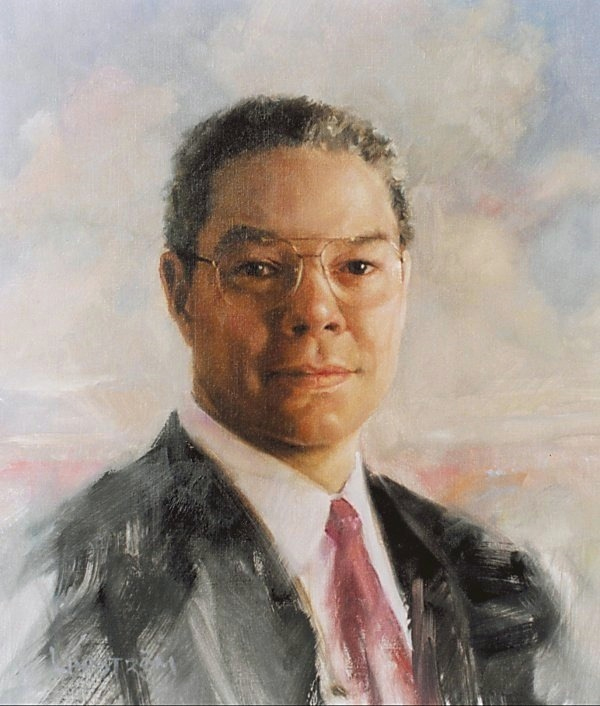 Secretary of State Colin Powell
oil painting, 20 x 18 inches by Bart Lindstrom, Atlanta, GA, USA
You may be interested to know that artists from every state in the USA, every province in Canada, and at least 115 countries worldwide have visited these pages since January 1, 2013. That includes Gwen Fox of Colorado Springs, CO, USA, who wrote, "I have two sayings on my studio wall that keep me grounded and on track. "Embrace the hand that is dealt you" and "Be Ruthless with Your Time." There are times I need to remember what to do about situations/paintings when they are not working out as I feel they should. Embrace it! Don't fight it… Embrace it! The other is my time, a very valuable commodity and one I feel we all take for granted. This year I have decided to be respectful of my time and how I use it." inda Powers who wrote, "As an artist is creating from instinct built on a foundation of good art principles, thinking is too often counter-productive. Taking one's self too seriously is the stuff of comedy. My motto is an anti-motto: 'Don't should on yourself!'" And also Judy Sims who wrote, "I love Joe Fig's 'Focus, Discipline and Faith.' I shall hang it as a sign in my head. Along with, SHOW UP, and be gentle. I love that everyone struggles no matter how brilliant their work with the purpose and the energy." And also Todd Bonita who wrote, "KISS, Keep it simple stupid."