Dear Artist, Norman Rockwell never called himself an artist. When I met him in his studio some years ago, he made it clear to me that he was an "illustrator." I told him I loved cruising his paintings up close because his surfaces were so interesting, and that made him a "painter." He told me he didn't think painter was a bad word.
Norman Rockwell: Behind the Camera
 shows how Rockwell set up models and employed professional photographers to give him big black-and-white reference. That's when Rockwell's eye for selection and rejection took over. It's the sort of thing all of us need to do whether we are looking at a picture of a human figure, the human figure itself, or a tree.
The Runaway
, (1958) was set in a coffee shop with a little boy, a cop, and a soda jerk. Some pens in the soda jerk's pocket coincide with the boy's nose. Out! The burly cop is beefed up into a real heavyweight for greater contrast with the puny kid. The kid's arms are pulled in to show he has something to hide. Rockwell knew that in silent media, body language counts. The photo also shows the background to be cluttered and indistinct. In the painting it's simplified with the addition of a wall-radio and a blackboard menu — two icons of American life. We've put the painting and the photo he used at the bottom of this letter. I invite you to cruise for yourself. If it were your painting, you'd probably find other things you might have changed. Some selections and rejections can appear to be arbitrary, perhaps merely the result of whim or preference. The brim of a hat may be wider or smaller; a hat may be on or off, or even replaced with another hat. This individual choice is the personality of art, no matter how it's derived. Rockwell's personality inclined him to show a loving, benign, optimistic America, where good things happened regularly. The great artists, illustrators or not, leave a trail of their own personality. Best regards, Robert PS: "Even if it isn't an ideal world, it should be. So I painted only the ideal aspects of it — pictures in which there are no drunken slatterns or self-centered mothers. Only foxy grandpas who played baseball with the kids, and boys who fished from logs and got up circuses in the backyard." (
Norman Rockwell
) Esoterica: In my book, it's the cultured ability to select and reject that makes or breaks a painter — and it mostly comes from within. Sometimes a second opinion can be valuable. When I visited Norman Rockwell he was painting a portrait of Richard Nixon. Quite openly he surprised me by asking if his depiction of Nixon was "not threatening enough." Intimidated, I missed an opportunity. I told Rockwell I thought his President was just fine the way he was.
Norman Rockwell's Photo Realism
The misnomer of 'illustrator'
by Mike Jorden, Osoyoos, BC, Canada As a realist, many of the painters I have most admired — N. C. Wyeth and Howart Terpning immediately come to mind — started out, or always admitted to being — illustrators. Many also studied at the Arts Student League of New York which seems to produce brilliant craftspeople. I have never understood the disparagement the so-called art establishment feels towards mere illustrators. (A critic of Robert Bateman once described him as 'no more nor less than an illustrator'.) The distinction to me is moot as long as the painter can paint. Rockwell is interesting because he typically sketched his roughs in detail first (he could draw!) then photographed his models to get the details right which suggests a strong streak of perfectionism. Perhaps it's what his clients expected?
There are 2 comments for
The misnomer of 'illustrator'
by Mike Jorden
Illustrator envy?
by Marilyn Kousoulas, Gambier, OH, USA Regardless of all the remarks about Norman Rockwell's "Illustrations," I found the Rockwell Museum quite enjoyable. To be a profitable illustrator, one must know art basics and kick it up a notch. That, Rockwell did. He may have used photographs but, so what! As a painter, I do the same. It just takes a bit of imagination to embellish upon the photographs that can be flat. Rockwell painted real people and each of his illustrations told a story. All artists paint their feelings in different ways. If a painting "doesn't talk to me," I consider it worthless. Rockwell was a successful, profitable illustrator/painter. Perhaps that is why some artists pick his work apart and do not recognize Rockwell as an artist. He made money while he was alive. A bit of jealousy may be in the wind.
There is 1 comment for
Illustrator envy?
by Marilyn Kousoulas
Photographic stigma since art school
by Martha Anne Corkrin, South Carolina, USA When I was in art school, the professors frowned on using photographs or ideas we gleaned from graphic publications, etc. If not a classroom still-life setup, or the live model drawing class, our themes and subject matter had to come from "within." Perhaps that is why I have been suffering such a creative blockage. I have lots of photographs that I could use to break through the creative block; or, I could go out and take some new photographs. All this time I thought I had to dream up something totally new. However, I have a feeling that by the time I start work on sketching and painting those photographs they will, indeed, be something "new." Thank you for freeing me up!
There are 5 comments for
Photographic stigma since art school
by Martha Anne Corkrin
Personal 'pay-back'
by Jeanne Marklin, Williamstown, MA, USA Raymond J. Steiner has written a thoughtful essay in Art Times on illustrator Jerry Pinkney, whose work is on exhibit at the Rockwell Museum. Both Rockwell and Pinkney used composition and color to tell the story. But more importantly, in Steiner's words "If the author and the illustrator have both had their "say" we still have to consider the viewer as we move from one painting to the next. It is an axiom that the author's or, for that matter, the painter's — intent is, in aesthetic matters, largely irrelevant. In other words, what Shakespeare "meant" in, say, Hamlet — is of less intrinsic value to the individual reader than what Hamlet says to that reader. It is this personal, individual "pay-back" that makes all art not only relevant but of inherent value to us. Therefore, when we stand before one of Pinkney's watercolors, we not only "hear" the author and the painter, but — if we are in any way sensitive to what we are seeing — also "hearing" our own reactions, ideas, opinions, and evaluations — in brief, communicating on our level with the work of art before us, irrespective of what either the author or the painter "intended."
There are 2 comments for
Personal 'pay-back'
by Jeanne Marklin
The art is in the seeing
by Diane Leifheit, Paul Smiths, NY, USA The definition of "artist" is really up to the viewer. One should call oneself a pastel painter or watercolorist, a sculptor, a graphic designer, an illustrator, a dancer. Certainly there are plenty of us who consider Norman Rockwell an artist — as certainly as Michealangelo was an artist. Doesn't the Sistine Chapel have the notion of illustration about it? Yet the work is bar none excellent painting — evocative of the emotion of the story. Was Michealangelo a great artist or hired illustrator? Think about it. As for using reference and adapting information to the interpretation of the work — go for it! Even photographers, whose equipment by design sees everything, in the making of the work will add and remove elements, light, dark, edges, color, etc. It is artists' 'seeing' that lets viewers finally 'see' not just 'look'. "Artists today think of everything they do as a work of art. It is important to forget about what you are doing then a work of art may happen." (
Andrew Wyeth
)
A storyteller in paint
by Paul deMarrais, TN, USA Why do people malign Norman Rockwell? I think it is because he goes against modernism in every regard. He represents American values found in the Bible and the Constitution more than any other artist I can think of. He's a humble worker doing his job without fanfare. He is the anti-Picasso and the anti- Pollock, the anti-Warhol. He loves people of all stripes with their quirks and individuality. He celebrates our differences and tries not to bash anyone. I think the reason he is so often lampooned and harpooned is because he spoke to so many with his paintings. His images are optimistic, sentimental, nostalgic and romantic and even religious. He and his paintings are about what is GOOD about America and the world. Today that is not fashionable. BAD is often what is GOOD. Murder and mayhem make more interesting movies. Ugliness is the ultimate beauty to the modernist. he obtained his design is irrelevant now as it was then. Cameras are machines and it is the artists' job to humanize them, to make them a tool of their own vision. Norman Rockwell was true to his vision and an artist in every sense of the word. He elevated our trade and our image. He made the world good with his good works. He would hate it, but we should celebrate and revere him.
There are 7 comments for
A storyteller in paint
by Paul deMarrais
A new take on judgment
by Nancy Hall Let me share the world I would like to continue creating for myself where people can communicate to each other directly with honesty, compassion, without judgment and most importantly — for the one reason we are all here, love. I've had the feeling for a long time that every soul on this planet is here primarily to learn how to love and be loved. A pretty simple task really, but not so easy to accomplish. Judgment is just more of what some people dole on themselves most of the day — an internal chatter pattern, ingrained from critical parents. For some of us, it takes a lot of work to quiet that inner critic. It has been a challenge in my own life, but I see so much more gentleness for my life, for this New Year and going forward. It's human to hide from certain things but I challenge myself to not do that. To tear down the barriers I put up from having experienced a good deal of abuse I read, talk to people and sometimes see a counselor. I also have that as a wish for the world — which we can ALL tear down the barriers between us and speak from our hearts. No confusion able to sneak in there.
There are 2 comments for
A new take on judgment
by Nancy Hall
Canadian clones?
by Sandra Bos, Cookeville, TN, USA Is it just me, or do the paintings done by folks who live in Canada, seem to have a very similar look to them? I've been watching these paintings from Canada for a long time. At first, I thought it was just coincidence, but these painters have something in common. Actually, Robert, I guess what I'm trying to get at, is that they seem to have the same kind of 'flavor' as your work. They are sort of fractured, and some have the same kind of color palette going on. Could it be that they are all your students, one way or another? Anyway, it's not a bad thing, but I've wanted to ask this for a very time. (RG note) Thanks, Sandi. Canadian painting was greatly influenced at the turn of the last century by Scandinavian art and what is now known as the Nordic Style. Canada's legendary "Group of Seven" who flourished in the 20s and 30s were champions of this type of painting — strong design, thick paint, dramatic patterns with less emphasis on atmosphere, mood and impressionist effects. Many, but by no means all, contemporary Canadian painters paint this way. Certainly many more are influenced by it.
There are 5 comments for
Canadian clones?
by Sandra Bos
Changes, changes, changes
by William Turville, Arlington, MA, USA I noticed many, many changes from the photo to the painting, well-chosen additions and rejections, such as aging the soda jerk (a more fatherly figure?), giving him a smoke, and, importantly, giving him well-painted clasped hands between the cop and the boy, slightly mitigating the energy between the two main figures. BUT, as a sculptor, I noticed, to me, the strongest dynamic of the painting is created by the BIG changes (but to some eyes possibly very subtle) he made to the body language of both the cop and the boy. He widened the cop's shoulders (making him overall bigger and pushing him deeper into the seat cushion) and dipped/turned/leaned him more toward the boy (lengthening and sharpening the cop's left elbow, tucking his left shoulder lower and tucking his right arm into his side more), and intensified his look at the boy by sharpening and directing the angle of his gaze and directing his energy at the boy. The boy (whose "hiding" body language and obvious arm changes you mention) has been made smaller overall (especially in relation to the cop), his head is closer to the line of the counter, his weight has been shifted slightly away from the cop, nearer the right side of the seat, he is not stretched up to the cop but is more "shrinking" away from him (and his shirt and it wrinkles are well-painted to show his shape and reinforce his more collapsed posture) and again, seems to be pressed into the seat (by his own weight or the weight of the cop and his stare) and his focus on the cop remains very strong. As you note, many details of the scene have been obliterated and/or grayed/washed out. The overall effect is to increase the importance of the two central figures, the drama of the scene and the dynamic between the two main figures, all EXACTLY what Rockwell intended. His changes are painterly and sculptural, especially sculptural. And in making these very careful changes and doing them extraordinarily well (illustrating a weight shift, redoing the folds in both shirts, redoing the shapes of the seat cushions, subtly altering the boy's posture and scale, etc., ETC!) are signs of a real master. If one can get as much mileage and inspiration from a photo and then bring as much expression and solidity to work derived from a photo, as Rockwell does, I cannot see a problem in working from a photo. (RG note) Thanks, William. And thanks to everyone who wrote with a list of all the changes that could have been made and some things that were changed and needn't be changed. Amazing! Thank you so much.
Archived Comments
Enjoy the past comments below for Selection and rejection…
 Featured Workshop: Heli-painting with Robert Genn in the Bugaboos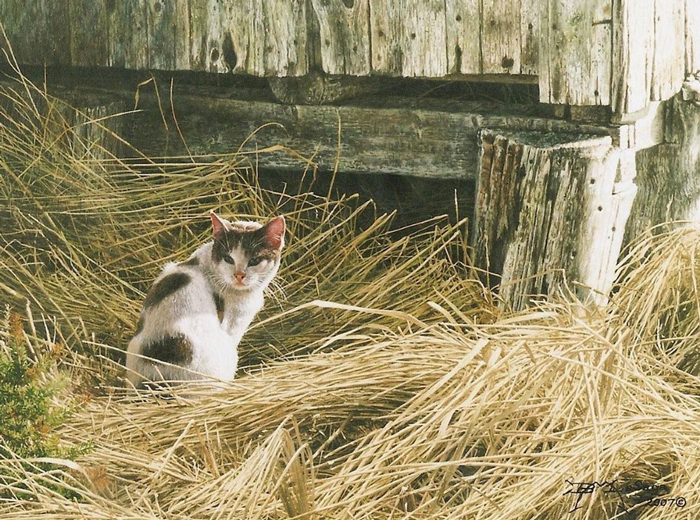 Corner Refuge
acrylic painting, 11 x 14 inches by Brian LaSaga
You may be interested to know that artists from every state in the USA, every province in Canada, and at least 115 countries worldwide have visited these pages since January 1, 2013. That includes Duncan Long who wrote, "What a wonderful look at Norman Rockwell (my great guiding light for the work I do). Once one starts to think of himself as an illustrator, there's a real change to not only subject matter but also to the story being told in each painting that is done."
Over the years Rockwell has come under fire for his use of photographs.