Dear Artist, Yesterday, Hope Barton of St Augustine, Florida wrote, "I've just finished a commissioned 24″ x 48″ acrylic on canvas of a client's home. She came to my studio and approved my photos. She wanted the neighbor houses left out and the boardwalk in. There was no mention of the solar panel on the roof. Now she wants the panel taken out. I explained that I would have to repaint the roof, match the colors and possibly have to touch up the tree and the trees in the background. I feel I should be paid extra for this. Also, she might be sorry because this is the way it is. I can't move on until this is settled. What would you do?" Thanks, Hope. We've illustrated your photo and painting at the bottom of this letter. I'd remove that solar panel faster than an ibis can peck his reflection in it. I'd do it for free. I'd tell her that you remove solar panels for free and charge to put them back. While your client is to be commended for having one on her roof and may later regret she didn't advertise her greenness, it's her prerogative to leave it out of her commissioned painting. Clients can make unusual demands. While many client complaints are legitimate, they often have something to do with the retaking of power. You are lucky on this one — with the covering strength of acrylic, it'll be a piece of cake. One of my more notable requests, the removal of an offending phallus from an otherwise anthropologically correct totem pole, has been previously told
here.
 There's a slide show of that particular commission in progress
here.
 I solved my dilemma by making the client a cutout, Velcro-attaching unit to go on the painting in the event that those things ever came back into style. Then there was the time a guy asked me to paint him and his girlfriend arm in arm. By the time I delivered (a couple of weeks later) the girlfriend was history and he needed me to take her out. As there was no replacement girlfriend, I just put a soft blur in there and a little tag that said, "Watch this spot." I charged half price. I was not so happy with the girl myself. Sometimes a portrait is delivered and the commissioner finds the work not flattering enough. I've had people say they didn't think they were that "plain." An effective, though friend-losing comeback: "Madame, I am a painter, not a plastic surgeon." Best regards, Robert PS: After 115 sittings for a portrait of Ambroise Vollard: "I am not altogether displeased with the shirt-front." (
Paul Cezanne
) Esoterica: Not all painters understand that in a commissioned piece, the copyright goes to the commissioner. This is different than when a customer walks into a gallery or your studio and buys a painting. In that case the copyright stays with the artist for as long as he or his estate wants to hold it. In the case of commissions, my rationale is that the commissioner has the right to get what she wants. Sometimes, early on, you get the feeling there may be trouble ahead. In this case you need to mail them some brushes.
Hope Barton
Talk business, not art
by Bill Skrips, Blairstown, NJ, USA I STRONGLY disagree with you in this case. I made money to support myself by working in the graphics arts by day and doing sculpture at night. We NEVER let author's changes go by for free- I repeat, NEVER. I see little difference here and changing items at a client's whim leads to situations (or should I say, client's behavior) like Cezanne's bending over backwards 114 times. We are talking business here, not artistic choice.
There is 1 comment for
Talk business, not art
by Bill Skrips
Rigmarole
by Peter Butler, Welwyn Garden City, Hertfordshire, UK Dave, the band leader recently commissioned me to paint his band. No sooner had I started than he called me to ask how far I had got. He had lost his clarinetist/saxophonist and wondered if I could delay the painting until he had a replacement musician. I told him I'd made progress but could paint out the former clarinetist and add the new man. Hearing this he asked: "In that case, could you do this each time a band member changes? After all," he added, "you make prints of each painting." I responded that if that's what he wanted I could consider it. Anyway, I duly completed the acrylic and he is over the moon with it. Except for the bass player who, he said, looked a bit bland and wore glasses. I sent him a couple of alternative reference photos I had taken showing Mike had not been wearing glasses that night. To which he responded that Mike always looked a bit bland despite being a great bass player but he'd like to have him with his glasses on! So we've arranged for me to take more photos at an upcoming gig!
Wacky versions of people
by Collette Fergus, Waikato, New Zealand I had to laugh over the plastic surgeon comment, but how true! I'm not a portrait artist myself but do paint a lot of commission work. I have, however, seen other portrait artists have to deal with clients asking for their hair to be lightened, grey removed, wrinkles lifted, bigger brighter eyes, slimmer than they are and so on, only to suddenly realise they look nothing like their corrections and although it's how they want to look they realise they screwed up or worse yet can't see why it no longer looks like them and all sort of fun and games start! We have all seen the portraits of some famous people that look like wacky versions of the people who are portrayed and I myself wonder if maybe they were asking for too many changes, not that the artist saw them wrong, or painted them badly! (RG note) Thanks, Collette. I've noticed in portraiture, if you don't get it right early on, you don't get it. Continuing to fiddle with a likeness generally takes it further and further away until you are looking at some other person altogether.
Beware the photo-shredder
by Carolyn Edlund, Poughkeepsie, NY, USA You are spot-on in advising the removal of the solar panels for free. Although it's annoying and time consuming for the artist, graciously making the change without charge makes for good client relations. Those of us who take on commissions need to be mindful that our clients become public relations agents for us. The happier they are the more likely are we to garner new clients through them. Try to anticipate elements of the composition that might become problematic and ask the client before putting them in. I venture to guess that this client probably hadn't much thought about the solar panels when requesting this commission. A portraiture client of mine, in denial of her age, requested modifications to her face and wasn't satisfied until she looked fully 15-years younger. Prior to beginning the painting, she'd mentioned that she'd literally shredded every photograph ever taken of her — if ever there was a red-warning flag that was it! What to do? Politely decline the commission or plow ahead? Of course, I accepted the commission and coped with her requests — garnering a well-satisfied client.
'Pictures of progress' system
by Robin Shillcock, Groningen, Netherlands Always expect the commissioner having a change of mind. Especially if you take time to deliver, the idea in the commissioner's head may have grown to mammoth size ("Is that it? I was under the impression it was going to be bigger"), or has completely evolved into another mental image ("Yes, it's the street I want, but where are all the cars and people?"). I try to keep clients informed with POP's (Pictures- of-Progress) by e-mail or snail-mail. To reduce the risk of clients being shocked by a painting's fist stage (often a mess) I usually send the first two, three stages of the image in one go, so that progress can be seen. Having said that, it's dicey, working with commissions from clients. I've had some say "I'm leaving you free to choose, I want your vision" only to come back at me time and again requesting changes. So you have to massage your commissioner and count on doing what he or she likes than what you think is better art. But some commissions are a challenge, and fun! I can never say no, always dither about getting started (the lure of my own ideas stronger). It is best to get it over and done with a.s.a.p. and, as the Dutch say get your "butter with the fish" i.e. you get the painting I get my money — here and now!
Customer always right
by Richard Gagnon, Knowlton, QC, Canada Sage advice and follows the best line in any business situation. Rule #1: the customer is always right. Rule #2: if the customer is wrong see rule #1. As an artist one would be tempted to return the commission, keep the painting and sell it at a swap meet. Mortgage lenders tend not to go along with that line of reasoning. Again, from a business perspective a contract would have been a good thing to have in hand, however that would not have done anything for the bad word of mouth that would have resulted. Ms. Barton could have garnered a little something from the experience had she asked for a written testimonial from the client, after the adjustment, indicating what a wonderful experience working with Ms. Barton had been.
There is 1 comment for
Customer always right
by Richard Gagnon
Keeping the client happy
by Fleta Monaghan, Asheville, NC, USA This is good advice, and I totally agree that it is usually a control issue, or in the case of the girlfriend an issue of the heart! Getting a self portrait with a girl or boyfriend is sort of like getting a tattoo of their name! Not always good idea. Hope's painting could be a quick fix anyway, I would change that solar panel into a few shadows from the trees maybe, and not be too concerned with painting over the whole thing. I once had a client come to view a completed commission, and she said she wanted more brown in an area of the painting. I told her to come back in a week, and we made an appointment. After she left I stuck my finger in some nice chocolate brown and rubbed it in a few places, took about five minutes. Then I went to lunch. The next week she was delighted with the changes, and went away with the painting, a happy collector, and I went to the bank, a happy artist!
Dined out on this story
by Susan Avishai, Toronto, ON, Canada A few years ago I did a portrait show of graphite drawings in a town library by having one person choose another to include someone special to the town or themselves with a little write-up to say why they were chosen. No pressure to buy the portraits afterwards, although many did, and I got tons of commissions during and after the show. One subject said she wanted hers but only if I made her look younger. So I removed the piece from the frame and went to work: erased any trace of under-eye shadows, mouth lines, crow's feet. She wanted her nose to be smaller; I made the nose smaller. She balked at the stray hairs; I tidied up her coif. In truth it looked like a 25 year-old version of this 50 year-old woman. When I delivered she must have spent over an hour looking at it. Her two teenage daughters were becoming embarrassed. "We love it Mom, give her the money!" they said. Hubby was brought in and although he would have preferred to read his paper, he also agreed I should be paid and allowed to leave. Finally, finally, she asked me for a reduction in the cost. That's when I wrapped the drawing, smiled nicely, and left. Still have it somewhere in my studio although I've since re-used the frame. PS: The final "chutzpah" came about 6 months later when she called me and asked me for a few of the reference photos because her picture was going to be in the local paper and she thought mine were great. Of course she got nothing, as had I. But I've dined out on the story.
There are 2 comments for
Dined out on this story
by Susan Avishai
Copyright law
by Lori Boast I am a big fan of copyright laws as I have been wrangling with them the last few years; namely attempting to correct past errors made by me when using reference photos. I have corrected all infractions by obtaining permission and rights. In my quest to understand it all I have been doing some reading and your "esoterica" on commissioned work being the property of the commissioner got to me. I didn't think I'd seen that as law before so I looked it up. I did come up with this which explains some of what you wrote about, but still raises questions, and alarm bells. This resource is for photographers but still applies in many ways. I can see where "portrait" applies, but wonder about a commissioned image, say a house or just an painting that you solely created such as your totems. For myself, who truly believes in copyright and wants to obey all aspects, as well as have it respected by others when my own work is in question, I also am a huge fan of the idea of licensing. I have done a few workshops on licensing and I can see the power now that I have purchased licensing of reference photos years after the death of the author, and years after the initial publishing of a photo likely from some dusty archive that may never see the light of day again. I understand that a commissioner of a piece may not want to see a painting they commissioned in print on others walls, but, I also think an artist should think long and hard before simply giving up all rights simply because a person commissioned their work. Under the terms of copyright that you speak about, your publishing a picture on your website of the image after it was completed would violate copyright of your own work! Reading the site at the link I sent, portraits seem clear in copyright law, and commissions when a contract is signed that you are actually working for a company, or person. Using a contract, photographers routinely keep all rights to photos of any kind and only print a few prints and sell those, and retain all rights. As a person sitting for a portrait I wouldn't want that photographer to plaster my image all over without consent, but that would have had to be given be given in a model release. And the photographer would lose credibility. I think that I will be careful and request that a simple contract is written up, artist to retain copyright, but agreeing to not publish the image in any other format for X # years or similar. The object: to retain full copyright without losing credibility and future commissions. Or, have the commissioner, "buy out the rights" as stated in the site. And an artist would need to think long and hard on that. What are those rights worth? Consider this scenario I commission a painting from you, a famous artist. I then have all rights. I then turn around and make a limited edition giclee in two sizes, and later on, an unlimited POD poster. And later on someone licenses the image from me to make other prints that end up in Walmart. The exposure might be nice, but not what you ever intended as an artist. And the money is in the pocket of the commissioner. In these "Wild West" days, perhaps this is something to consider? (RG note) Thanks Lori, and thanks to all the others who questioned my remark. The law may be different in different jurisdictions, certainly between the US and Canada. "Work for hire" seems to be the operative expression here in Canada, and artists who fear losing copyright to a commissioner need to protect themselves with an agreement.
There are 2 comments for
Copyright law
by Lori Boast
Archived Comments
Enjoy the past comments below for Fix my roof!…
 Featured Workshop: Heli-painting with Robert Genn in the Bugaboos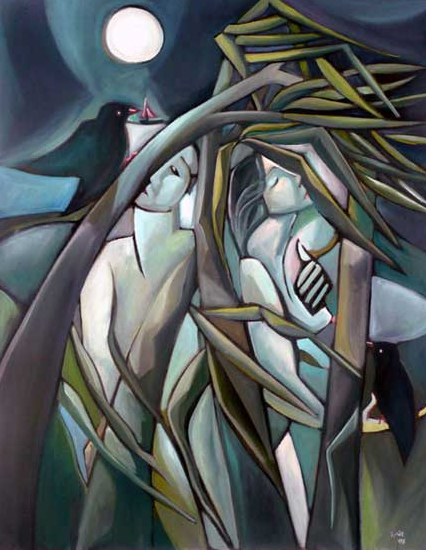 The Somnambulist Garden Web
oil painting by Syra Larkin, Ireland
You may be interested to know that artists from every state in the USA, every province in Canada, and at least 115 countries worldwide have visited these pages since January 1, 2013. That includes Deon Flugum who wrote, "Tell her to go jump in the river."