Dear Artist, I don't think our daily newspapers are going to be with us much longer. Right now we get two of them. They're delivered a few minutes apart in the early morning by two separate guys in gas guzzlers with challenged mufflers. Every time I step out to get them I think of trees. If I read the trees in bed they make a rustling noise that bothers Carol. The iPad is better. Paper books. Libraries are now places for homeless people to keep warm. The Kindles and other electronic readers will win out. You read what you want when and where you want to; no waiting for Amazon to deliver or the local library to open up. With electronic delivery, authors get paid just the same, perhaps more. Electronic books are easy to hold, and with their uniform, controllable lighting they cause less eyestrain. Our postman, a really nice guy, is also pretty well toast. As the P.O. goes the way of the Druids — watch it — the institution will get more weird, more expensive and less efficient. When people get used to the various systems of electronic money transfer, cheques in the mail will be dead ducks. Junk mail will be pre-junked. By the way, did you know the frequency of letter writing is way up in the last decade? Who can compete with a legible email that gets to Hackensack right away and it's free? But look out. Fine art is on the way in. In our gadgety, thing-happy society where Walmart and creeping meatballism threaten, painting is hot. Old fashioned as the shoeing of horses — about the same methodology for the last six hundred years — art fills a vital human need for life enhancement. Art reboots the cerebral cortex, teaches new skills to underutilized hands, arouses dormant sensitivities and promotes latent passions. If need be, art gives us something to talk about besides the kids, grandkids and celebrities, hence making us more interesting people. And it's cheap — a month of art supplies for the average Daumier is about the same as a round of golf. They're now estimating 12 million painters in North America. Our sources figure four percent of Western populations have paint and brushes, up from three percent two decades ago. More painters are painting today than in the whole history of art. Done well, art has lots of ploys, feels good, makes you proud, is so frustratingly difficult it makes grown men cry, and it's not golf. Best regards, Robert PS: "All things you see will be changed, and out of their substance will make other things and again others so the world may be ever new." (
Marcus Aurelius
, AD 121-180) Esoterica: As another year gets chucked into the circular file, we look back on a remarkable decade of change. For many of us it's meant a greater need for and appreciation of sanctuary. We catch ourselves daily in our work-spaces — whether tiny rooms or lofty studios — often contented, always challenged. These retreats are not soon to be closed. The studio is a place of dreams, and dreams, though always vulnerable, are good for us.
Electronic art
by David Rickert, Staples, MN, USA Alas, when I see the electronic age leapfrogging ahead I see flat screen electronic art hanging on walls, replacing framed canvases and matted watercolors. Want a Monet? Press a button. Want a Miro or Picasso? Press a button. Patrons will be able to select art like they select music on Cable or I-tunes. Electronic art on demand will replace the real thing and artists will be, if they're lucky, selling their work to electronic marketers. Good luck, everyone.
There are 3 comments for
Electronic art
by David Rickert
Lonely without hard copies
by Sydney Metrick, Berkeley, CA, USA I always enjoy your letter, but I have to disagree with you about books. In my house we have two offices and both have small libraries. In mine I have two shelves of novels, and the rest are books on psychology, mythology, science, business, and other things I might use for teaching or reference. I did borrow a Kindle a few months ago and read five or six books on the device. It couldn't come close to being as satisfying as having an actual book. But what really struck me was imagining all my books were available on one electronic device. No books in the house. A very lonely thought.
There are 2 comments for
Lonely without hard copies
by Sydney Metrick
Changes in horse shoeing
by Marti Adrian, Swan river, MB, Canada Careful what you compare the making of art to. Horse-shoeing is now considered 'old-fashioned,' and with all the new methods of training horses, we have also learned that horses no longer need to be 'shod.' We don't use them all day long on cobble-stone streets anymore, and their natural defenses against rocks, and uneven ground is more than adequate to protect that inner portion of the equine foot. Often called the 'mustang trim' in the way that the hoof wall is cut to emulate the natural wear of a mustang's feet on natural ground. The sole is left to harden and callous, and therefore creates its own 'shoe.' The horse has a much healthier foot, bones sit at a natural angle and the whole skeletal structure therefore does not wear away from unnatural positions. Six hundred years of doing things one way — and we have to go back even farther to find a better way to do it. Wonder what will be next in art?
There are 2 comments for
Changes in horse shoeing
by Marti Adrian
The persistence of libraries
by Pamela Ryan I take issue with your cheap shot at libraries. Libraries are one of our greatest democratic institutions — a place where people can still find tutors to assist in learning computer basics and where volunteers stand ready to assist the children of their community in reading, math, spelling and geography outside of the classroom. As most employment is now found through Internet channels, libraries provide those who are financially unable to own their own personal computer the use of an on premise computer for job hunting at no cost. Libraries provide assistance to those who find themselves challenged by the complexity and jargon of fine print documents. They sponsor fine art exhibitions, concerts, lectures, round table discussion — all free. Sure, digital graphics are light years better than those produced in print but I have personally checked out countless art books and art related DVD's from my local library that have been enormously helpful in the development of my own painting. Regardless of race, creed, color or demographics, information is free at public libraries. And yes, libraries also keep people warm — be they homeless or tax- paying citizens. PS: "There is not such a cradle of democracy upon the earth as the Free Public Library, this republic of letters, where neither rank, office, nor wealth receives the slightest consideration." (
Andrew Carnegie
)
There are 4 comments for
The persistence of libraries
by Pamela Ryan
Cannot be pulped or recycled
by Nigel Blackburn, Chile Emails are not "free." Communication costs. We buy our computers, iPads and Kindles, they devalue and fall behind the latest software requirements fast so we buy new ones. The old ones are not easily "sold on" or recycled and the energy and environmental cost of their production and recycling (if carried out) is high. We pay for our Internet connection every month and Internet servers consume a significant percentage of world energy production. I am not a Luddite but let's not kid ourselves: the sleek modern IT world cannot be pulped and recycled, its raw material does not sequester carbon and you'll never see "Produced from Renewable Forests" on a Kindle!
There are 2 comments for
Cannot be pulped or recycled
by Nigel Blackburn
Art will remain
by Trudy Wardrop Yesterday my husband and I were watching a PBS program on Antarctica pertaining to global warming and the predicted demise of shoreline societies around the world when the oceans rise. And even if they don't, earth moves, things change, and eventually much of what we know now will become the future cities of Atlantis. If not global warming, some other politically-induced demise. I said, "So much of what we do today is electronic. Much knowledge of today's societies will be lost to the ether: textual information, photographs, all evaporated. ART is what will remain to tell the stories, perhaps not unlike the cave drawings of pre-historic man. I'm glad to hear that there are more artists out there!"
The purpose of art
by Kristine Fretheim, Maple Grove, MN, USA Oh my! Great post! Inspiring and encouraging. But art-making seems to have nixed my ability to converse in words. Yesterday, while being interviewed for an article about my art for a local magazine, I found myself stumbling and bumbling the entire time, searching for words and ideas to "explain" my art and my painting self. "I paint from my heart!" I blurted out. "This is my personal vision." I felt like a total idiot, unable to express in words anything much at all about Art, let alone my art. Ultimately I feel art should speak for itself. It should reach out and grab people, make them stop in their frenzied tracks, to connect with the moment. But "connect with the moment" really means a connection within, a perfect lining up of inner stuff that unlocks the heart. That's a mind to mind connection. Artist and viewer are one.
There are 6 comments for
The purpose of art
by Kristine Fretheim
The value of trees
by Loretta Puckrin, Lake Cowichan, BC, Canada The paper industry has sponsored an overall increase to the number of trees in North America. Trees are a renewable resource and more pulp is being taken from tree farms every year. The growth of trees increases the oxygen content of our air. As an industry pulp and paper contribute more than it takes away so when you re-thinking of trees it should be with a deep breath of the fresh air that they support. The art world is not exempt when it comes to the use of trees but there is no sponsorship to replace what is used. What other than trees are being used to stretch canvas. That is just a small amount you say? Think of those growing numbers you quoted on the number of artists. Whether they are pastel, acrylic or oil they all depend on trees to give them their substrate. There seems to be a growing demand for wooden panels which dispenses with the cotton and uses only tree materials.
There is 1 comment for
The value of trees
by Loretta Puckrin
The feeling of painting
by John Maurer We are on the same page when it comes to all things from the dinosaur era. I wrestle to stay as current as I can with all the latest technological gadgets, but find there's no peace that replaces how I feel when I am painting. Frankly the further I remove myself from the digital world, the better. I'm happy to hear that art is growing in terms of appreciation worldwide. Do you think it will reach a saturation point? I know what it does for me personally and for many like minded individuals, but with 12 million of us out there, is there room for that much art in a world being expressed in so many new and digital methods?
Library attendance up
by Paula Margulies, San Diego, CA, USA On the contrary, library usage is up in the United States as evidenced in the 2010 American Library Association's State of the American Libraries Report. The report states: Data from a January 2010 Harris Interactive poll provide compelling evidence that a decade-long trend of increasing library use is continuing — and even accelerating during economic hard times. The national survey indicates that some 219 million Americans feel the public library improves the quality of life in their community, an increase from 209.8 million reported in 2006. Survey data also indicate that more than 223 million Americans feel that because it provides free access to materials and resources, the public library plays an important role in giving everyone a chance to succeed. I don't know about your local library, but mine here in San Diego is packed all the time. My branch in Rancho Penasquitos had to cut its hours recently, and now people in my community (none of them homeless, that I've seen) line up at the door waiting for it to open. I hear you on the state of publishing and the enormous surge in ebooks and electronic readers. But libraries continue to thrive, despite the change in how we read books. In fact, a number of our libraries in San Diego allow members to download ebooks on Kindles and Nooks. As a book publicist, I will always love the feel of a book in my hands. That said, it sure is convenient to be able to download a number of books onto a Kindle before flying away on a vacation. Either way, if the Harris poll is accurate, libraries will continue to be much more than places for homeless to keep warm (at least I and 219 million American think so!).
There are 2 comments for
Library attendance up
by Paula Margulies
Paper books will still persist
by Doug Purdon, Canada I tend to disagree with you that books are going to be replaced by e-readers. I do have an e-reader and use it when I am travelling light but find it a far cry from the printed book. As many of the books I read are non-fiction and art related the present e-reader fails to offer me the visual material that I need. It is also not easy to move backwards and forwards within the book easily. The current book I am reading has footnotes and the process to move from the page I am reading to the notes is excruciatingly painful. Much of my reading has to do with research for courses I am teaching and many of the books I use have been out of print for years. This is where the internet is a great asset. I doubt if Landscape Painting in Oil by Alfred East published in 1905 will be available in an e-book soon and if so the excellent hand tipped colour plates would not seem the same in a digital format. While I think that e-books will continue to be more of the market I also think that there will be readers who will still want a traditional book. Twenty years ago the cassette tape was heralded as the end of the LP record; then CDs were the end of the cassette tape. Now new LP records are back and being sold at high prices. These records are not nostalgia but in fact feature some of the funkiest and new groups. Those buying the LPs aren't the old fogies' but the young music lovers. They obviously won't replace the CDs and downloads but for some they offer something that is new again. It'll be the same with the e-reader. Yes the majority will seize the new technology but there will still be readers who will want the traditional book.
There is 1 comment for
Paper books will still persist
by Doug Purdon
Archived Comments
Enjoy the past comments below for Things to go and come…
Featured Workshop: Heli-painting with Robert Genn in the Bugaboos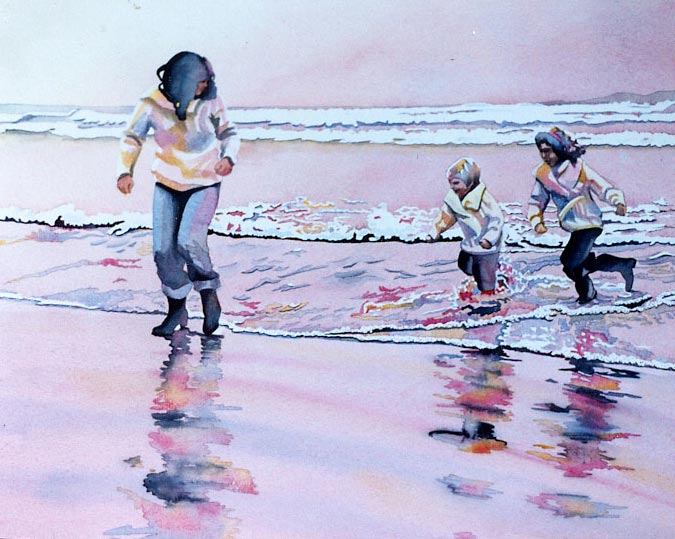 Dressed For It
watercolour painting by Patricia Neil Lawton
You may be interested to know that artists from every state in the USA, every province in Canada, and at least 115 countries worldwide have visited these pages since January 1, 2013. That includes Charles Ashman who wrote, "A thingamabob will hang on walls of houses everywhere and project art on opposing walls at anytime the owner wishes from any museum or collection anywhere in the world and artists will have to figure out how to get paid for their part of the process. If I can have a Vermeer for free why should I ever go to a museum again? Or look at an exhibition?" And also Ron Vilim of Thunder Bay, ON, Canada, who wrote, "Sorry to read your demise of the newspaper…you see, I manage a dept at one. I depend on it for my daily employment. The good news is that I retire in exactly 1 month so I'll make it out before we die a slow death to electronic media. Also good news is your view of how important art has become to all of us, just happens that I'm an artist as well, so I expect my career change may come at an opportune time." And also Felicia McFall who wrote, "Most libraries have inter-library loans so you can get almost any book you can imagine — another function they serve besides just "a place for the homeless to keep warm."