Dear Artist, Like a lot of artists, I don't read a lot of novels. I think it has something to do with not releasing yourself to another person's imagination. But this Christmas a good one came along:
An Object of Beauty
, by Steve Martin. Yep, Steve Martin. It's about an attractive, ambitious young woman who moves to New York from Atlanta and gets into the art business. First as a gopher at Sothebys, then as a gallerista at an upscale gallery, then as a gallery owner herself. It chronicles her rise through artist and writer boyfriends, curators, FBI agents, international dealers and art collectors smitten with the intrigue of it all. From the straight-shooters to the sleaze bags, the talk is of contemporary art and the meaning of it all is money. I don't think I've recently read anything with so much truth, clear observation, in-depth understanding and wit. Steve gets the art world, human nature, body language, as well as the dark and funny twists of fate. He knows his stuff and he nails it. Lacey Yeager is a cute wit herself with a disarming charm and soft morals. But she's a fast study and she soon understands the job is to get in low and get out as high as possible before fickle fashion turns. Art requires a shot of scholarship; the weaker the art the more the scholarship needed, and wise men jump to help her get a leg up, which she does with some frequency. Lacey also has an uncanny wisdom for what things might fetch, how to finesse, how to create shortage and demand. Her dough-head collectors have nothing much to offer the universe except their money and their willingness to pay vulgar prices for things that would be laughed out of town in Atlanta. It's a romp. So what does this sort of true life adventure do for those of us who hang back in Humptulips with our precious little easels? It makes us realize the need for art with all its novelty and mystique is deeply ingrained in the human soul. And while the vast range of stuff that calls itself art includes craft, technique and beauty, as well as crap, it's not soon to be erased from our psyches. It takes all kinds of people to make a world; you just have to watch out for some of them. In the meantime, it's all fun. "Good going, Lacey!" it had me saying. "It was really nice knowing you. You've been a slice." Best regards, Robert PS: "The presence of excessive wealth puts an unnatural spin on the appreciation of art." (
Steve Martin
) Esoterica: There's something to be said for putting your feet up with a good book between clumps of Christmas cake and shards of shortbread. Oh, and Scotch. Did I mention that
Joe Blodgett
kindly left his bottle? I think it was with the book to remind me of one of Joe's more interesting quotes: "Art is a game where impotence struts the high road and capability smiles shyly from the quiet corners." Lacey might have used that one.
Novels nourish creativity
by Jeffrey Hessing, Nice, France I have to disagree. I love reading novels. They are an escape from my overactive brain and at the same time leave plenty of room for my imagination to visualize the characters and places. They are relaxing and nourishing at the same time. When I first came to Vence in the South of France there was an English speaking community of international artists. We would often trade and discuss our favorite novels at the cafe. I dislike stereotypes of artists as illiterate or inarticulate as seen in the film
Pollock
. I have a friend who is a brilliant computer nerd who told me he stopped reading a long time ago because it took up too much space in his brain. I was a little shocked, but if it works for him, fine. I didn't read until after I graduated from University and became an artist. I suspect that non readers are evenly spread among the population. Finding a really good novel is such a joy. I finished one recently and it was like saying goodbye to an old friend. I was reading slower at the end because I didn't want it to stop. The art world is an easy shot to satirize. Here are a couple of good ones:
The Painted Word
by Thomas Wolfe,
Skinny Legs and All
by Tom Robbins and
Lulu Meets God and Doubts Him
by Danielle Ganec. I am going back into bed with a good book.
There are 3 comments for
Novels nourish creativity
by Jeffrey Hessing
Strutting doesn't guarantee capability
by Cheryl Lobenberg, Sacramento, CA, USA Joe Blodgett's quote "Art is a game where impotence struts the high road and capability smiles shyly from the quiet corners" is a quote that could be used against art that one does not like or fails to understand. I do know artists, however, who are extremely capable of strutting but have little artistic capability. Strutting is strutting and capability is capability… apples to oranges, don't you know.
There are 3 comments for
Strutting doesn't guarantee capability
by Cheryl Lobenberg
Mass media vital to visual arts
by Diane Overmyer, Goshen, IN, USA Bravo to Steve Martin for shedding a little light, be it good or bad, on the visual art world! In referring to Lacey Yeager, you mentioned fickle fashion of the fine art world. It never ceases to amaze me how different the visual art world is from the performing arts world. Why is it that once a performance is acclaimed it becomes a classic and never goes out of fashion? Yet amazingly paintings and sculptures seldom gain much attention from the general public and can totally be forgotten about except by those who happen to be fortunate enough to own them? Also, why is it when the National News highlights the lives of numerous important people who have died during the past year, it is so very, very rare to have a visual artist mentioned? I think it all boils down to mass media. If something is brought before the eyes of the public often enough it tends to stick in people's minds. Those of us in the visual art world really need to come up with new and better ways to keep the visual arts in front of the public, not just an elite few.
Art is all about things that humans want
by Paul deMarrais, TN, USA Steve Martin ought to know this world of money and fame and art. He's famous and he's a big art collector himself. Art is all about things that humans want; beauty, sex, money, ego nourishment and most of all, inspiration. People are always short on inspiration, even people who have lots of money. The art world is a huge pond. Most of us artists are little minnows wiggling about the shallow margins searching for a morsel here and there to keep going. We all imagine what the porpoises, sailfish and sharks are doing and the big whales who require huge gulps of herring to make it through their day. The art world of New York City is as foreign to most of us as a trip on a huge luxury yacht. It's human nature to think that other people are doing bigger things and having more fun, more money, more sex, more beauty than we are. Art is forever linked to human nature so there will always be a place for it in the world.
There is 1 comment for
Art is all about things that humans want
by Paul deMarrais
Hard work essential ingredient in art life
by Fleta Monaghan, Asheville, NC, USA It is a good time of year to curl up with a good book, and I can't wait to read this one. Two books I just read in the last month will also give a peek at the art world.
My Short Life of Trouble
by Marcia Tucker is a testament to vision and determination. Marcia never let anything stop her, and it is amazing what she accomplished in founding the New Museum of Contemporary Art. Also, I have just finished
Just Kids
by Patti Smith, and could not put it down. I also saw her in a TV interview just yesterday and her advice to young artist is to "work hard." She did mention being lucky, but stressed that the hard work aspect of being an artist as the essential ingredient to the life.
There is 1 comment for
Hard work essential ingredient in art life
by Fleta Monaghan
Books for hibernation
by Karen Dawson, Vermont, USA One of the few reasons that I treasure Vermont winters is the forced hibernation. This is a time for what normally feels like such a guilty pleasure: reading fiction! Yes — I am reading Steve Martin's book too! — in the book store; while the bookstore may need my money, Steve probably doesn't. In fact, I could use a little of his (smile). In addition to Steve's book, I'm reading McEwan's
Solar
, and I am working my way through the novels of Paulo Coelho and Halldor Laxness. Each is richly evocative of worlds that I probably won't have access to in this lifetime. Laxness, a Nobel laureate is a funny funny man — e.g.
Under the Glacier
goes down as my favorite read in 2010. Coelho tackles themes that will resonate with any creative soul —  e.g.
The Alchemist
. And McEwan, well, he's simply one of the most talented writers working in the English language, so that you can read his work and relax, knowing that you are in the hands of a master.
There is 1 comment for
Books for hibernation
by Karen Dawson
Listening to the muse in all art forms
by Bobbo Goldberg, Orlando, FL, USA "Like a lot of artists, I don't read a lot of novels. I think it has something to do with not releasing yourself to another person's imagination." This is surprising. Why shouldn't a raconteur love a good symphony? Is there something that prevents an actor of note from appreciating, creating and collection fine art? In fact, many performers are also painters and students of art history; Vincent Price and Tony Bennett jump to mind. At the moment, I'm immersed in
The Adventures of Sherlock Holmes
appreciating the wit and comic timing as much as the logical legerdemain. It seems to me that anyone involved in the creative process would treasure it in others and want to share in the experience. Left a bit unmoved during a recent showing of
Tron, Legacy
, I was enchanted by the bravura performance of Michael Sheen in the small role of
Zeus
. His showmanship and energy dwarfed this less than nimbly plotted display of gratuitous razzle-dazzle. Just today, I saw a drawing done by a
dear friend
and was stunned at the atmosphere, character and quality. Such moments are transformative. Those who hear the Muse even occasionally, have the capacity to hear it everywhere. Why not listen? I love "releasing myself to another person's imagination." It's companionable, encouraging, sometimes uplifting and always neighborly. We creative characters share, and may take for granted, access to a world they might believe not afforded to everyone. I, for one, have found keeping company in that world to be a warm and enriching experience.
The escape to beauty
by Brian Romer, Sechelt, BC, Canada I decided it was time to return to the south of France. Not for me, sleeping in crowded airports, awaiting full body checks and the resumption of snow cancelled European flights. No, while the high tides and strong winds combined to cause the waves out front to crash ashore and the rain pelted down endlessly on the studio skylight, I simply dug out some photos and soon found myself in the peaceful farming village of Courtauly were we spent a bit of time painting a few years ago. Although plein air is usually my thing, it was great fun to do a half a dozen or so little 8 x 10's and 11 x 14's in the warmth and comfort of my studio. Before long I was totally back in that delightful place (pop.76) about an hour and half drive south of Toulouse. I was painting furiously away, silently practicing my French, and listening to Cherie FM on my Wi-Fi radio, all at once. I even forgot about the wine!
There is 1 comment for
The escape to beauty
by Brian Romer
Archived Comments
Enjoy the past comments below for An object of beauty…
Featured Workshop: William Scott Jennings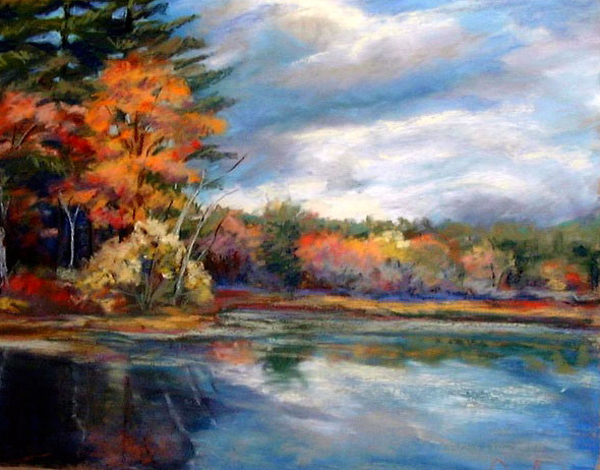 Autumn At The Cranberry Bog
oil painting, 25 x 31 inches by Dianne Levine, Bedford, MA, USA
You may be interested to know that artists from every state in the USA, every province in Canada, and at least 115 countries worldwide have visited these pages since January 1, 2013. That includes Pike Sullivan of Meadows of Dan, VA, USA, who wrote, "I recommend the movie Junebug filmed in North Carolina. It's about a guy from North Carolina who comes back to his home town with his gallery owner girlfriend looking for outsider art. It's really funny." And also Helen Putnam Bretz who wrote, "I saw Steve Martin interviewing and discussing his new book on Charlie Rose. For the first time I saw Martin with depth and genuineness that I had never encountered before. He wore it well. I was impressed and I look forward to reading his book. Your genius comes from letting everyone feel you are their friend. We respond to our friends." And also Margaret Blank of Mirror, AB, Canada, who wrote, "I've just finished eating up
Bury Your Dead
the latest Inspector Gamache mystery by Canadian author, Louise Penny. Over bits and pieces of the past 3 days, I enjoyed it with good scotch, or with good dark coffee — depending on the time of day. It was rich, satisfying, and totally delicious."