Dear Artist, I was in the garage searching for last year's car antlers when
Joe Blodgett
 pulled into the driveway. "You need to write a letter based on your subscribers," he said. "They're a pretty generous bunch." He was bearing Scotch so I invited him to the studio. "Not just the direct subscribers, but all those thousands of living artists who contribute to the
Resource of Art Quotations
," he said, holding a couple of my tumblers up to the light, checking for soap spots. "I've been gathering stuff," he said, fumbling a sheet of foolscap while I dropped the ice. "'Artists are among the most generous of people. Perhaps inherent in the appreciation of creativity comes a deep, underlying love of humanity and our Earth.' That was from
Kelly Borsheim
of Cedar Creek, Texas," he said. "Good eh? I mean, this stuff is pure genius." He read from his list: "
Mickie Acierno
wrote, 'I'm filled with gratitude for the ability to live the artist's life. In my studio. Being an artist. Every day.' And
Hap Hagood
: 'Be grateful for the talent you have, the people you've met, and the experiences from which you've benefited.' And
Jim Rohn
: 'There is no better opportunity to receive more than to be thankful for what you already have. Thanksgiving opens up the windows of opportunity for ideas to flow your way.' And
Linda Saccoccio
: 'How fortunate we are to make our life's work centred on experiencing life with depth and creating a soulful response to it.' And
Miles Patrick Yohnke
: 'We can't catch kindness in a net or a gun. When kindness is given to you, it's by choice. One must adopt an attitude of gratitude.' And
Janet Badger
: 'You only get to keep what you give away.' And
Jane Champagne
: 'Generosity pays off in myriad ways.' And here's one of mine that you've never paid me for: 'Those works I've most profited by are the ones I've given away.' " I told Joe I'd been meaning to straighten up with him. I asked him if he might like a nice pair of used antlers. Darned if he didn't take them. I gave him a painting, too. Best regards, Robert PS: "Remember to be kind, thoughtful, grateful and generous." (
Alyson B. Stanfield
) Esoterica: We started talking about how we become what we focus on — what we pay rapt attention to. When we are gracious and open to the miracles of the universe, the dynamics of human intercourse and the service of our art, we are in turn fed. We were fully into the spirit of Christmas. "I'm gonna go for it," I told Joe. "I'm gonna be a better person." He gave me the whole list. "Give whatever you're doing and whoever you are with the gift of your attention." (
Jim Rohn
)
Mini highlight
by Jackie Fyers, Sussex, England A big thank you for the generosity of your twice weekly letters. They have become a mini highlight of my week and an enrichment and stimulant of my solitary thought process while I paint. I am fortunate enough to earn a crust from painting and that is justification enough for me to do what I love. Despite my wonderful family, friends and husband, there is a companionship that comes from your letters and those of the contributors to your site that I really appreciate as an artist. I wish you a great Christmas, and Happy New Year. With kind regards to you and all those involved in distributing your letters. (RG note) Thanks, Jackie. And thanks to all who wrote just to give Seasons' Greetings. The connections are very heartwarming indeed. All the best to all, no matter where you're coming from.
Painter's paint exchange
by Linda Blondheim, Gainesville, FL, USA Having a generous spirit is necessary in the arts. When art is marginalized in society there will always be need. I started a program in my loft studio for artists. It's a paint exchange. Artists can put all kinds of paints and mediums in a box in my studio and take out whatever they can use. I started it by cleaning up in my own studio and donating the beginnings of the items. This was such an easy way to help other artists in this economy. I don't see why every town could not have this exchange and I hope this idea catches on. I wish art supply companies would lend a hand. Their sponsorship would be wonderful in making these community exchanges possible around the world.
There is 1 comment for
Painter's paint exchange
by Linda Blondheim
Keeping what you give away
by Bill Skrips, Blairstown, NJ, USA Wow — the gift of paying your attention — in all honesty, that is one of the more precious commodities in my life. How easy and necessary is it to turn away from all the static out there? Or how much to we start to hear and then clap a filter on, straining it for bits of relevant information? I printed out the quote from
Maya Angelou
, which was a good 'un. I'm trying even harder now to think about throwing more back — guess I never did think about the fact that you only get to keep what you give away.
Thankful for bits of beauty
by Terry Wynn, Jefferson City, MO, USA I search for lots of things but I have yet to search for last year's car antlers. That statement made for a hilarious picture in my mind. Robert in the garage surrounded by neatly hung antlers, little plaques underneath "1989 bumper", "1992" hood (bonnet)" — then I really started laughing. Of course, were they neatly hung and marked on the wall you wouldn't have been searching! Anyway, I was so enthralled in my little mind game of you and your poor dog (I am beginning to think now she must be a guide dog because possibly some of your senses are heading out the door!) wandering around in your garage looking for lost antlers, that I almost lost the thread of your letter. Generosity, good will toward men. I think we as artists do sometimes feel almost a bit guilty — we see sunsets differently, we see the glimmer of the morning dew. I wonder how people could not "see" these things. We notice and I am so thankful I see these bits of beauty.
Best wishes
by Doreen Flanagan, Cape Town, South Africa I have received your letters for quite a few years now, with much pleasure and a great learning curve as we go on the creative journey. For you, your family, and all the extended family of the Painter's Keys and the people who help you produce the Twice Weekly Letters and all the other valuable services on your site, I just wanted to wish you all a blessed Christmas and lots more growth and learning in 2011. I look forward to go on receiving your letters. I have, in many cases, followed your advice and have done quite a number of variations on a theme and will continue to do so. I can see the value of pursuing and developing one theme in one's portfolio, otherwise, as you said, we are just all over the place and nobody can identify your work.
Find the universal through the personal
by Kelly Borsheim, Firenze, Italy Wow, Bob, this was the last thing I was expecting to read today! Thank you very much! I think the best thing I have been telling artists these last few years is to "Find the universal through the personal." My strongest pieces and ones that seem to make the strongest connection with viewers are ones that were born as my personal "art therapy." Use your own experiences to make your authentic art. It is what you are really here for. Thanks again. And I would send Joe Blodgett a hot toddy if I could. (RG note) Thanks, Kelly. And thanks to the others who noted we used their quotes in this letter and in other places. Over the years our staff have lifted sentences from letters sent to us, both published ones and not. It's difficult to get a proper tally, but we think there are about 9000 quotes in our
Resource of Art Quotations
from our subscribers alone. If you have ever written to us in any form, you might go in there and plug in your name to see if we've quoted you properly. FYI, we occasionally get letters from subscribers asking us to remove something they wrote. The reason: "I don't think that anymore." No problemo.
There is 1 comment for
Find the universal through the personal
by Kelly Borsheim
Stick-handling our charitable generosity
by Jim Lorriman, Shelburne, ON, Canada Joe is right. We are an amazingly generous bunch. The community I live in knows this and leans heavily on us whenever they want to raise funds. They are all good causes and artists give away far more relative to their income than most other groups. In return for our generosity we are offered recognition and usually a tax receipt. The former is of dubious value as many of us are well-known in our area and the later is possibly of no value as the majority are not making enough to put it to effective use. I donate about 10 – 15% of my work to various charities. This year I have had a large number of requests and came up with a way that is a three way winner. When someone asks for a donation I suggest that they get one of their patrons to buy a piece from me at the wholesale price (usually 50% of retail). They then donate the piece to the charity. The charity gives the patron a tax receipt for what it sells for or the full retail value depending on how they do things. The charity wins as they get the money from the sale. The patron wins because he/she can make use of the full value of the tax receipt. (The difference between what the patron pays for the piece and the value on the tax receipt accounts for the discount that the government puts on the tax receipt. Therefore the patron is getting a valuable tax receipt.) The artist gets the full price that they would have received from a gallery. Everything ends up in the right place where it is most effective.
There is 1 comment for
Stick-handling our charitable generosity
by Jim Lorriman
Don't give the duds away
by Roberta Levy "Those works I've most profited by are the ones I've given away." I hope you are right… I gave two very nice paintings to my women's organization for a silent auction last week. I had them under glass as they are pastels, one a floral and the other a landscape, and decently framed… (50% off at Hobby Lobby stuff… not expensive but looking good…) and I had heard from an art auction director for public TV lecture earlier in the year that an artist MUST NEVER give away something they don't believe is absolutely fantastic because to give a dud away is to have the viewer think you are a lousy artist… so I was very proud of them… they looked really good! Since I recently discovered that Monet and I share the same birthday each year, I have been working very much in the same vein he did in his Giverney work… so really, they were very nicely done… and pastel is a wonderful medium to do work in his shadow. I specially asked the committee to put a bottom line price tag on them… and we agreed on a $10 price for the small one, 11 x 14 (2 1/2″ matting all around) and $25 for the one in the 20 x 16 frame… I had a conflict of parties that night so I didn't attend the party where my paintings were in the auction. The next day, I got a call from the president saying that whole groups of the women were clustered around the table with my two paintings and the words were very complimentary on all sides… she didn't know what they came in for but said there were several bids on each piece… Well, this week, I went to her house to pick up the two little easels I left with her to use for the auction and she handed me a note which read: small floral: $12, garden scene: $37… sorry but there were very few people at the dinner and the auction was very grandly over donated… these prices don't reflect the value of the work or the labor put in them… but nothing sold for very much this year. I had figured, being not at all overpriced, the small one could go out at $25 but the large one would bring in at least $75… I'd put it in our association gallery for at least $125… Go figure. Hopefully, your above words will have some relevance to me too as time goes by…
There are 2 comments for
Don't give the duds away
by Roberta Levy
The wisdom of Bahu'u'llah
by Bill Skuce, Sooke, BC, Canada "Be generous in prosperity, and thankful in adversity. Be worthy of the trust of thy neighbor, and look upon him with a bright and friendly face. Be a treasure to the poor, an admonisher to the rich, an answerer to the cry of the needy, a preserver of the sanctity of thy pledge. Be fair in thy judgment, and guarded in thy speech. Be unjust to no man, and show all meekness to all men. Be as a lamp unto them that walk in darkness, a joy to the sorrowful, a sea for the thirsty, a haven for the distressed, an upholder and defender of the victim of oppression. Let integrity and uprightness distinguish all thine acts. Be a home for the stranger, a balm to the suffering, a tower of strength for the fugitive. Be eyes to the blind, and a guiding light unto the feet of the erring. Be an ornament to the countenance of truth, a crown to the brow of fidelity, a pillar of the temple of righteousness, a breath of life to the body of mankind, an ensign of the hosts of justice, a luminary above the horizon of virtue, a dew to the soil of the human heart, an ark on the ocean of knowledge, a sun in the heaven of bounty, a gem on the diadem of wisdom, a shining light in the firmament of thy generation, a fruit upon the tree of humility." (
Baha'u'llah
, Prophet-Founder of the Baha'i Faith)
Archived Comments
Enjoy the past comments below for The art of generosity…
Featured Workshop: William Scott Jennings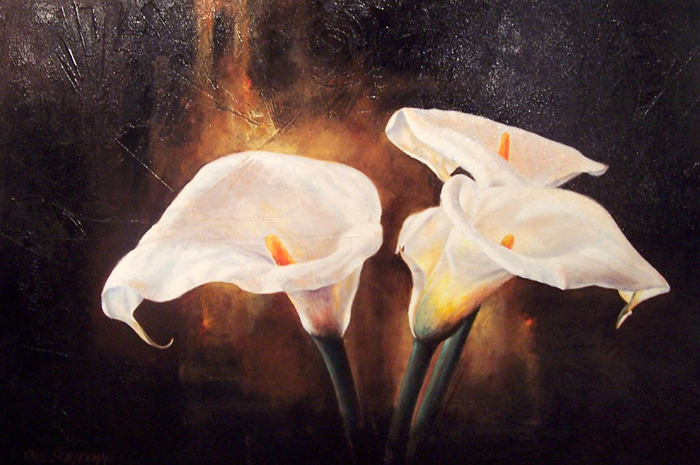 Everything's OK
acrylic painting by Carl Schlademan
You may be interested to know that artists from every state in the USA, every province in Canada, and at least 115 countries worldwide have visited these pages since January 1, 2013. That includes Gloria Garner who wrote, "Something I read recently: 'Life is not what it's supposed to be. It's what it is. What we do with the in between is the important thing.'" And also Jack Adams who wrote, "This is the precept by which I have lived: 'Prepare for the worst; expect the best; and take what comes… (and make the Best of it!!)' (
Hannah Arendt
, 1906 – 1975)" And also Teresa Chow who wrote, "I can't join you with a shot of Scotch as I get tipsy but the car antlers will do. Put them on your car and ride like the wind." And also Gail Guenther-Mazer of New Jersey, USA, who wrote, "I can't tell you how many paintings given or painted for $100 (token) have been received by people all over the country with tears in their eyes!! Tears of joy and love of the subject and their appreciation for a connection." And also Scott Kahn of NY, USA, who wrote, "It's a Wonderful Life."