Dear Artist,
In 1970, John Baldessari was teaching studio art at Cal Arts, while enduring a crisis of faith in his own semi-abstracts. He took everything he'd ever made to a San Diego mortuary and cremated it, baked the ashes into cookies, stuffed them into a bronze urn shaped like a book, then engraved a plaque with the destroyed paintings' birth and death dates and the recipe for the cookies. "It was a very public and symbolic act," he said, "like announcing you're going on a diet in order to stick to it." On the verge of 40, John leapt into multi-media, borrowing, hybridizing and re-contextualizing it and carving out what would become his signature: questioning, with irreverent and sardonic wit, the nature of representation and language, and what makes art, art. He did much of it from his own classroom.
John called his new, experimental class at Cal Arts, "Post Studio" — its purpose to "indicate people not daubing away at canvases or chipping away at stone, that there might be some other kind of class situation." He handed out assignments typed on cue cards and made videos on a Sony Portapack analog recorder. "When I think I'm teaching, I'm probably not. When I don't think I'm teaching, I probably am," said John. Here are his 1970 assignments:
1. Make up an art game. Structure a set of rules with which to play. A physical game is not necessary; more important are the rules and their structure. Do we in life operate by rules? Does all art? Or art rules, like tenant rules or art violations.
2. How can plants be used in art. Problem becomes how can we really get people to look freshly at plants as if they've never noticed them before. A few possibilities: 1. Arrange them alphabetically like books on a shelf; 2. Plant them like popsicle trees (as in child art) perpendicular to line of hill; 3. Include object among plants that is camouflaged 4. Color palm tree pink; 5. Photo found growing arrangements; 6. Or a movie on How to Plant a Plant.
3. Pay homage to a movie star, rock musician, etc. in form of a pilgrimage visit. Photograph is required of the two of you with a personalized signed greeting by the culture hero. Or it could be to a famous person's grave. In this case a photo of you at the grave. Person's name on the gravestone should be visible. No signature necessary.
4. Defenestrate objects. Photo them in mid-air.
5. One person copies or makes-up random captions. Another person takes photos. Match photos to captions.
6. Disguise an object to look like another object.
7. Make up list of distractions that often occur to you. Recreate on video tape.
8. Document change, decay, metamorphosis, changes occurring in time. Photograph same thing at various times during the day.
9. By using movie camera to follow actions and by your observations into cassette recorder, document the movements of someone secretly for an entire day. Or have someone follow you.
10. Photograph backs of things, underneaths of things, extreme foreshortenings, uncharacteristic views. Or trace them.
11. Describe the visual verbally and the verbal visually.
12. Scenarios. Do a movie from an existing, stock scenario. Or 1 person write scenario, another shoot movie. Or GRABAG scenario—everyone write 2-3 scenes, drop in box, someone pull out maybe 10 and they are shot in the order drawn out. Or everyone do their version of the grabag scenario.
13. Repaired or patched art. Recycled. Find something broken and discarded. Perhaps in a thrift store. Mend it.
14. Photograph of umbrella and sewing machine on an operating table. That's Surrealism isn't it?
Sincerely,
Sara
PS: "If an artist calls it art, it's art." (John Baldessari)
Esoterica: John Baldessari drolly believed that every young artist should know three things: 1. Talent is cheap, 2. You have to be possessed, which you can't will, and 3. Being at the right place at the right time. "What the artist does is jump-start your mind and make you see something fresh, as if you were a visitor to the moon," said John. "An artist breathes life back into stereotypes." John Baldessari, one of America's greatest art professors and pioneer of American Conceptual art, died at his home and studio in Santa Monica, last week. He was 88.
The Letters: Vol. 1 and 2, narrated by Dave Genn, are available for download on Amazon, here. Proceeds of sales contribute to the production of The Painter's Keys. 
"I will not make any more boring art." (John Baldessari)
Featured Workshop
April 5, 2020 to April 11, 2020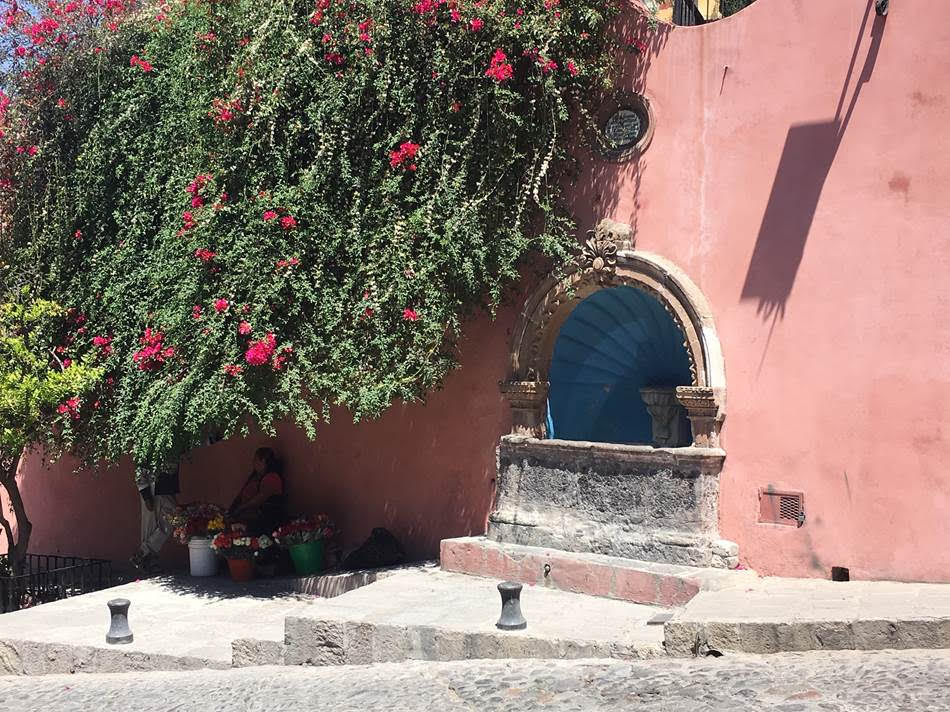 Join painter/author Ellie Harold in sunny Mexico for a week of immersion in a facilitated discovery of your deepest and most essential artist self. If you're feeling blocked, thwarted or simply longing for a more meaningful expression, the retreat is a unique opportunity to focus on your life/art purpose, discover new directions and explore next steps. You'll enjoy your own room in the charming Casa de la Noche in San Miguel's Historic Centro district, painting and writing (with materials provided), guided reflections and focused discussion with plenty of time to explore the color and culture of this vibrant art city. Created with the needs of mature women in mind, this retreat focuses on process rather than product and is for both experienced and novice art-makers. Limited to 12. Register by November 30 to receive Early Bird free shuttle. One Discounted Spot Now Open! Click here for a full description, photos and testimonials from past participants.
Featured Artist
My aim as a painter is to bring to life a slice of the world as I experience it. Light, color and form are my vocabulary.