Dear Artist,
When my husband, Peter, attended his first Genn family gathering, he was delighted to find that after the meal everyone scattered to their respective rooms for what our family fondly and only half-jokingly calls, "quiet period." No communal digestion, no idle chatter, no one's company sought. Within minutes, everyone was under the covers in their own bed with a book or writing tool. Quiet period is when you get to go to your room to work on that thing you're quietly working on.
"Alone, and without any reference to his neighbours, without any interference, the artist can fashion a beautiful thing;" wrote Oscar Wilde. "If he does not do it solely for his own pleasure, he is not an artist at all." The habit of solitude begins in childhood, when the parent is secure enough to leave the child alone with his imagination and problem solving. Growing up, we had little choice, because after a few minutes in our dad's studio, he would gently shoo us out the door and we would head to our own rooms, our arms full with a consolation of paper and felt tips.
I remember him welcoming people into his studio, but visiting was always a privilege. Think of the sacredness not as a rebuff, but as a reverence and permission to take it also for your own. "In solitude, we give passionate attention to our lives, to our memories, to the details around us," wrote Virginia Woolf. Art requires us to quiet our social personas and our giving selves in order to be alone with our dreams. "If you are alone," wrote Leonardo da Vinci, "you belong entirely to yourself."
Sincerely,
Sara
PS: "Solitude is the furnace of transformation." (Henri Nouwen)
Esoterica: Now that Peter and I have moved to a small town, a wonderful thing has happened in my own studio. I've noticed that people who are interested in art have found out where I live and put out gentle feelers for visits. In my twenties, visiting friends stepped over my paintings to get to the fridge, or rested their drinks on my stacked canvases. When in my thirties, the easel was but a curiosity to visitors — the same as the piano and the rusting claw-foot, West Village tub. Perhaps I'd grown so accustomed to New York's nonchalance that I'd forgotten what a studio visit can be, and while it's still a bit unnerving to metaphorically pull down your pants in front of friends and strangers, there's also a magic that can happen when the stars align and the vibe is right. In that moment, I'm not alone.
The Letters: Vol. 1 and 2, narrated by Dave Genn, are available for download on Amazon, here. Proceeds of sales contribute to the production of The Painter's Keys.
"Writers may be disreputable, incorrigible, early to decay or late to bloom but they dare to go it alone." (John Updike)
Featured Workshop
May 1, 2020 to May 3, 2020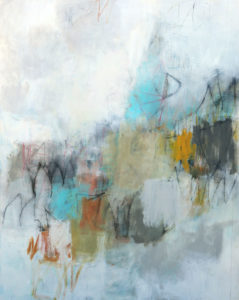 Experience beautiful early spring in Santa Fe, NM.  Develop your own unique marks and painting vocabulary in this 2 1/2 day abstract acrylic workshop.
We will work on paper, and for those who like, unstretched canvas, using conventional and unconventional mark making tools and drawing media.  Via guided exercises you will practice a variety of marks and learn how to create a work rich with history and depth through the process of layering these marks with acrylic paint.
This class is suitable for beginning and intermediate painters.  Cost is $595.00  Materials list provided one month prior to the workshop or can be provided at an additional cost of $100.00
https://julieschumer.com/julie-schumer-workshops/
Featured Artist
I am a self taught artist, I work in oil, Acrylic and watercolour also in Pastels. Started painting In Ashcroft with Mr. Campbell. I taught my self how to paint by studying professional artists' work through reading, TV programs, educational DVD and work shops.