Dear Artist, After noting the tendency of kindergarten kids to keep pushing paint until their images were destroyed, Susan Marx of Orange, N.J., wrote, "You raise an important question. How do you know when to stop? If the best result of the painting is obtained during the first five minutes — when your excitement, emotions, instincts and experiences are all lined up — are you supposed to stop right then before your brain takes over? How does one prevent overworking?"
Pablo Picasso
) Esoterica: A healthy ego, whether genuine or affected, builds confidence in what you do. The extreme egotist thinks he's doing just fine, no matter what. "If I spit," said
Pablo Picasso
, "they will take my spit and frame it as great art." Childlike and self-focused, even the mild egotist has little time or inclination for overworking.
Susan Marx
The guilt of the easy
by Marlien van Heerden, Pretoria, South Africa Overworking is so often my downfall. Although the balance when I think something is finished and my husband differ many times as well. My mom framed one of my early paintings but I still believe after 20 years I ought to finish it. Sometimes I think artists feel guilty if something happens too easily. I have had a request to paint a sunset with the silhouette of camels or trees, but I feel it is cheating — too easy! That's not fair towards the buyer — she is entitled to more, but isn't that just the fact of today's art? Some artists are marketers (some marketers become really bad artist but sell like sweet cakes) and some have the skill to really paint, but miss the market. Thereby I do not suggest a lack of skill with really good sellers, it's in my eyes just not always the case. Luckily there are a few people that buy my overworked, uncompleted or just right paintings allowing me to do what I love most! Thank you to each and every one of them!!
Fear of losing control
by Jim Williams, Terrace, B.C. Canada My background is mostly performing arts and the same tendency to overwork is seen there. There's the almost pathological desire for just one more line run, or dress rehearsal, or tech check. Some years ago an artist friend of mine, Marc Channon, suggested that the reason behind overworking was the same reason as that behind over-parenting. The moment we stop, the moment we allow our work to move into the world is the moment we lose control over our offspring. Whether it's a play, a sculpture, a puppet or a painting, it is now at the mercy of the world. And we don't want our offspring at the mercy of anything. But it's part of nature to set that which was once dependant on us free. No-one ever said it was easy… but on the other hand, there's an empty easel/rehearsal room/nursery over there… just waiting for the next one.
There is 1 comment for
Fear of losing control
by Jim Williams
Overworking foiled by material availability
by Angela Treat Lyon, Kailua, Hawaii, USA You forget one really important factor: lack of available materials. There have been times in my life when I had so little dough I wasn't able to do more than one or two pieces. That goes against the grain for me, as I'm usually massively prolific. So instead of doing 3 or 25 progressive drawings, each of which would get better and better, I'd be stuck with one sheet of paper or one canvas. If I'd had more materials to play with, I coulda-shoulda-woulda done a whole lot more. I suppose I could have gone and borrowed paper or painted on wood, but that never occurred to me. That's why I now prepare 5 canvasses at once, instead of just one.
There is 1 comment for
Overworking foiled by material availability
by Angela Treat Lyon
Confessions of an artist-engineer
by Tatjana Mirkov-Popovicki, Port Moody, BC, Canada My causes for overworking are mostly due to fixing of overcomplicated composition or color schemes — by the time I admit that the complexity will have to be scaled down, the surface is overworked (acrylic). Sometimes this can be worked out, sometimes not. I enjoy planning complicated compositions, so this is a challenge for me. The yield of finished pieces goes down with complexity, and the process is always a learning experience. You just made me ask myself — why not go back to simplicity? Well, never say never, we sometimes retrace our steps and take another path… but this one still has so many possibilities to explore… I think that I finally understand why I keep getting into this overcomplicated trouble. There is a huge comfort in knowing that there is endless reference material that can be taken apart, from large to very small elements, that can then all be examined, modified, and re-assembled into a painting. Sounds technical? Sounds like something an engineer would do? That's exactly it! That's me! I really, really like my Lego world!
There are 3 comments for
Confessions of an artist-engineer
by Tatjana Mirkov-Popovicki
Definition of 'finished' constantly evolving
by Paul deMarrais, TN, USA It is hard to know when to stop because the definition of when a painting is 'finished ' has changed over the years. Prior to impressionism a finished painting exhibited a smooth polished surface devoid of brushstrokes. Paintings with that looked were valued and feted with honors. Impressionism gradually changed the taste of the critics and the public and a new idea of finish developed. The sketches were now the finished works. Immediacy and freshness became more valued than polish. The style and personality of the individual artist became important. Modern art completed this evolution and completely destroyed the notion of what was finished. The work was finished when the artist said it was finished and hung it on the wall. Now the artist has no guidelines to follow whatsoever in this matter. Our taste is influenced by the many paintings we have seen and admired, by the foibles of marketing and by many other factors. In my mind I am seeking some sort of perfect level of finish in each painting but perfection, by definition, can't be achieved. All my efforts will fall short. I would rather fall short on the rough understated side, than the smooth polished side! It's just a matter of personal choice. There are no right answers. I must create my own guidelines. I tend to ask myself if I am adding anything of value to the painting with each additional stroke. If the answer is not a solid yes, I tend to quit.
There are 3 comments for
Definition of 'finished' constantly evolving
by Paul deMarrais
Techniques to avoid overworking
by Mary Moquin, Sandwich, MA, USA Many artists speak to me of their fears of overworking. Often I find this fear prevents them from pushing their paintings further for fear of ruining them in the process. I don't believe that overworking is necessarily a byproduct of working too long on a piece. It's working too long without a clear concept or direction. Or, let's put it this way, overworked pieces can still be revived, sort of like what I hope a vacation will do for me. When at a loss, put the overworked painting aside. Somewhere that you can glance at it now and then. One day it will call you, when you're not so invested in it, and you'll know what it needs and you can either fix the problem right there and then or start a fresh painting right over the previous one if need be. Paintings painted over previous paintings are some of my best paintings, some of the history of the previous will show through adding a new dimension of beauty. The new marks will be fresh, because you are fresh and your vision is clearer. I have resuscitated many a painting this way. Stopping a work prematurely from fear of overworking to me is worse, it is playing it safe. It often becomes mere slight of hand and predictable, the end goal was too obviously premeditated. Creation involves risk and new discoveries.
There are 4 comments for
Techniques to avoid overworking
by Mary Moquin
Technology dulls imagination
by Rick Rotante, Tujunga, CA, USA Overworking is an epidemic in our (artistic) society. It comes from the technological world we now find ourselves. We lack imagination because there is little imagination around us. Machines do most everything for us. This permeates our subconscious and manifests itself into our waking hours. It takes effort and understanding to make and appreciate art. Without this an artist is forced to 'spell' (or overwork) everything so the public can get a handle on it. This makes for boring artwork. Artwork that shows flair, looseness and imagination confuses us, so artists get tight and overwork our subject until most artistry is erased and we make the work pleasing. We conform to sell, win awards or get into galleries. This is what I see when I go to shows or look at current artwork. Artists have to reclaim art and stop pandering to a mostly unsophisticated, disinterested, "match my sofa", prints mentality.
There are 4 comments for
Technology dulls imagination
by Rick Rotante
Under-working just as bad
by Deborah Weinstein, San Clemente, CA, USA Most of the art I've done that really makes ME happy has been completed in 20 minutes or less. It takes me weeks to complete a painting. Some of them do manage to communicate something of the impulse that originally led me to the subject matter, but just as many do not. Contrary to the common wisdom regarding overworking ("DON'T") I've noticed that the ones that work actually have gotten better as I worked on them longer — I do believe that under-working can be just as big a mistake as overworking a painting. Now it's my habit to just keep at it, refining, editing (painting over, painting out, redefining) until I'm sure there's nothing more I can do, or undo, to turn my painting into a statement. But the easy spontaneity I feel with a stick of charcoal and smudge of pastel evaporates when the paints come out. I wonder how many artists experience this kind of disconnect in their work and whether and how they might have overcome it.
There are 2 comments for
Under-working just as bad
by Deborah Weinstein
Holding the brush differently
by Penny Collins, Auckland, New Zealand I recently painted a gate and fence beneath a large overhanging branch. The work started off fresh and exciting, but soon became laboured and fudged as I tightened up the gate, then the area behind the gate, then the gate again. I vowed the next painting would be 'underdone'. Following some advice I read in the book of all the twice weekly letters, I held my brush far back along the handle, and pressed down hard. It was a fun process and I am really pleased with the result.
There are 2 comments for
Holding the brush differently
by Penny Collins
Open ended overworking
by Liz Reday, South Pasadena, CA, USA I can relate to the perils of overworking. I do it too much. Mine is the open ended variation, where I'm just exploring, experimenting and have no idea what I'm doing except putting one color next to another until it feels right. So often it just goes on for days and becomes necessary to put the painting aside. Then I have too many paintings put aside for the same reason and I'm really in trouble. New Year's Resolution: Keep it Simple. I do need to reserve large sections of the painting for just blank quiet areas instead of frenetically connecting everything together (which was my theme, but I got carried away).
There are 2 comments for
Open ended overworking
by Liz Reday
An agonized portrait
by Norma Hoyle, Abbotsford, B.C. Canada "Too much riding on it" rang such a clarion bell with me! Caring too much about an outcome is one hang-up that definitely murders my personal artistic expression, and I've learned to walk away when that emotion makes its presence known. While it may not be true for everyone, for me, when the process is not relaxed or coupled with joy, it generally attracts creative disaster. Happily the converse is likewise true. To share an example: I spent many hours agonizing over each detail of a portrait I was attempting to render from a borrowed photograph. My angst made it a painful process, but I thought I had done a credible job and finally retired with only the hands to complete which I planned to do equally carefully the following day. During the wee small hours of the night, however, I awoke from my sleep, grabbed my brushes and in short order completed the rendering. I then fell back into bed and slept soundly. The following morning, when I awoke, it was with a feeling of horror at the memory of what I had done and I bitterly regretted my impulsive action — until I looked and found that the hastily rendered hands were the best part. I never corrected the very many errors with the oh-so-carefully rendered rest of my painting, as it took me a very long time to recognize them, but the painting, flawed as it is, remains a favorite as it also represents a milestone in my understanding.
There are 2 comments for
An agonized portrait
by Norma Hoyle
When it's done, I know it
by Marney Ward, Victoria, BC, Canada I would like to plead the case for artists who prefer to spend more time on each painting. I generally spend about a month on a painting, but I don't consider my paintings overworked, though others may. I work in watercolour and my passion is light, which can be achieved in unique ways with the watercolour medium. Some of these techniques involve layers of glazing with each layer drying completely before the next is applied. All sorts of tricks like the use of salt, granulating pigments, wet-into-wet or into-moist or dry for unique effects and edges, must be experimented with and ultimately mastered. Watercolour is very unforgiving, as one must save the whites of the paper for one's lights or whites, so a degree of planning is essential. But the rewards, in my opinion, are great. Because the light comes from within the paint, the quality of light is more transparent, luminous and spiritual than in any other medium. I personally think that the current preference for freshness and understatement is nothing more than the flavour of the month, though flavour of the decade might be more accurate. I'm not against paintings that are done quickly, and certainly economically its nothing short of stupidity to try to live off of your art if you only paint one painting a month. But that doesn't mean that a painting is less worthy or flawed because the artist spends a long time on it. Is an Albrecht Durer overworked? No, its just done differently and more exactly than most work today. I love working on a painting over time, we grow together, I nurture it and it nurtures me, it speaks to me and I look at it, listening for what it has to tell me. Darker over there, less defined here, wet it again, blend it into the background. It takes time to commune with a painting. When its done, I know it.
There are 4 comments for
When it's done, I know it
by Marney Ward
Archived Comments
Enjoy the past comments below for The causes of overworking…
Featured Workshop: Julie Gilbert Pollard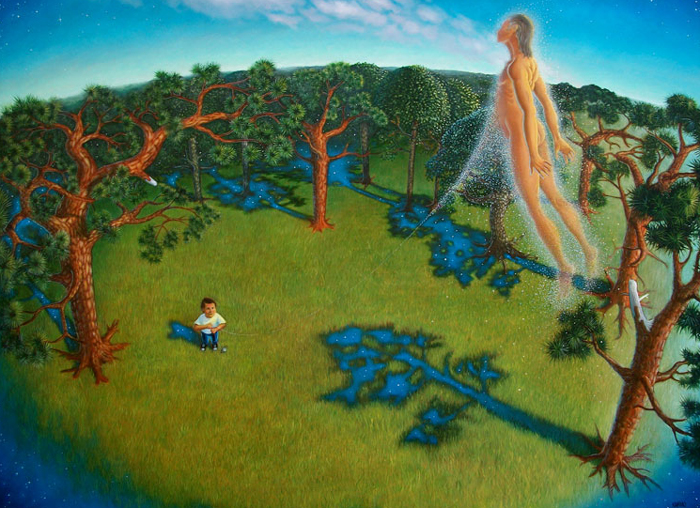 Mankite
oil painting, 36 x 48 inches by Joseph Marmo, Stuart, FL, USA
You may be interested to know that artists from every state in the USA, every province in Canada, and at least 115 countries worldwide have visited these pages since January 1, 2013. That includes Ben Novak who wrote, "May I suggest that one has a look at some the works by Matisse, to see how few lines and color patches can constitute a fine work of art." And also David Martin who wrote, "When asked how he knew when to stop,
Picasso
also said, 'How do you know when you have finished making love?' "
Thanks, Susan. For many of us, overworking is chronic and out of control. Looking at your work, it seems to me that you are one who has beaten it. Your paintings are fresh, direct and understated — you're hardly a victim of overworking. Overworking has many causes. Here are a few: Perfectionism presses atavistically on the human soul. The need for something better, something perfect is hard-wired into our DNA. Unfortunately, some people think perfection can be achieved by simply continuing. Guilt is that part of human nature that has us think we need to give or do something penitent to be more worthwhile within ourselves. Unnatural sacrifice and latent guilt are the wrong reasons to do anything. Facility is the persistence of a particular skill or technique. The mere presence of cleverness does not obligate its use. Example: A talented draftsman may become tedious with too much drawing. The fear of unknown outcome. This is a tricky one. While a lot of art involves exploration and discovery, another ploy is to have a pretty clear idea how you want to end up, and stop there. When an outcome is unknown, there's a tendency to continue to work toward an unsatisfactory one. "To be a painter," said Picasso, "you need to know how to paint, and when to stop." Too much riding on it. Artists often notice overworking when expectations or obligations are highest, such as commissions or solo shows. Spontaneity fails. Tossed-off sketches or field work seem to fare better. A casual attitude begets freshness. Thinking too much. Susan got it right when she said, "before your brain takes over." Sure, thinking is good, but your brain is perpetually thundering down the tracks with intent to derail your creativity. Clutter. In art, it's often what you take out, not what you put in. As a general rule, artists need to smile on simplicity and frown on the extraneous. Best regards, Robert PS: "Art is the elimination of the unnecessary." (