Dear Artist, Last Wednesday, I helped out with Miss Moore's kindergarten class. The 20 four- and five-year-olds we had to deal with were mostly ESL (English Second Language) students. Gathering closely on the carpet around me they soon understood that artists are people who really like to paint. Watching my brief demo, their hands shot up whenever I made eye contact. "What's your favourite colour?" "Who told you to do this?" "Is this all you do?" One boy came very close and said, "I like you. I really like you." I asked him why and he said it was because I let my glasses hang from red strings. At one point the children were made to jump up and down and do various calisthenics to neutralize their energy. "They're so excited," said Miss Moore. The kids went to their tables where gobs of colour and actual stretched canvases were provided. Then the fun began. Within a few minutes some had their paint up each other's noses. Paint was flicked, spattered and drizzled. The tables themselves became Jackson Pollocks. Tiny children are victimized by the same painting problems as adults. Some are timid — they fear errors and are unable to make the first dab. Others enthusiastically keep moving the same wet paint on the canvas until everything is a fairly uniform brown. By far the commonest sin is overworking. Virtually no one abided by my shouted regulation to "leave your strokes alone." I was beginning to lose it. Full time kindergarten teachers should be granted sainthood, I postulated. I calmed myself with the realization that overworking is probably hard-wired in the DNA. A person in authority cannot effectively tell a student when to stop. One tends to hover like a bandit and just take the work away. "Good idea," I thought to myself, "I can use that." A girl whose pretty smile was modified by a red smear like lipstick gone awry, could not put down her brushes. Running out of canvases, we kept her in other material which she filled with lightning speed. "I love painting," she admitted. At day's end, after one-at-a-time at the sink, they got their coats and lined up at the door. One by one they exited into the arms of their parents. Bidding the kids goodbye, more than once I heard Miss Moore say, "Tell your mother to launder your clothes as soon as you get home. It'll all come out in the wash." Best regards, Robert PS: "
All I Really Need to Know I Learned in Kindergarten
." (Title of a book by
Robert Fulghum
) Esoterica: As usual in any group, one notices what can only be called "natural talent." One young girl was using negative space effectively, cutting in and keeping her images general and strong. One doesn't need to point it out, but it's noticed. In a kindergarten, one feels the need to encourage equally. In art, everyone who plays wins.
'I love painting'
Let kids paint on their own
by Colleen Lauter, Mooresville, IN, USA About a year ago I started a children's monthly art class at the local women's shelter. I quickly learned that they just want to paint! I know from personal experience that art is good therapy, so I offer an idea of something to do, then I let them go and help if they ask. That rarely happens though. They just enjoy the creativity. One boy who was about 14 or so painted his picture entirely in black, with a tiny red heart on the tree that was part of the painting. He then gave it to his mother. It really touched my heart and said a lot about how he was feeling with what he was going through in his life. The joy is in the journey, and offering children a chance to express themselves through painting is such a gift for them.
There are 2 comments for
Let kids paint on their own
by Colleen Lauter
Age driven originality
by Jacqui Douglas, Australia I wonder what their art play would have been like if you had not shown them a demo and any of your pictures until after they had played with the paint. Children of this age are very influenced by what they see and want to try and copy what they have seen. When this does not work they lose interest. Before this age of kindergarten say around 2-3yrs it is quite different, they do not look or even want to try and copy anyone else's art. They use their own voice and play. I have found that with little people it is best to have all the colours in pots with a brush for each colour, two large jars of water, one for the dirty water and one to keep the brushes clean before putting into the paint again. I have found littlies do stick to this very well if you set them up from the start. (RG note) Thanks, Jacqui. This group of 4 to 5 year olds went their own way and followed their own inclinations. I think the only thing the demo might have helped them with was that they could go right to it, but they seemed to do that anyway. On a previous occasion with 8 and 9 year olds they all tried something like what I showed them.
Results using a prepared drawing
by Dee Dwight, Lake Michigan I took a different approach with my kindergarten experience. I went to the internet and found line drawings that I printed on watercolor paper on my printer. They were not unlike a child's coloring book, so each child had two different designs to practice with. They were familiar with coloring books and keeping somewhat in the lines, they practiced learning how to control the medium on these. I told them that after they were finished, they would have a blank canvas to paint on. The paper exercise let them warm up a little and they learned to apply their paint where they envisioned it. When they went to their canvas, I was astonished at what they produced. Little masters in training, all. Their parents were amazed, and truthfully, I was too!!
There is 1 comment for
Results using a prepared drawing
by Dee Dwight
Value of an actual painter
by David Ashworth, Minneapolis, MN, USA Showing up at a kindergarten class trumps them all. The kids will not remember. Not between their ears they won't. But you were real. You took the time. You, by your presence, said, "I did it. I have the option of "not working" for a couple hours." The implications are obvious. One can be an artist and successful enough to have options. And one can care. They knew they could choose fireman, doctor, or teacher, "just like Miss Moore!" Because you walked the talk, now they know they could be artists, too. Now THAT's how to change the world.
There is 1 comment for
Value of an actual painter
by David Ashworth
Early kindergarten experience prevails
by Ted Lederer (Elliott Louis Gallery), Vancouver, BC, Canada When I was a child somewhere around kindergarten a teacher criticized my art work (or at least that's the memory of the memory I have told myself). From that very instant onwards I saw myself as having no artistic ability. That "decision" has had repercussions that I am only now beginning to guess at which have affected my entire life. My son who is now 15 and has grown up with an art gallery named after him, has walls at home and in his room filled with original art and has art as a backdrop to his life, has also been told by his mother that he can't draw and there must be something wrong with him for drawing a person as a stick figure. "Shall," to paraphrase, "the sins of the father (mother) be visited upon him unto the third and fourth generation?" Let's hope not.
There are 2 comments for
Early kindergarten experience prevails
by Ted Lederer (Elliott Louis Gallery)
How to get kids stopped
by Dar Hosta, Flemington, NJ, USA I have always believed that artists who have never worked with a room full of children don't know what they are missing. You can be experiencing a paralytic bout of self-loathing in your own studio but, the minute you get creative with kids, it all turns around. I especially love the kid who liked you for your red strings. I have learned that children are like little animals who are attracted to shiny things and I have a pair of over-the-top cowboy boots that are guaranteed to make it a great day. You're right about the overworking. It's true, they really can't bear to stop and I believe that, sadly, it is because they are so rarely allowed to make a big mess — at home or at school. One way that I try to combat the all-brown paintings is by creating painting "stations" that are set up with monochromatic or analogous colors and the tools they will be painting with. You can give them a period of time, say on a timer, and then let them move to another station with the rule being that no tools travel with them. This also allows them to stand and work, which I think is better for kids. I also never, ever put out water. Many kids, especially the younger ones, paint rather quickly, so it is good to have extra surfaces on hand when they are done. Newsprint or pieces of cardboard work well. And, if you really dial up the theatrics in the way you tell them that you think it's finished, you will get more heeling. I get crazy-dramatic, gesture wildly, and shout, "Oh my goodness! I LOVE that painting! BUT!!! I want to stop loving it right NOW!"
There is 1 comment for
How to get kids stopped
by Dar Hosta
An art excursion
by Sean Flanagan, Ireland One wet Saturday afternoon at my sister's house in Ireland, where many nieces and nephews had gathered for a family day, along with their many children, the kids were housebound and the inevitable began to take place. My sister suggested I take the kids on an art excursion. It was not long before there was a large sheet of suitable paper on the round table, along with watercolour paints, water and brushes. I sketched a simple landscape scene of a lake, mountains, some trees etc. then showed them how to dip the brush in water and then paint and proceed to mix the primary colours for others. There was immediate fascination and quiet! Each child was assigned a subject. Two of the guys were assigned the mountains, a couple of the girls the lake, others the trees. Yes there was paint everywhere and more on arms and faces then on the paper. The interest and intrigue was uniformly great. Sophie looked at me after she completed her part of the lake as if to say, now what? I said why don't you put a small boat and a fisherman in the lake, to which she responded, like Uncle Mick? I began the simple boat for her and next thing she was putting a stick man with a bent rod in the boat. The kids were calm, dinner was on the stove and the kids kept coming back to the paper bragging about what they did.
Artistic freedom lost with age
by Bethany Shumate As a retired kindergarten teacher and artist I appreciated your article about demonstrating to a kindergarten class. How wonderful that the children were able to experiment right after your demo! We did a lot of painting in our class. I was constantly amazed at the innate creativity of young children and their freedom of expression and use of bright color. Many instinctively got the composition right, even to one child adding a red spot in the right place, balancing their whole picture! Our room was beautifully decorated by their wonderful art. I also had the privilege of teaching art to primary grades and was impressed at the creative beauty in their work. Children are natural artists, but sadly, they lose their artistic freedom as they grow up. It is our privilege as artists, teachers, and parents, to encourage their talents to thrive and grow.
Child's practicality defies fantasy
by Pat Palermino Since I am a folk artist, many of my paintings appeal to children because of the colors and child like stories that they tell. One of the paintings is titled "Mermaids Moving Hatteras Lighthouse." This painting was part of my exhibit at an art show in Alexandria, Virginia and depicts mermaids moving the Hatteras lighthouse attired in hard hats while other mermaids are sunning themselves on the beach, playing ball or sitting in the lifeguard's chair. A girl about five years old went up to the painting and studied it for a long time. She then turned to me and said, "You know that their fins will get cracked if they sit in the sun like that." The incongruity of mermaids pushing a huge lighthouse and sitting under beach umbrellas never occurred to her, just the fact that the fins on the mermaids would crack!
There is 1 comment for
Child's practicality defies fantasy
by Pat Palermino
Children and 'tempera resist'
by Sandra Jones, NJ, USA I had the pleasure of working with a couple of classes of fourth graders a few years ago. I do a technique called tempera resist, where you paint with tempera paint, cover with waterproof India ink and then wash it off. It was my first experience with working with kids and I was amazed at the different levels of ability. One girl had an incredible sense of color. (They were only given primary and secondary colors to work with.) Another girl had a wonderful composition in her painting. Their "theme" was freedom, and I was very happy with their work. In fact, three classes from the school were invited to exhibit in a gallery space in a local hospital, and I'm thrilled to say that one of my classes was chosen to exhibit their work.
Balancing excitement with control
by Paul deMarrais, TN, USA Recently, I had a special student at a workshop. He recently had a stroke and was paralyzed on much of one side of his body. His wife was an enthusiastic hobby painter and thought he might enjoy accompanying her to the pastel workshop I was leading. Due to his disability, he could not move freely and quickly or control the pastel stick in a typical manner. I quickly deduced to leave him alone as he seemed content to work and possessed a good focus. I taped his board to the table so he wouldn't have a shifting surface. His paintings continue to fascinate me. They were childlike but endowed with a wonderful graphic quality. I could see them in a modern New York gallery. He started slowly with a heavy black outline in pastel and even more slowly he build up careful strokes of pastel around the heavy black lines. His very deliberate pace interested me. Most of my students start off with great speed like the children in your classroom. Just as quickly they hit the wall and lose confidence. I tend to favor speed in painting, but wonder sometimes if I should slow down. Your child artists illustrate the quandary of painting. We need to be excited but we must exert control over our excitement or we end up with the mess you describe. I heard a quote that 'talent was the ability to be excited about something.' I think you might add that a talented person learns to balance excitement with the control gained through study.
There is 1 comment for
Balancing excitement with control
by Paul deMarrais
The dynamics of child art
by Judith Donoahue Every child is a natural artist. One of the reasons only a few carry on as painters when they grow up is because adults, parents, teachers, and others, reinforce the natural self awareness and critical thinking, we all develop around age nine by too much direction as to what is the "right" way to paint a person, cloud, tree, whatever. There is no "right way" to paint. Every young child knows this instinctively. This why we, as adult artists, are blown away by the pictures a child makes when they are left to just put down paint in whatever way they feel. And it is pure feeling and kinetic energy that motivates a young child to paint. Pablum smeared on the highchair tray at 18 months, even earlier, is the first painting a child makes. Age 4 and 5 kids absolutely do not need anything beyond materials, a place to feel safe, and a care-giver wise enough to just organize the setting, the atmosphere and materials, where they can freely and joyously make their marks. Then butt out! It's all in the doing for a young child, the process, and this explains why the little girl who declared "I love painting" just kept on doing it until her materials ran out. I would bet she hardly gave a second thought to the stack of paintings she made that day, unless a big fuss about the quantity and quality was made. That could have been the beginning of the end for her as a future artist because focus on the product in a young child thwarts the natural desire to just paint for the feel of it, and instead she may begin to focus on pleasing the praiser. The adults in the room, however, likely put aside some of her paintings, a very natural response. Why? Because her passionately active mark making is a deep memory inside all of us who feel compelled to paint, whether we consciously understand this…. or not.
There is 1 comment for
The dynamics of child art
by Judith Donoahue
Archived Comments
Enjoy the past comments below for 'I love painting'…
Featured Workshop: Julie Gilbert Pollard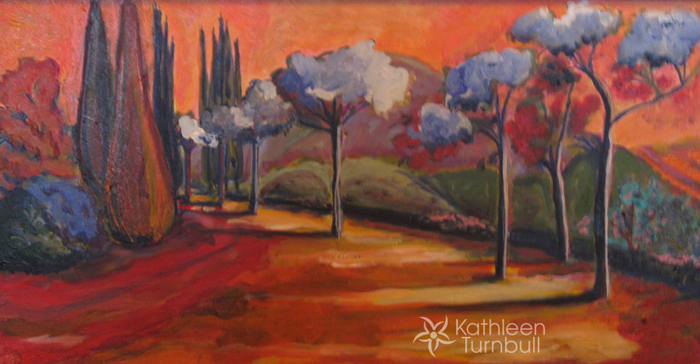 Italian Garden
acrylic painting, 15 x 30 inches by Kathleen Turnbull, Calgary, AB, Canada
You may be interested to know that artists from every state in the USA, every province in Canada, and at least 115 countries worldwide have visited these pages since January 1, 2013. That includes Michael Fuerst of Urbana, IL, USA, who wrote, "Picasso once remarked something along the lines of that he could draw like a master at age 8, but spent his [adult]life learning to draw like a child." And also Lynda Pogue of Georgetown, ON, Canada, who wrote, "A kindergarten teacher friend by the name of Dennison told me four year old Joshua said to her: 'Mrs. Dennis, my heart tells me I need to paint.'"