Dear Artist, Once more, some of our Canadian artists are lobbying for ARR. The idea behind Artist Resale Rights is that artists receive a small commission from subsequent public sales of their work through auction houses or commercial galleries. While some artists are beating the drum to get in on the post-gravy gravy, others see it as contrary to the entrepreneurial spirit and the investment side of the art game. So far the ARR kite is not flying in Canada. The chances of it flying in the USA right now are thinner than last century's rice paper. Today, 59 countries worldwide have legislated ARR, including the European Union. Initially, dealers and auctioneers in Europe were concerned about the impact of the ARR on the art market. An independent study in the UK found that 87% of the art market remained unaffected financially. In most countries, the kickback to artists ranges from 2 to 5 percent of the resale price. Despite the banking and sovereign debt crisis in the EU, auction art by living artists is up again this year. In Canada, the national association of visual artists (CARFAC) has requested that government adds ARR to our Copyright Act. If such a thing were to happen, government is the last outfit you'd want to run it. An independent non-profit might work. My attitude has been that collectors stick their necks out by buying your work in the first place, and ought to enjoy the full benefit of their shrewdness. Others obviously think differently. I'm figuring that currently there are about 70 living Canadian artists (me included) whose work is on the block at major auctions. Some of it will sell for considerably more than what was originally paid. In discussing the situation with some of my more feisty friends, we found ourselves looking deeply into a can of worms. Is anyone going to be truthful? Are only the artists who register going to participate in the plan? What about artists living in the bush who have never heard of ARR? What about the resale of work that has gone through several owners? Will a secretive, underground art market begin to thrive? Will sellers offer re-sales in other markets where there is no ARR? What about the widows and widowers? Best regards, Robert PS: "Five percent seems very little to ask when you consider that the artist, through his or her efforts over many years, is largely responsible for the increased value of their work." (
Joe Fafard
, Canadian sculptor) Esoterica: A royalty cheque is a prime mover in, for example, the music industry. Non-profits in Canada (SOCAN), and the US (ASCAP and BMI), make considerable effort to keep track of songs with radio and TV play, live performance, advertising usage, etc. Cheques are mailed to registered artists four times a year. Some songs reward only dribbles; others, made viral by widespread covering or energetic touring, turn into pots of honey. Justice seems to be done when the songsmiths are the honey-bears, rather than all that good stuff going to a few weasels.
Artists benefit when prices go up
by Brian Liss, Toronto, ON, Canada Artists do benefit from increased sale prices down the road as they can sell their new works for more — the royalty concept should then work both ways — resellers and new vendors should have a right to share in the artist's current sales if the artist has a similar right. We don't see this kind of thing in real estate — why here? If we are talking about copyright or museum shows (paid attendance) then I would support a royalty to the artist with pleasure.
There is 1 comment for
Artists benefit when prices go up
by Brian Liss
ARR will help stop the quick-buck dealers
by Sue Coleman, Vancouver Island, BC, Canada You may be missing the point with the ARR. It is not just to protect the artists like you and me who are wise to the world of art buying and selling, but more to protect those who are less aware and who are regularly cheated out of a fair compensation for their work. I am referring to not just emerging artists but to many of the artists from the First Nations who repeatedly have sold their work to galleries and entrepreneurs who turn around and ruthlessly mark up the value of the pieces and sell them to the tourists who often don't know any better. The artist gets a small return and the gallery reaps the rewards. I say this from experience and firsthand knowledge as well as being duped myself many years ago. I understand your concern for the investors who support the arts, but there are too many buyers out there in today's market who are just looking for a way of making a quick buck at someone else's expense. The ARR would help stop that practice.
Not like the music business
by Steve Day, Blandon, PA, USA One Bad/Dumb Idea Unlike a musician, whose next blockbuster album is priced pretty much the  same as previous works (they are, after all, "unlimited editions"), a living artist can — and will — make more art, and it can be sold at the inflated price his earlier works now get on the resale market. But then, Robert, you know that!
California has the law
by Kim Mosley, Austin, TX, USA Such a law is foolish. It won't help the struggling artist. Investors just put their moneyelsewhere. I don't trust the European statistics. We don't know where the market would be without the law. California has such a
law.
There are 2 comments for
California has the law
by Kim Mosley
Buyers penalized enough anyway
by Shaun Mayberry, Winnipeg/Toronto, Canada As art dealers, the last thing we need is another "tax" that penalizes buyers. Currently, next to the seller, it's the Government who profits most from the resale of Canadian Art. Profits (assuming the price goes up) from the sale price are subject to capital gains that usually runs 25%. When the art is sold it's also subject to sales taxes amounting to another 12 – 14% of the retail price. Perhaps if our government has our culture and artists' interests in mind they might be prepared to give up a percentage of their take from each sale.
There are 2 comments for
Buyers penalized enough anyway
by Shaun Mayberry
Galleries also take risks
by John Kelley, Cottondale, AL, USA Where does this end? Do the heirs of artist Jim Nash, artist Haddon Sundblom and artist John Mills deserve a cut every time a box of Quaker Oats is sold? I once designed a sign package worth hundreds of thousands of dollars for a local diner: should I get a cut of every hamburger sold? Should the man who invented the color of neon used get a cut? ARR borders on the ridiculous. It seems the concept, at best, is only helpful to the artists at the very top end of the market who are watching galleries resell their works at a higher price. A resale tax, paid to the artist, just adds another plate to spin when I would rather be painting. The galleries and auction houses take on a certain amount of risk in selling our art for us. I have no problem with them reaping the rewards of that risk.
There are 2 comments for
Galleries also take risks
by John Kelley
Government does good things
by Aleada Siragusa, St Petersburg, FL, USA "If such a thing were to happen, government is the last outfit you'd want to run it." Please don't assume I agree with you. Our Social Security in the USA gets attacked and put on the chopping block but because it is government-run we are able to maintain it so far and this is just because we still have the power of our vote. When you privatize you have a middle man to go through and they all need to take their share. Even non-profits get political with high-paid executives wanting their cut. And who gets hired to run the organization is also political, but removed from our power to vote them out of office. Since the government is in charge of the Copyright Act they should also handle the ARR. As far as payment to the artist, it seems like so little to ask, and an artist who thrives makes work that has a better chance of increasing in value.
'Can of worms' stirred
by Melissa Gruber, Ottawa, ON, Canada (Advocacy and Communications Director, CARFAC National) I was quite interested to read your letter this morning about the Artist's Resale Right (ARR). You raised some important questions and I would like to offer a few thoughts: "
Government is the last outfit you'd want to run [the ARR]
" We (and most of the MPs we have met) share your opinion that the Artist's Resale Right should be managed independently and not by government. CARFAC is proposing that CARCC – a copyright collective for visual artists similar to SOCAN – administer the ARR. This is how it is done in many other countries. Administration through a copyright collective allows for cost efficiency and effectiveness, as it means art market professionals report sales to a single organization rather than numerous individual artists. "
Is anyone going to be truthful?
" What we propose is that CARCC send quarterly requests for sales information to art market professionals. By law they would be required to produce those records within ninety days. CARCC would then invoice them, collect the money and distribute it to the artists involved. "
Are only the artists who register going to participate in the plan?
" It would not be mandatory for artists to be a member of CARCC to receive resale payments, although all artists would need to collect the royalty from them or another collective of their choice. "
What about artists living in the bush who have never heard of ARR?
" CARCC would likely work with groups like the Nunavut Arts and Crafts Association to reach artists in isolated communities. "
Will sellers offer re-sales in other markets where there is no ARR?
" There is no evidence that this has been the case in other countries that have the ARR. Sellers will sell wherever they can get the best price – which usually means that Canadian artwork sells in Canada. In addition, the cost of taking artwork over the border would likely outweigh the cost of the ARR. "
What about the resale of work that has gone through several owners?
…
What about the widows and widowers?
" The ARR would apply to all sales after the first sale until the term of copyright has ended. This means the artist's estate could collect payments until 50 years after his or her death. "
Collectors stick their necks out by buying your work in the first place, and ought to enjoy the full benefit of their shrewdness
." In cases where artwork has appreciated significantly in value, the collector will still keep most of the profit. We believe 5% is a modest and reasonable request given that the artwork has increased in value largely because of the hard work of the artist. "
Non-profits in Canada (SOCAN), and the US (ASCAP and BMI), make considerable effort to keep track of songs with radio and TV play, live performance, advertising usage…
" Because there isn't the same kind of market for copies of artwork as there is for copies of music, the Artist's Resale Right would be a way for visual artists to share in the profit from the popularity of their work over time similarly to how SOCAN fees allow musicians to profit from the popularity of their songs. I hope this is helpful. We are always glad to get feedback from artists. If there are any other questions, you can reach me at 866-344-6161 or communications@carfac.ca.
The surreal universe of some artists
by Ian Semple, Vancouver, BC, Canada The problem with (too) many artists is that they think their product is so unique that it somehow should fly under special navigation rules and enjoy unique landing rights. The ARR is merely another balloon that many artists wish to fly in the surreal universe in which they wander, a universe apparently composed of the toxic air of illusion and fantasy. If you built a bicycle and sold it to someone who in turn sold it to someone else, would you demand a royalty on the second sale? Under the proposed ARR that would apparently be the case. Get real! Joe Fafard's quote, aside from the perhaps unfortunate but nonetheless irrelevance of "his or her efforts over many years" is reflective of how divorced from the real world are too many artists. Mr. Fafard should be appreciative that someone had the temerity to purchase his art in the first place, when that art may, or indeed may not have been, worth the purchase price. Beyond just pure appreciation that's called speculation, or perhaps investment at a later date in an artist's career when the latter may have established some reputation. Ultimately, in the real world in which art must also occupy along with other commodities, once an artwork is sold, the artist severs all connection to its ownership. The only entity that normally gets a piece of the action for every transaction as that artwork travels through the art-world market is, you guessed it, the government!
It's a rough life
by Patricia Sharp, Millbridge, ME, USA "Collectors stick their neck out to buy original work and ought to be rewarded for their shrewdness?" What about the Artist who is supporting the local power and communications companies, art supply houses, insurances, pharmaceutical companies, inflationary food and consumer goods prices, OIL companies, not to mention exhibition, framing, PR., and transporting fees, for the duration of working on that purchased painting? I'd say that is a concrete value, costing more than just shrewdness, which is merely an intangible attitude, not deductible on a balance sheet. What if, in order to keep the power company placated, the Artist has to sell the painting at a loss? There are "collectors" who have been shrewd enough to commission my services in past years who have paid, $3,000, 4,000, -$10,000 for my work. The socio-economic climate has changed drastically in 20 years — their offspring have other ideas how to spend their money. In 1987, I agreed to paint a series of marine paintings for a client @ $1,100 per
framed
painting (at the time other patrons were paying the $3 – $4000 for single commissions). Based on a volume /reliable income of projected $50,000 total for artwork, I agreed to it. For the first 2 years it was workable, if a bit pressured and I earned 1/2 that projected amount, padded out with other free-lance commissions, in a situation of rapidly inflating costs. Then the economy tanked in the Philadelphia /New Jersey area, my patron had to declare bankruptcy, laying off men who had worked for his companies for 20 years or more. The other $25,000 was no longer valid and I was forced to sell the house and studio that had so comfortably supported my painting earning efforts and buy a lesser house in Maine, which has fought against the efficient production of my work ever since. (I'm Lucky to have it and, as time has proven, the inspiration and source of my current work is all around me–wasn't present in NJ but it also robs me of work time regularly!) I have had to cut back on the size of my finished work due to lack of space and reduced income. In 1989 one of my tall ship paintings won first prize in the National Seaheritage Competition and was displayed through the summer at the South Street Seaport Museum in Manhattan. The prize money was minimal and the director had just been diagnosed with cancer, so the promised publicity was not forthcoming and no one was "shrewd" enough to buy it for $3,000. It went to my patron, for $1,100! Several years later he put it into the Marine exhibit at the Philadelphia Union League Club, in company with John Stobart, Montague Dawson, Winslow Homer, and then a year later he or his heirs sold the entire collection at auction. I was invited to attend, but lacked the income to travel to Pennsylvania for the event — certainly couldn't buy back my work. I'd say that the past 20 years of
guts and determination
to pursue my Art Career is worth a lot more than just shrewdness!
There is 1 comment for
It's a rough life
by Patricia Sharp
Archived Comments
Enjoy the past comments below for Getting paid again…
 Featured Workshop: Watercolor Art Society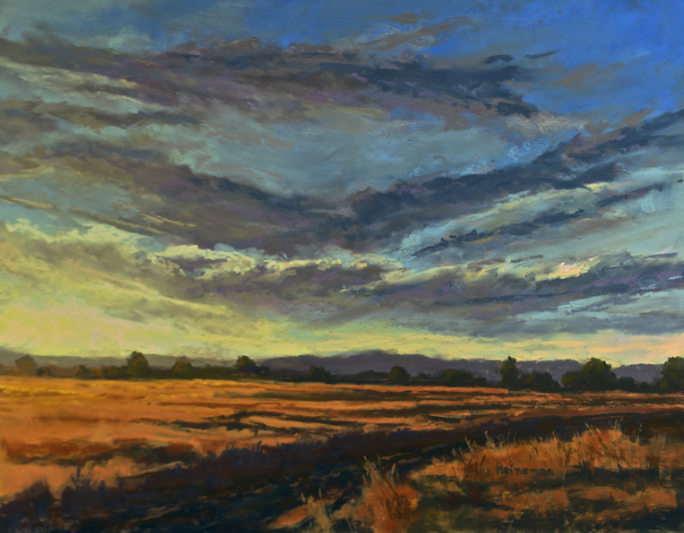 Orange dusk
pastel painting, 14 x 18 inches by Peter Heineman, Morrison, CO, USA
You may be interested to know that artists from every state in the USA, every province in Canada, and at least 115 countries worldwide have visited these pages since January 1, 2013. That includes Doctor Robert of Los Angeles, California, USA, who wrote, "I have included the California ARR law in my sales contracts and, while no one has had anything negative to say about it, there have been no results either." And also Val Manchuk who wrote, "Good heavens! Imagine the disastrous trickle-down if the government is involved in our art. It is in all of our best interests to fly under the radar, folks. And you can bet your paintbrushes we'd be the last ones to see the 'benefits.'"