Dear Artist,
Recently, Steve Howard, Head of Sustainability at IKEA, declared that developed countries have reached "Peak Curtains." He was speaking at a Sustainable Business debate hosted by The Guardian. "In the West, we have probably hit peak stuff," said Steve. "We talk about peak oil. I'd say we've hit peak red meat, peak sugar, peak stuff… peak home furnishings."
After reporting an annual net profit of $3.5 billion — achieved by providing fast furniture to Western consumers and by finding new customers in developing countries — IKEA announced a goal to double its sales by 2020 by pivoting away from disposables and instead making things that can be repaired and recycled. I'm reminded of the era when my grandfather would honourably rewire the melted plug on our family's electric teakettle.
As an artist, perhaps you've already been feeling a bit of "consumption sensitivity." As makers of things, creative people understand the conversion of the invisible into the manifested and the credits and debits involved. Unless painting in water or chocolate syrup, works of art are designed to be permanent. The making of art can also produce waste, making it both materially indulgent and perhaps the most sustainable of all things. Art, by its very nature, is built to outlast civilization.
"Art was, seriously, the only thing I'd ever wanted to own," said David Bowie when discussing his collection with the New York Times in 1998. I imagine an artist surrounded only by art, perhaps through a radical mandate to minimize the acquisition of non-arty things. Some artists produce work to further a message of conservation — telling the stories of the environment — and some are right now developing new ways of "green" expression. The future may hold for us a way of making permanent art that never peaks.
Sincerely,
Sara
PS: "A true conservationist is a man who knows that the world is not given by his fathers but borrowed from his children." (John James Audubon)
"Life imitates art." (Oscar Wilde)
Esoterica: The term "Sustainable Art" is most often associated with art that doesn't cause environmental damage and also promotes the principles of sustainability. Think, for example, of the Land Art movement that began in the 1960s, where impermanent work was made within the environment, using only natural materials like water, rocks and leaves. The work was then left to erode under natural conditions, as a response to what many artists felt was a plastic, over-commercialized world.
In 2001, a Princeton University work study tallied 288,000 visual artists in the United States, including master bird sculptor and naturalist Tony Angell. Tony's recent book, The House of Owls, shares drawings and observations of pairs of Western Screech owls that nested on his Seattle property over the last 25 years. A New York Times bestseller, The House of Owls is also a winner of the 2015 National Outdoor Book Award (NOBA).
"Think globally, act locally." (Rene Dubos)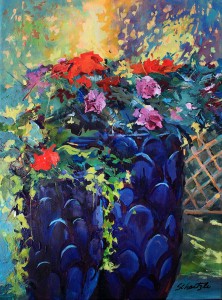 Blue Pots
12 x 16 inches
Featured Artist
Sheila is comfortable in nature. It's evident in her art; and she hopes her paintings give others an opportunity to visit those places with her. The comfort transfers to her work, and acrylics allow her to start quickly with bold brush marks and layers of translucent colors; techniques that have developed over time and through exploration. Her work can be seen at Michelangelo Fine Art. She is a member of several local art groups including the Federation of Canadian Artist and The Alberta Society of Artists.