Dear Artist,
While travelling in my twenties before the camera phone, I'd carry a Canon SLR with a 300 millimetre lens — a graduation gift from my parents. The thing weighed 7 lbs — a practically extinct albatross by today's standards. I accepted the neck ache in exchange for the special reminder to look and compose.
These days, our camera phones and their features take high-res snaps that can be tricked out for saturation and white balance, cropping and sharpening. Instagram and other online sharing platforms allow for immediate connection with other like-minded image junkies. The storing app iphoto and provenance tracker artmoi have made cataloguing a digital cinch.
For many artists, the photo habit is as natural as looking at our world. Taking photos can inform almost every stage of the creative process: material gathering, composing, documenting works in progress, cataloguing and sharing. "When you work, you learn something about what you are doing and you develop habits and procedures out of what you're doing," said Jasper Johns. The photo habit connects each stage with the thread of looking.
If you're not in the habit, why not give it a go? Before squeezing out, scrutinize your subject with a closer look or a wider angle. Snap it from 360 degrees to possibly capture a better view. Flip it into greyscale on your screen and check the values. If you're a chronic telephoto painter, pull out to see the big picture. The same goes if you suffer from trying to get it all in — zoom out — and leave out.
At the end, hang your work pre-varnish and unframed in a room filled with ambient, natural light or outdoors in indirect sun. At this stage, it's easier to get the colours right than during any post-production fiddling. "I am just trying to find a way to make pictures." (Jasper Johns)
Sincerely,
Sara
PS: "If creativity is a habit, then the best creativity is the result of good work habits. They are the nuts and bolts of dreaming." (Twyla Tharp)
Esoterica: When I do stop mid-work to take a progress snap, I later find much to be learned from these hasty little digital thumbnails. Strokes left alone, initial compositions, strong design that was later weakened with fussing, and shots taken at funny angles in the studio have led me to a deeper exploration and sometimes in a new direction. A Millennial friend once urged me to try Instagram. "A photo a day, Sara. And don't be afraid to show process and the odd personal thing." It took me awhile to form a new habit — I still struggle with hot and cold feelings — but, overall, for those of us who trade in images, who live for the visual and intuitively pull towards the poetry of pictures, places like Instagram can serve as a controlled and disciplined extension of the studio. "What can be shown, cannot be said." (Ludwig Wittgenstein)
Let's connect on Instagram @saragenn
Download the new audio book, The Letters: Vol. 1 and 2, narrated by Dave Genn, here. Proceeds of sales contribute to the production of The Painter's Keys.
"I assumed that everything would lead to complete failure, but I decided that didn't matter – that would be my life." (Jasper Johns)
Featured Workshop
April 7, 2018 to April 14, 2018
Join Vancouver artist Joanne Hastie to sketch the landscapes of Italy. Joanne will share her art process during this 7 day adventure.
Highlights: See all 6 Mosaic'd churches in Ravenna, a UNESCO World Heritage Site; Visit & sketch the places where Michelangelo sketched in the late 1490's in Bologna; Wander the house where Renaissance artist Rafael's grew up; Tour the castle that inspired a chapter in Dante's Divine Comedy; Paint while watching the sunset over a cliff-top castle; Ride a bicycle along the beach to a Roman Bridge built in 10AD that is still in use today!; Sketch alongside Canadian artist Joanne Hastie & experience how the Italian countryside inspires her art.
Included:  7 nights accommodations, 7 gourmet breakfasts, 7 gourmet dinners (wine included) at Hotel Belvedere in Riccione;  transportation to and from Riccione to each location; watercolor sketchbook, plein-air starter kit (watercolor), ink pen, eraser
$3325 CAD per person
Click here to learn more.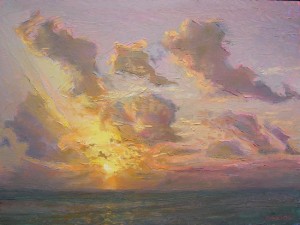 Shining Through
oil 12 x 16 inches
Featured Artist
Capturing the beauty of nature and expressing those impressions in oil paint is a joy. Every hour of the day presents new possibilities and keeps even the same landscape location, same composition, an ongoing and beckoning challenge. For this reason, I love painting series: it is exploration made visual.