Dear Artist, Recently, Ben Novak of Edmonton, Alberta, Canada wrote, "Are traced or projected photos an acceptable way to draw? When proportions and perspectives are too perfect, when shadows are perfect and contrasting as in bright sunlight, when stop motion is involved, where is the artist's personal feeling? Does not the best art arise from slight imperfections and personal ways of rendering?" Thanks, Ben. Your questions will be argued as long as there are inventive minds. In the meantime, here are some thoughts: Used as a tool in painting, photography may diminish passion and sincerity. A certain roughness and distortion is more convincing as the genuine article. Think of Vincent Van Gogh's use of incorrect and overly strong colours. His lack of sophistication gave character and distinctiveness. Art communicates best when we feel the artist's struggle. Used as a tool in painting, photography may be the enemy of style. By showing what is, photography misses out on what could be. Simply put, it's valuable to run an image through the filter of the human imagination rather than the lens of a camera. Think again of Vincent Van Gogh — those cypresses of his twist into the sky like tortured flames. I took photos all over Provence and found none just like his. Used as a tool in painting, photography may not, after all, produce perfection. Photography is forever at war with knowledge and truth. Horses, for example, generally need to be painted with longer legs than a camera might indicate. In portraiture, the human neck often needs to be longer, or thinner, or less strained. Think of John Singer Sargent who took well-heeled reality and added elegance and dignity. For the painter, photography is a brilliant tool and a cruel master. Because of the complexity and consequent difficulty of drawing hands, I often mention them as a legitimate use of photographic reference. But think of Egon Schiele: In his short, brilliant life he attempted the understanding of hands. His hands are extensions of the emotions and windows to the soul — the second most expressive part of the human body. Stress, languor, stupor, and wisdom exude from Egon's hands.
John Paul Caponigro
) Esoterica: Another problem that besets photo-dependent painters lies in the process by which reference is collected. Especially since the advent of digital, artists snap willy-nilly without looking and seeing the subjects they might render. While "sorting it out in the studio" has some value and "random catches" may provoke new ideas, true visual understanding is often lacking in photo-based work. Jurors of juried shows often remark on this condition. Sitting in front of a subject and sweating it out may be the old fashioned path but, in my opinion, it can produce better art. "Cavete camerae," said the well-known Roman philosopher and poet
Kjerkius Gennius
, (36BC) "Beware of the camera."
Egon Schiele's hands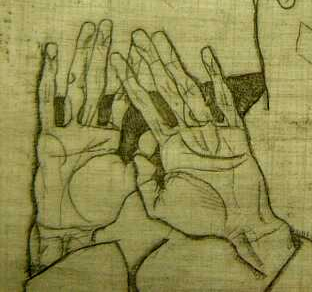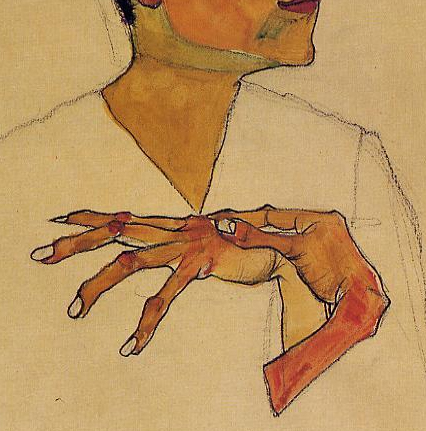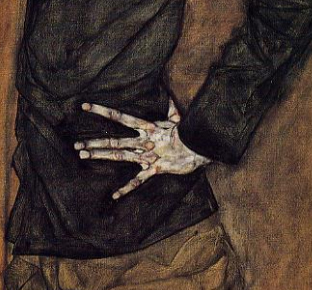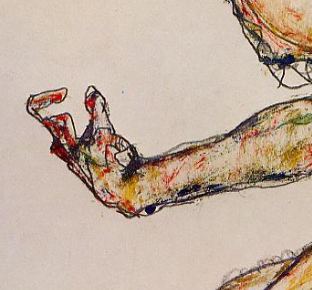 Need for personal involvement
by Brian Care, Toronto, Canada / San Miguel de Allende, Mexico Making art is all about risk-taking and exploring and trying something different. Anything that encourages us to be representationally true to our subject brings with it the possibility of limiting our ability to feel and express those feelings in our work. Photos can remind us about certain details and may help us to decide on a certain compositional arrangement… but then, let's put it and other measurement tools away and let ourselves become part of the reinterpretation process — in every line, brush stroke and application of colour. One of the first exercises I have my students do is a series of hand studies… the model's always there! Many of them are so full of character that they resemble topographical maps or geological formations and are not far off the wonderful and sometimes bizarre drawings of Egon Schiele.
Art and science are complementary
by Makiwa Mutomba, Pretoria, South Africa Cameras are getting better every day, so much that I believe in the future, you will be able to wake up in the morning and put on special contact lenses (photoeyes) that will be able to capture everything you see during the day — wirelessly in 3D and astounding quality. And be able to playback and "re-live" the moments later at your easel, in the studio, not on a lousy L.E.D screen, but in your mind, just as it happened. And when that time comes, will all those artists who believe cameras are inherently evil and have no place in art, cry foul and stop painting altogether, and will you need to sign a sworn affidavit to the effect that you don't own "photoeyes" when entering a juried show? Art and science are not enemies at all, they are complementary. In fact, science forms the building blocks of Art. Life changes every millisecond. Cameras have their place in painting. Know it and use them when the need arises.
There are 3 comments for
Art and science are complementary
by Makiwa Mutomba
Photography makes you a better painter
by Stan Moeller, York, ME, USA It's not so much about using photographic tools but more how you use them. Artists have been using toolsto help them paint as long as there has been painting. In the 1880s, 80 percent of photographers were working for painters, according to Ross King,
The Judgment of Paris
, 2006. I have seen the photos used by painters from Norman Rockwell to Andres Zorn. John Singer Sargent, Edgar Degas, and Joaquin Sorolla y Basstida. They all loved photography. In David Hockney's book,
Secret Knowledge
, he gave strong evidence that as long as there have been mirrors and the camera obscura, painters have used any and all tools possible to help them reach their goals. I believe that painting from life can make you a better painter, but also believe that using a reference photo is not sacrilege. I teach plein air painting but also use video (my preferred method), and still photo references in my studio. Painters could not even understand how a horse ran before the invention of photography. The key (I believe), is using photography as an inspiration and not a crutch.
There are 4 comments for
Photography makes you a better painter
by Stan Moeller
Vermeer's camera
by Tom Plummer, Salt Lake City, UT, USA I must respectfully disagree that photography is "a cruel master" and that it "misses out on what could be." Several years ago, when I was looking at a number of Vermeer paintings, it struck me that they had a striking affinity with photographs. About two minutes of research produced the title of a book by Philip Steadman,
Vermeer's Camera: Uncovering the Truth Behind Vermeer's Masterpieces
, which I bought and read with surprise. Steadman makes a convincing case that Vermeer, in at least some of his masterpieces, was using a "camera obscura" which enabled him to create a precision that has puzzled many art historians.
There are 4 comments for
Vermeer's camera
by Tom Plummer
Avoiding the boring
by Nikolay Semyonov, Rostov-na-Donu, Russia "When proportions and perspectives are too perfect…" (
Ben Novak
) What an excitingly artistic delusion! There may be nothing as boring as perfection. Luckily, no one has achieved it yet. No photography may pave the way to it. Wabi-sabi is the spice of creation: where the eye sees no way to involvement may look boring. I also disagree about photography showing what it is as it just produces its own reality, which are plenty. This is especially clear where a short- or long-focus lens is used. Like the brush in good hands, the camera may assist the owner to complement what is seen via the viewfinder with their own emotions, which may affect the viewer this way or other. It is clear that photography is just another tool of the artist and, like anything under the sun, it is far from perfection. Therefore, a photograph may assist the artist in keeping in memory lots of what belongs to the spot they intend to paint, but why base your creation on what's been merely thoughtlessly grabbed through the lens and stored in your matrix? Nothing is best perceived than changes, and the true reality is never stale or stiff. No matter what you create, be it a photo or canvas, unless there's the viewer's imagination involved, your art is stiff and stale. In other words, there should always be room in your work to let the viewer in. Art is the dialog between its creator and consumer. No dialog, well… no art. Art has little to do with technologies. It is your heart that matters.
There are 3 comments for
Avoiding the boring
by Nikolay Semyonov
Retain total freedom
by Ron Ruble, Brooklyn, WI, USA I feel that your readers would be better served in this instance by acknowledging that photography, along with digital, a ruler, and tracing paper, are merely tools to aid the creative process, not the product itself. To limit a person from using these technical tools would be no different than taking away their paints and brushes. A purist enjoys familiar ground, and that is a limiting formula, and not one to follow for the creative spirit within us. We are not engineers seeking parameters. We have a focused goal, and that is to make something special, by any means possible. Tools are merely to assist us in reaching that goal, no more, no less. So do whatever you want; copy, trace, use photos, collage, offset, and digital imagery. Don't get stuck in the mire of the familiar with its rules and limitations. Retain total freedom of expression using whatever blows your skirt.
There are 2 comments for
Retain total freedom
by Ron Ruble
Photo-based portraits get attention
by Mike Barr, Adelaide, South Australia Trace and paint is quickly becoming the stock-in-trade method for many artists. The results are often stilted and lack passion. The drawing may be impeccable using this method, but too perfect to be believable. In proportion as to how hard we try to paint like a photograph, we fail as artists. The famous Archibald (in Australia) prize for portraiture is a case in point. The trend is to paint huge portraits and this cannot be done successfully without tracing from a projected image. An art critic noted about the show that "the reliance on photography is still an overwhelming and crippling problem." Photographic-style portraits are ten a penny and lack soul, yet they still get recognition, particularly by the public that think a painting is wonderful if it looks like a photo! In my opinion, less than perfect drawing with wonderful tonal work wins out every day. The artists' job is to give an impression of what they see and not a photographic representation of all the visual facts – we have photography to do that.
There is 1 comment for
Photo-based portraits get attention
by Mike Barr
Gaining freedom from bondage
by Paul Allen Taylor, Rochester, NY, USA In the beginning of a painter's journey, I know that most rely on the camera for the image to paint, as I did it too. My meeting Tony Couch taught me that it's okay to get away from the photo as the completed image, but utilize it in collecting references. As he was told by Ed Whitney, we are "shape makers and symbol collectors." I then was freed from the bondage of the camera photo to create my own ideas and designs from those collections of symbols and shapes. Often referred to as composites, many of my paintings depict a region, but aren't a literal representation.
There are 2 comments for
Gaining freedom from bondage
by Paul Allen Taylor
A world of new subjects
by Jeffrey Hessing, Nice, France Since its invention, photography, projected or not, has been a tool for painters. Like any tool, the question is, "Did the artist use it well?" I was surprised to discover that Jean-Michel Basquiat worked from photos as did Francis Bacon. There is nothing photographic about their paintings. Richard Estes and Chuck Close did fantastic things with projected photos. I preferred the freedom and emotionality that comes from a direct dialog with nature, places and things. I worked from life for over thirty years before allowing myself to paint from photos. This was mainly because some subjects were almost impossible to do on the spot. I could not see myself setting up in the middle of Times Square or Nanjing Road. Photography has opened up a world of new subjects.
Still suffering from photo work
by Sharon Knettell, Woonsocket, RI, USA I had a very successful career as an illustrator even though I really was a Fine Arts major. Illustration was a necessity as a career move; it was fun but ultimately unfulfilling and, in the end, it was not lucrative as the bottom fell out of the illustration market in the late 1980's. I figured I would do portraits as I had been doing figurative work, plus illustrations of stars for movie posters and product endorsements. Well, I photographed, traced and painted a series of standard portrait fare – executives, children, upscale women, and even won best of show in the Copley Society for one piece. I might add I had never had any training in portraiture. The commissions started coming. There I was day after day, tracing, transferring and copying photographs. The clients were pleased because I flattered the hell out of them, but I knew that this was not art, that this was not painting. By the way, my method is common in the industry as I got to know quite a few people who allowed that this was their method as well. I had always gone to museums, especially The Boston Museum of Fine Arts in Boston where I went to school, so I knew what good painting was. One of my favorite paintings as a student was El Greco's haunting portrait of a priest:
Fra Hortensio Felix Paravicino.
It was as far from photographic as you can get — I still remember it. Remembering this painting and impressed by the work of (among others) John Singer Sargent, Gainsborough, Manet, etc., I went to the museum with a purposeful eye. I was shocked and humiliated at the realization that I was no more than a photo-copyist with nothing of my own soul in my work. In tears I wanted to slide down on the floor and weep. In comparison, my work was shallow and flat and lacked the vivid color and humanness of being painted from life. Even Roberta Smith, the vaunted New York Times art critic, is getting bored with paintings from photo-shopped pictures with their slick and shallow surfaces. I stopped doing portraits and vowed, no matter how difficult, to stop working from photos. I have not gone back. I suffer still from having worked from photos — I cannot seem to accept from myself work that doesn't look quite commonly representational. I long to put two eyes on the side of a head a la Picasso. I live in dread of perceived drawing flaws, but it is not really drawing flaws, but what the general public, mired for over a century in a photographic reality, sees as great work.
There are 5 comments for
Still suffering from photo work
by Sharon Knettell
Copies are copies, whatever the source
by Helene Delmaire, Lille, France If you can interpret reality like Van Gogh, why can't you interpret a photograph? Who says you need to mindlessly copy? You can change forms and colours all you like. Of course I understand that with a photograph, being a finished image in and of itself, the temptation to copy is greater than when painting from life, because it seems easier, and it is
set.
But all it takes is to be aware of this danger — then you can consciously avoid it. Once you make the mental move, it can become natural — the photograph becomes merely a handy tool, rather than a crutch. I was always told during my atelier studies (at the Angel Academy in Florence) that "you should never paint from photographs." That is true if you want to do atelier paintings, with perfect contrast and subtleties in the darks as well as in the lightest lights, which the eye catches much better than a camera, however expensive the lens. But if you have a certain personal palette, if you are already confident in your own style, if you know where you are going or want to go, then the photograph becomes the servant, rather than the other way around. Not everybody has enough money to pay for hours of models, either. Moreover, knowing that a camera distorts reality slightly, knowing that you can't really trust it, value or color, can allow you to free yourself from it. Reality is reality, you can't argue against it, whereas you can always tell yourself that the photo is already one interpretation of reality, hence not the "truth." It's just a matter of not mindlessly copying what you see. But so is it when it comes to painting from life. There are many technically mind-blowing paintings from life, but I often find them just as dull as photograph copies. Copies are copies, whatever the source.
There are 2 comments for
Copies are copies, whatever the source
by Helene Delmaire
Archived Comments
Enjoy the past comments below for Photographic perfection…
 Featured Workshop: Robert Genn, Sara Genn, Liz Wiltzen
Harbor Light
watercolour painting by Carol Lois Haywood, Sunnyvale, CA, USA
You may be interested to know that artists from every state in the USA, every province in Canada, and at least 115 countries worldwide have visited these pages since January 1, 2013. That includes Nicholas Pearce of North Saanich, BC, Canada, who wrote, "Photography allows for experimentation in composition, as the Impressionists discovered. In my figurative work, it's the only way to really see the intricate shapes that create the subtleties of body language. Photography is just a tool. It can be used wisely."
Best regards, Robert PS: "We are the strongest filter we can place before the lens. We point the lens both outward and inward." (