Dear Artist, Over the past while I've had an abundance of emails from artists who are fighting cancer, stroke, stress, macular degeneration, concussion, body-destroying motor accidents and other trauma. Some are just reporting in, others are announcing they are throwing in the towel, while a few others are asking for help. It is, of course, difficult to advise on a one-to-one basis through the clouds, and I don't always feel confident of my guruship but, as usual, I have a few thoughts: Post-traumatic growth is a relatively new area of psychological study. It deals with the positive changes experienced by some people as a result of a struggle with challenging life circumstances. It's not simply a return to the way things were before the suffering, but the welcome experience of a profound improvement. The idea that suffering can be channelled to make us stronger runs through the history of philosophies and religions. While most of us no longer believe that artists need to suffer to make good art, we do know that a lot of good art comes from people who have suffered. Dr. Robin Rosenberg, a clinical psychologist based in Stanford, California, has introduced an interesting method whereby sufferers can grow their way out of trauma. Much like Joseph Campbell's
The Hero with a Thousand Faces
 Rosenberg thinks folks can gain strength by following popular superheroes and their stories. We're talking about the sort of characters in the current blockbuster action/ violence/ heroism movie,
The Avengers
— Hawkeye, Captain America, Black Widow, Hulk and Nick Fury. She also thinks we should pay attention to Superman, Batman, Spiderman and Joker. This is good stuff — I've often thought there's more in comic books than meets the eye. Dr. Rosenberg's superheroes teach us a variety of life lessons. Among them: — We all have alter egos — We need to wear the costumes of our heroes — Being different can give us power — Adversity can be overcome — No matter what our abilities, life is frustrating — To overcome our fears, we need to run toward danger Regardless of whether you think Rosenberg's superheroes are beneath your dignity, they do exemplify a simple and direct purpose uncluttered by nuance. Good and evil are sharply defined, and evil is often merely in need of shooting, beheading or blowing up. Best regards, Robert PS: "Every superhero has a mission." (
Dr. Robin Rosenberg
) Esoterica: We all know of disabled persons who have overcome and excelled. By accidentally narrowing the range of capabilities, we often build strength in whatever talent or ability may be left. Further, some overcomers I've noticed have a strong sense of fantasy and self-delusion — even delusions of grandeur and superhuman abilities. I personally like the costume idea. As you may know, there are social clubs of dresser-uppers who claim to gain power by hanging out as Spiderwoman and Spiderman, etc. It's becoming apparent that these nut cases are not so nuts. But I wonder if any psychologists or others might comment on my going to the party as Minnie Mouse.
Nice girls finish last
by Carol Fetherston, Parksville, BC, Canada Recently, I bought a plaque that had a message that resonated with me, "Well behaved women rarely make history." The message resonates, not because I wish to make history, but because it reveals to me that in order to be truly ourselves, women need to reject some of the "nice girl" conditioning that so many of us grow up with. Maybe this is the reason that superheroes are so important to us. They are able to freely be themselves and fly above so much of the repression that we experience as children and that can hold us back as artists.
There is 1 comment for
Nice girls finish last
by Carol Fetherston
Wrestler heroes interject strength
by Mary Jane Brewster, Coarsegold, CA, USA Wow! Words put to what I experienced. One day the TV was turned to the WWF. The wrestlers made me feel stronger and the more I watched the stronger I got. I dreamed about Andre throwing him around the room and eventually I found my way out of the marriage. Later I painted my wrestler heroes and even got to meet and know many of them through my paintings.
Breaking free to fly
by Duncan Long, Manhattan, KS, USA Trauma can leave anyone emotionally paralyzed, unable to go forward, locked in a past that engulfs the present. Yet if you continue to shove against the prison walls, eventually the chrysalis breaks open and the butterfly you've become springs forth, and you wing upward in a way the caterpillar you once were would never have dreamed possible. When you're locked in your chrysalis, it seems you will never escape. Yet, if you continue your struggle and don't give up in despair, eventually you'll do the impossible, breaking free to fly.
Loss of reactionary motivation
by Loretta Puckrin, Lake Cowichan, BC, Canada I was married to a controller who denigrated my efforts in any type of creation which did not immediately benefit him. As time progressed I found I could use the negativity as a springboard to advance. During better times we joked that I was like a bull — wave a red flag and I would proceed to show that it could be done. I got financing for the business when all thought it was impossible, took my pilots license at 45+ (got 4 levels completed in record time), and began to create in wood and paint when I had 3 children to raise and a business to run — even if it meant getting up at 3 a.m. when I could concentrate on the project at hand. I started a University education at the age of 56 — still working full time. So you see the reactionary motivation was in all parts of my life not just the artistic. Where my trauma was different is that when my husband died I was left with nothing to work against. It has been very difficult for me to find motivation as so much of my previous motivation was reactionary. It has almost been 2 years and the self-motivation is still a problem. I haven't slowed down but what I am doing is, creatively, less fulfilling and more mundane than what I was doing just a few short years ago.
There is 1 comment for
Loss of reactionary motivation
by Loretta Puckrin
Regret for un-purchased treasures
by Dennis Potter, Hsinchu, Taiwan When I was in grad school at UC Berkeley in the '80s I did a lot of work at the ASUC art studio. There was a fairly well known painter there who was paraplegic. He painted with a brush fixed to a headband, by moving his head and neck to paint. He was a serious painter and prolific; I wish I had bought some of his work then but I was too poor! I will never forget his images though. He painted superheroes! The paintings were "normal painting size" to small, about 30″ max, and were beautifully clumsy, a bit shaky like if your hands had palsy, but very purposeful and quite beautiful. Full moving action figures of the classic superheroes you mentioned, not detailed, very gestural and rich in color, "borrowed" from some dynamic figure style comic book illustration. They were very straightforward and direct and so touching in their subject and strength. I will never forget them! Sadly, I don't remember the man's name but do remember seeing the paintings in cafes and bookstores around the campus. One of those un-purchased treasures you always regret not having.
There are 2 comments for
Regret for un-purchased treasures
by Dennis Potter
Modelling qualities of strength
by Pam Ellis, Mission, BC, Canada I work with post-traumatic growth on a regular basis in my practice as a Kaizen Creative NLP Master Practitioner / Trainer and creativity coach. The changes one can undergo for the good are most profound if it is handled correctly through the use of creativity. As an artist I fully understand the value of creativity with regards to the healing journey on a personal basis as well. It has helped me through many deep life changing events in my life, when nothing else was working. Below I've included a few of my own paintings that were done during my personal healing journey. There is a wealth of rich healing resources available for us when we open up to our creative center and use this creative energy in all areas of our life. The real magic begins when we are able to consciously direct this energy to where it is needed the most. This is where I come in as a practitioner — or, rather, a guide to help people to locate this energy and utilize it in the way that is most helpful for them. In the process I find that incredible breakthroughs take place rather quickly for the client, more so than any other healing modality that I have used in the past. In this article, Dr. Rosenberg is using a very classic NLP technique called "Modelling," whereby we take on the qualities, characteristics, energy and strength of those who have what we need to make it through our challenge. Modelling in itself is also an incredibly creative activity, if done correctly. The branch of NLP that I have created, which combines classic NLP techniques with creativity coaching, takes this process one step further in connecting it directly with a client's creative outlet(s), such as painting, music, gardening, cooking (focusing on their creative strength and joy) to bring an even greater depth to what is already working in the client's life. Absolutely powerful beyond measure is the Creative Spirit within us all! My mission in this life is to help all to connect with it on a deeper level through all areas of life.
Painting through health crisis
by Deon Matzen, Clinton, WA, USA When I was a fairly new painter, then working in watercolor, I was diagnosed with breast cancer. At the same time I was given the opportunity to have my first solo show in a rather large facility. I had few paintings to show, but the dates were a year and a half into the future. At the time, I was not sure that I would make it a year and a half into the future. I decided to accept the challenge and started painting. I worked part time and went to radiation everyday and mostly I painted. Painting helped me keep my sanity and also gave me a goal a year and a half away to work towards. Sixteen years later I am still painting and again have been treated for a second episode of breast cancer — not related to the first. I remember setting goals, and working to meet the goals helped me through difficult times and difficult decisions. Painting for me was a lifesaver and still is. The show, back then, was a success, selling more paintings in one show than the gallery had ever sold. It launched me on a full time painting career and launched me onto a new life as a survivor and a painter. It is important to get outside of yourself and take a break from the stresses of the problems. Painting takes me to another space where creating takes full concentration and the other difficulties just fall away for a time.
There are 4 comments for
Painting through health crisis
by Deon Matzen
Pretend you are wonderful
by Lokken Liane, Denver, CO, USA "Fake It Till You Make It" is a popular idiom in the A.A. world, and it's worth trying. When all else fails, pretend you are wonderful. Certain very advanced, tantric practices in Buddhism involve visualizing yourself as a deity, such as Vajrayogini. Not because the deity is real, but because it is a powerful way to change our minds. These are precious and advanced practices. They open up the mind to all the possibilities of realization. Really trusting the essence of your pure inner-child can bring about lasting change in the way you view reality.
Finding the new normal
by Mary Jane Q Cross, Newport, NH, USA People are curiously encouraged watching someone overcoming trauma to go on to new heights. It is not about the actual and singular overcoming but the example of not giving up that is such a strong sample of good character. People need and want to see this 'getting the better of something' that is trying to stop you. Standing out in such way is a responsibility that no one ever asks for. Some of the lessons that follow the trauma are: 1. You are on an adventure where everything has changed and will never be the same again. Finding the new 'normal' is paramount. 2. How to cope with what you cannot change. 3. And if you have to have something, having it well. 4. Running toward danger, put another way, is to find out completely what your new parameters are and then push them. 5. Take obstacles one at a time, relentlessly, until there are a number of them behind you. You don't have to be better than anyone else but you always need to be better than yourself. Having an attitude of gratefulness is helpful and the perspective that God does not make junk even when the body is failing us. At nearly 20 years… post trauma, the lessons for me still mount up one at a time. I thought my life's painting career ended, and it did while I made peace with the new normal. I am the woman who paints with her fingers due to severe tremor/movement problem. It took 5 1/2 years to relearn how to find the new normal and paint again when the ability to hold a brush or tools came to an abrupt end. Inventing several prosthetics have allowed small amount of brushwork to refine details. My body is not still on the outside but I am quiet on the inside. My post trauma paintings are all about the character of stillness and quiet. My theme became refined out of the trauma. It is important to be a grateful painter filled with hope. I am not thankful for this tremor but I am thankful in it. Perspective is not just important in paintings but in the uncertainties of life.
There are 4 comments for
Finding the new normal
by Mary Jane Q Cross
Let the madness continue
by Bill Hibberd, Summerland, BC, Canada I just pulled down yet another fruitless show, considered enduring a part-time unappealing day job and listened to my artist friends… advice regarding my marketing strategy. The pressure to earn enough to survive (I really mean to thrive) can be wearisome. Being a full time painter is certainly a misguided business plan yet the joy of creating trumps financial insecurity. I have tasked myself with painting 100 portraits this past year in an effort to improve my skills in handling the human face. As I near the end of this series I can see real growth in my work and the opportunity to connect with so many new people has been rich. This year has been an exciting and productive time. My mind is filled with strategies. Not marketing but art-making. Let the madness continue.
There are 4 comments for
Let the madness continue
by Bill Hibberd
Archived Comments
Enjoy the past comments below for Post-traumatic growth…
 Featured Workshop: Sharon Lynn Williams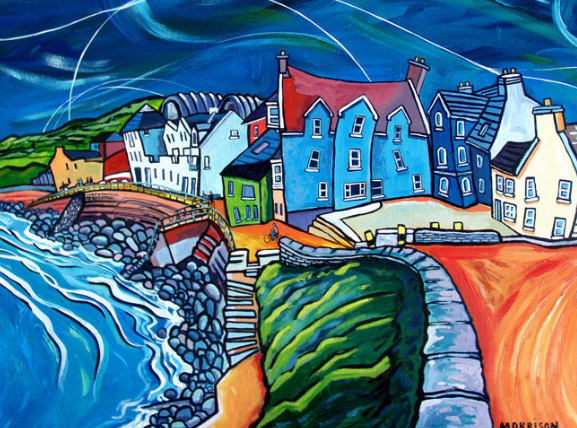 The Voice of the Turtle is Heard 4
oil painting 18 x 24 inches
by Mark Kuhne, MN, USA
You may be interested to know that artists from every state in the USA, every province in Canada, and at least 115 countries worldwide have visited these pages since January 1, 2013. That includes Dorothy Walter of Goldendale, WA, USA, who wrote, "Art is good for a person who needs healing. You can't feel the pain when you're having fun with art." And also Arthur Brill of Beaverdam, VA, USA, who wrote, "I wanted to share with you one of my favorite costumes I've created…"The Green Man." It was done on a fluke for a Halloween party, but I have invoked The Green Man as a source of strength and renewal many times." And also Zehava Power who wrote, "I've been trying hard and not succeeding in finding an older article you had written about using opposites in every painting. Placing darks against lights, color against neutrals, line against form etc. It was so well said (like all your articles) and I would love to read it again." (RG Note) Thanks, Zehava. You might be remembering an earlier letter,
The artistic alternative
, where I mention the interplay of opposites.