Dear Artist,
You can't go anywhere around Lucca without bumping into the operatic composer Giacomo Puccini. He's everywhere — museums, posters, walls, books, postcards, schools and freestanding displays advertising the current Puccini Festival. His music drifts from cafes and salon pianos. Sopranos and tenors nightly sing his arias in restaurants. While for most of us he's from another time and another place, there's wisdom in his life that many artists might find of interest:
Puccini was born into a musical family and encouraged early by his parents. His father was titular organist and composer for the local cathedral. His greater family, like others in Italy, was blessed with pervasive nepotism and the need for accomplishment. Everyone was behind him. There was lots of early practical experience, including violin lessons, composing for local choirs, and playing the organ in Lucca churches. Puccini developed a lifelong loyalty to place, never failing to honour and praise his roots. Throughout all, he had a particularly persistent and dedicated advocate in his mother — it seems she gave him an immunity to the effects of failure. Puccini developed the wisdom of reapplication after disappointments — of which he was to have many.
In his early maturity he made long-lasting and mutually loyal publishing and libretto connections. While he was no stranger to fundraising and political manipulation, he was also a willing cooperator in adjusting things to make them more appealing and effective — forever revising scores, sometimes over several years. He was generous in public advocacy, donations and petitions (at one time he signed one for a "road for cars.") Puccini forever intervened and lent his name to projects of civic good, theatrical improvement and expansion of the arts.
Puccini was what we now call an "early adopter," encouraging the film treatment of opera and the wider and cheaper distribution of printed scores. Not surprisingly, he drove one of the first cars in Lucca and was hospitalized for a while in 1901 as one of its first auto-accident victims. He sported vigorously and had a love of relaxing diversions — hunting, driving, boating. Puccini took play seriously and enjoyed the camaraderie of friends, both creative and otherwise. Above all, he had a philosopher's understanding of the greater world — his operas were not all homespun tales — The Girl of the Golden West takes place in America, Madame Butterfly, in Japan, La Boheme in Paris.
Best regards,
Robert
PS: "The sons of cats catch mice." (Italian proverb)
Esoterica: I'm laptopping you from the mezzanine of the Guinigi Palace in Lucca. In the room above, part of yet another Puccini museum, a player piano distantly recreates Puccini's ghostly hand with themes from Manon Lescaut, Tosca and Turandot. Out the window, thanks to the local religion of architectural preservation, the red-tiled rooftops, decorative chimneys, towers and dovecotes, look very much the same as Puccini's own view. The distant Tuscan hills of opportunity are still in place. In many ways, nothing changes.

Creative energy
by Ignacio Rosenberg, Chicago, IL, USA

I find myself working with a huge array of creative people, right now the most iconic and specialized being Slipknot. Behind the angry songs and grotesque masks they have a sense of the theatrical that's amazing. Clown, their founder and conceptual creator has a remarkable mind for the visuals of his band. We've bonded as photographers and developing new things for them. From this tour I go straight to Janet Jackson, before this I did REM. I've started playing bass because I feed off the creative energy of the musicians I work for. I guess creative energy comes in all shapes, sizes and flavors!

Unexpected talent
by Marney Ward, Victoria, BC, Canada

I am an artist who can't sing a note but for some unfathomable, miraculous reason my daughter is an opera singer, and her first opera was Puccini's Manon Lescaut. She was just in the chorus but she was chosen to sing a madrigal with Manon. This month I had my first major solo exhibition in a prestigious gallery, and on opening day she could not be with me because she was the guest soloist with the Sooke Philharmonic Orchestra. As all my friends were toasting my art, she was singing "Quando me'n vo soletta" from Puccini's La Boheme. Though I can't credit my genes with giving her, her voice, I do think my creative spirit is flowing in her veins.

Disappearance of sculptures
by James Larson, Scottsdale, AZ, USA

Naturally, I love seeing these old marble images, where in the old Europe and everywhere else marble and bronze were a common language, as common as drawing and painting. An Eastern Indian play-write, living in Minneapolis once asked me, "What happened to sculpture?" and I answered, "Maybe, the physical presence in the room became too intimidating?" I'm still not sure.

International gallery tours
by Lori S. Lukasewich, Calgary, AB, Canada

I am going to Italy with a dear friend, I should say, a collector of mine who has become a dear friend. We will be focusing on the Cinque Terra in Florence and the Uffizi Gallery. I am awed and humbled — and truly looking forward to this trip of a lifetime.

Taking great steps
by Wendy

I have just set up my small business as an artist (and it took great courage). I am opening my home, garden and studio from 30th August to 6th September inclusive and have about 60 paintings to put on show. Now I've taken the step I am really excited. I have one more year to do of a BA (Hons) Fine Art Degree course at Carmarthen Art School. I have been a painter all my life but needed input to help me think differently and a little more abstractly. I am 68 now and so loving this third stage of my life.

Cherishing culture
by Linda Clark, Canada

Norm and I along with our son Duane, daughter Paige and her partner Suzy and their daughter Chais, leave for Venice, Hungary and Italy for 17 days in August. I will pack with me a small sketch book and water colour set — my granddaughter is packing one too. What a reward to have one of your own enjoy the Art with our family's encouragement. We know we won't have time to do paintings but quick impressions as we tour and enjoy the people and culture. We are lucky that we will actually be staying at Suzy's family village in Hungary where little has changed and traditions are old before moving on to the vistas of Tuscany and Rome.
There is 1 comment for Cherishing culture by Linda Clark
Remembering the composers
by Jan Ross, Kennesaw, GA, USA

This letter reminds me of my years of living in Vienna, Austria. During that time, we lived in the Wienerwald or Vienna Woods. Except during the 'quiet hour,' it seems one could hear Mozart or Strauss being played everywhere from the neighbor's terrace, to the Strassenbahn, or streetcars, to the orchestra practicing in the Central Park. The entire country proudly sells items reflecting these beloved musicians. Even small villages sell foil- wrapped chocolates featuring a portrait of Mozart. Saltzburg holds tours of his small apartment, featuring some of his instruments and music. How wonderful to feel a sense of unity and inspiration through art! I received such great respect and interest for my then, simple watercolors, as everyone celebrated creativity.
To this day, when I listen to Mozart or Strauss, I am immediately carried back to the beauty and joy of Austria as well as find the inner peace necessary to proceed with my current painting. Tho' countries and people may change, our fondest remembrances remain the same.

Wiping maneuver
by Roger Davis, Aspen, CO, USA

I viewed your short videos this afternoon after subscribing to your letters and am puzzled by the wiping maneuver by which unity of tone and color is produced. The movies suggest it is done during a short session, using oils on a canvas, with little or no smudging of the main masses. This would be a lovely advantage. What's the trick? A drying medium?
(RG note) Thanks, Roger. No trick. I work in acrylics. The glaze can be put on in fairly short order. You can do it in oils as well, but rather than force things with a drying medium and risk cracking, etc., you can give a half-finished painting a few days drying time and then go for it. Painters such as Maxfield Parrish and Fred Machetanz of Alaska used the oil glazing system. I've written letters about both these painters.
There is 1 comment for Wiping maneuver by Roger Davis

Applying canvas to board
by Joyce Petrina, Memphis, TN, USA

I read that you were experimenting with applying linen on board. I have a young artist friend who (foolishly) took an exacto knife to a very excellent oil painting on canvas. She should have pried out the staples but she didn't. Now it is impossible to have the canvas stretched without losing part of the painting. I suggested she might try applying the canvas to board but I don't quite know how it is done. Can you help?
(RG note) Thanks, Joyce. Here in Tuscany we've not been applying linen to board, but rather using a commercially prepared Pebeo board with linen already adhered. It has a particularly delicious olivaceous colour and a nice surface. I don't know about its longevity. A bit absorbent, I find these panels best after a coat of clear acrylic medium. Sara is using them as they come from the package. With regard to your friend, she will have to mount on board. Acrylic medium makes an excellent adhesive. Roll it out from the painting side with a brayer before subjecting it to moderate weight. Art Boards of Brooklyn, NY, manufactures excellent archival boards in a variety of styles for just that purpose, including those with heat-sensitive adhesive that help artists to feel good about the future.

Archived Comments
Enjoy the past comments below for Giacomo Puccini (1858-1924)…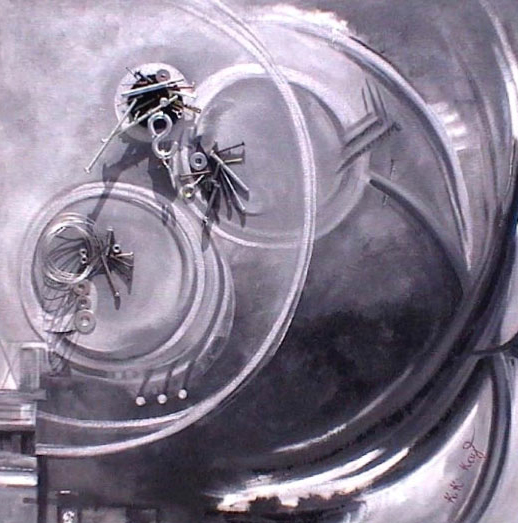 Nail it
collagen painting, 80 x 80 inches
by Kiki Kaye, Mexico
You may be interested to know that artists from every state in the USA, every province in Canada, and at least 115 countries worldwide have visited these pages since January 1, 2013.
That includes Roberta Levy who wrote, "Tuscany is wonderful. I painted for 10 days there last fall with a group. Enjoy, enjoy…"
And also Jane Barnard of Stevens Point, WI, USA who wrote, "As a passionate Puccini devotee and an even more passionate plein air artist, I'm drooling over your description of Lucca (the red-tiled rooftops, decorative chimneys, towers and dovecotes…). Wish I could beam myself there to paint and have a strong espresso coffee with you."
And also Elfrida Schragen who wrote, "I'm not sure of my facts, but I think that Puccini copied his own work in many different forms. Also at a certain point in his life, he stopped composing completely, basically retired and live the good life. Have I got the right man?"
No Featured Workshop
No Featured Workshop