Dear Artist,
Mark Twain
wrote, "Eat a live frog first thing in the morning and nothing worse will happen to you the rest of the day." While likening studio time to frogocide could be considered extreme, fear of difficulty, fear of failure, fear of success, fear of pleasure (the fear of being selfish) and the resulting procrastination might be curbed by Twain's suggestion. Before the duties of the day overwhelm and dominate all hours, why not claim a sacred hour? Eat your art frog first. An experiment awaits. Within 30 minutes of rising, declare the first hour your sacred hour. 0:00: You have 5 minutes to get into position, ready materials, pick up a tool and begin. 0:05: Work for 15 minutes without making any major decisions, without too much of a plan and without interruption. If it helps, begin with something you've left incomplete from last time. If it helps, tape a sign to the door that says, "I AM PRAYING." 0:20: Rest and assess for 5 minutes. Half-close your eyes and let your next move appear. 0:25: For the next 20 minutes, you're the resident genius. Make a few bold moves. 0:45: The pump is primed. For 5 minutes, dream of what else could be. 0:50: You have 10 minutes remaining to complete: reveal, feature, polish, kamikaze the idea, knowing you can set it aside and come back to rework, refine, scrap or send directly to the Guggenheim. 1:00: Stop now. After a week, a month, a year of sacred hours, perhaps your frog's a bit of a prince. Sincerely, Sara PS: "We are what we repeatedly do. Excellence, then, is not an act, but a habit." (
Aristotle
) Esoterica: As a young mother caring for three small children, author
Alice Munro
learned to write during nap times, in between feedings and as dinner baked in the oven. In 1968, after twenty years, she completed her first collection of stories,
Dance of the Happy Shades
. She was 37. "I was writing desperately all the time I was pregnant because I thought I would never be able to write afterwards. Each pregnancy spurred me to get something big done before the baby was born. Actually I didn't get anything big done. The year I wrote my second book,
Lives of Girls and Women
. I was enormously productive. I had four kids because one of the girls' friends was living with us, and I worked in the store two days a week. I used to work until maybe one o'clock in the morning and then get up at six. And I remember thinking, 'You know, maybe I'll die, this is terrible, I'll have a heart attack.' I was only about thirty-nine or so, but I was thinking this; then I thought, 'Well even if I do, I've got that many pages written now. They can see how it's going to come out.' " Alice Munro was awarded the Nobel Prize for Literature in 2013. [fbcomments url="http://clicks.robertgenn.com/sacred-hour.php"]
Featured Workshop: Robert Masla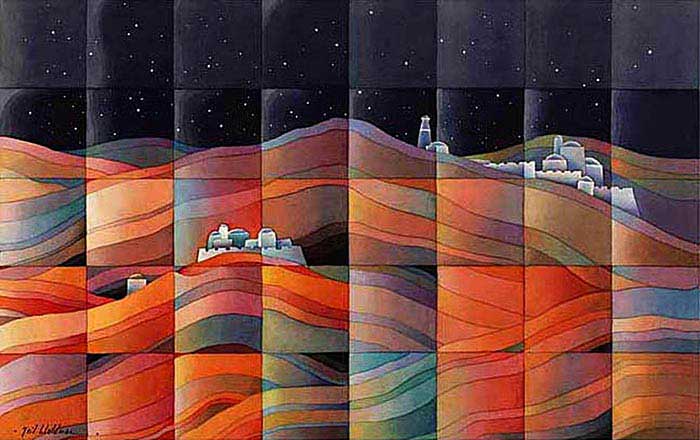 Dunes
watercolour on paper, 15 x 24 inches by Neil Waldman, New York, NY, USA
You may be interested to know that artists from every state in the USA, every province in Canada, and at least 115 countries worldwide have visited these pages since January 1, 2013.