Dear Artist,
Yesterday, my twin James arrived in the evening with an early birthday present. I could hardly believe it when he wheeled it across in front of the window under the eave lights, where he knew I would see it from the kitchen. Sky blue, with 3 speeds and a basket, James might as well have given me a second studio. After I hugged and thanked him, we reminisced about every other bicycle we had ever known, and all the pleasure and inspiration that can be drawn from such a timeless creativity machine.
Our dad, a lover of all modes of transportation and a chronic inventor of portable easels, once built a painting apparatus out of plywood he called, "Art Dog." Art Dog (patent pending,) varnished like a vintage Rum-runner and perched on a pair of small wheels, was hooked up behind his bicycle and towed to the forest, where it could be unfolded into a donkey-style art bench. Under the padded seat was a cubby for paints and palette.
in 2008, Dad visited me while I was swapping studios with a writer living in Lucca, Italy. There, without Art Dog, he packed supplies into the basket of the bicycle I'd borrowed for him from my impossibly generous neighbours — they also loaned him a workshop under the stairs of their 13th Century home. Tuscany's blazing summer meant that I'd been planning plein-air moments around the shadows of the late afternoon. My bicycle, "Rilke," included in my swap, had been providing all the needed breezes. I dragged Dad around the top of Lucca's surrounding Renaissance walls until the sun sank, pointing urgently to crumbling architectural treasures and the patterns thrown by an ellipse of Plane trees at the Magic Hour. I'd found an art supply with some linen boards in European sizes, glowing French grey under clear gesso, and bought every last one, which was 14. At the end of our adventures, 14 location sketches came home to New York and Canada in our carry-ons.
Sincerely,
Sara
PS: "Oh mysterious world of all light, thou hast made a light shine within me, and I have grown in admiration of thy antique beauty, which is the immemorial youth of nature." (Paul Gauguin)
Esoterica: Eleven years have passed since my dad and I rode around the walls of Lucca, stopping here and there to paint and try to capture the freedom and timelessness of our bicycle rides. This morning, James and I zig-zagged with similar, silent wonder through the verdant, blooming back roads of Palm Springs, the San Jacinto mountains draped like a purple curtain over our shoulders. My imagination took a deep breath as I re-examined the lips and edges of the wilderness from my new, 3-speed perch. "I hold this to be the highest task for a bond between two people," wrote Rainer Marie Rilke, "that each protects the solitude of the other."
The Letters: Vol. 1 and 2, narrated by Dave Genn, are available for download on Amazon, here. Proceeds of sales contribute to the production of The Painter's Keys.
"How does the Meadow flower, its bloom unfold? Because the lovely little flower is free down to its root, and in that freedom, bold." (William Wordsworth)
Featured Workshop
November 20, 2019 to November 27, 2019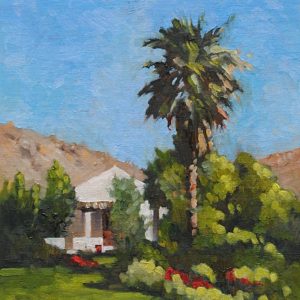 Join Canadian artist Sheree Jones as she shares her passion for painting "from life" at this idyllic coastal retreat.
This workshop is designed for experienced beginner & intermediate oil (and acrylic) painters.
The small group size guarantees plenty of one on one instruction.
While you're busy creating art, your friendly hosts at Casa Buena will be working hard, ensuring that your stay is a memorable one.
Outstanding food, accommodations, and field trips will satisfy your desire for both comfort and adventure. Non painting partners welcome.
For more information visit:
http://www.casabuenaartretreat.com/retreatSheree.htm
or contact Sheree:
sheree@shereejones.com
Featured Artist
I am a painter. I am delighted to be a painter.