Dear Artist, Yesterday, Andrée M. Kuhne of Kingston, Ontario, Canada wrote, "My friends and I exchange our art by email to get feedback. Why does art look so much better on a small scale than in the original?" Thanks, Andrée. Great question. It's the same phenomenon as viewing your work from a distance. If it's a really great distance, like half a mile, the work can look pretty excellent indeed. You can tell it's a painting but you can't tell what's wrong with it. Good system for the self-delusional. More to the point, as a tool for finding out what's wrong with a work, like the thumbnail that's often made beforehand, a medium-small reduction is a highly useful ploy. Several ways can make this work for you, and with today's technology, they're fast. The simplest way is to take a picture with a digital camera and then review the painting on the camera's display. Just this simple transposition often brings out composition weaknesses and problematic areas. Another valuable tool is to photograph the work in progress and print it out. I recommend doing this in black and white. I reduce large paintings to about 5 x 7 inches. When you reduce your work to a value study you are better able to see strengths and weaknesses. In my case, I most often notice a shortage of middle tones and grey areas that are so necessary for satisfactory work. I can't tell you how many times I've found too many leaden darks and too many chalky whites. Viewing the original, you tend to get lost in the tyranny of colour. Another ploy, similar to glancing at your work in a mirror, is to print the work in reverse. Many picture-software programs do this handily. Funnily, in reverse, compositional faults come at you like a moose in rut. Now here's another: Take a shot that's purposely out of focus. The print will reveal large masses that either work or don't work. It's like half-closing your eyes — squinting — one of the most valuable studio ploys. This system has felicitous results for me — I've often gone back into a painting and softened certain edges to good effect. Blurred areas pick up mystery and intrigue. Further, hard edges poorly done can often profit from the business of obfuscation. A soft-focus printout gives you permission to obfuscate. Best regards, Robert PS: "A well-composed painting is half done." (
Pierre Bonnard
) "Composing a picture, do many thumbnails, rejecting the obvious ones." (
Irwin Greenberg
) "Get the art of controlling the observer — that is composition." (
Robert Henri
) Esoterica: You can leave quality in the hands of the gods, or you can elect to use every diagnostic ploy at your disposal. Inspections-in-progress give the professional's edge. Some artists simply train themselves to employ the troubleshooting mini-events a thousand times as they go along. To get the "big picture," the "little picture" is often needed. As a partner in the learning process, the "little guy" is a welcome handyman.
The best tool around
by Louise Francke, NC, USA I've been using the digital camera since the Canon came out in the early 1990's. With a digital camera and Photoshop I've composed paintings, checked out the palette, contrast, composition, etc. Yes, I share my newest works with some of my select artist friends for critiques. It is the best tool around.
There is 1 comment for
The best tool around
by Louise Francke
Review stages and document progress
by Hal Frazier, Laguna Beach, CA, USA Excellent advice about using a digital camera to review stages of a work in progress. It is also a good way to document the progression of a painting for personal or advisory use. It has always worked for me!
There is 1 comment for
Review stages and document progress
by Hal Frazier
Mirrors and more mirrors
by Margot Hattingh, South Africa I have a small mirror, one of those hand held two-sided mirrors, one magnifying and one normal. Stuck the normal on the studio wall, and have to walk up to it really close to see the painting on the easel at the other side of the room. Reversal and distance all at the same time. I really like the idea of soft focus and printing out in B&W — colour can be an overwhelming distraction. Maybe that's why I often instinctively like using a severely limited palette? I'll be trying them out now!
There are 3 comments for
Mirrors and more mirrors
by Margot Hattingh
Major use for DSLR camera
by Charles Peck, Punta Gorda, Florida, USA These are fine straight forward points every artist should consider with each piece of work no matter the genre. Coincidently the particular means mentioned are the very things I rely on these days. In fact it is the major use of my DSLR.
There is 1 comment for
Major use for DSLR camera
by Charles Peck
Technology to try things out
by Fleta Monaghan, Asheville, NC, USA When I'm working in a more abstract genre, cropping studies can help to find the best composition, and I use my digital camera and the computer to try things out, even changing the colors and values sometimes. This is sort of like how Franz Kline projected his small works to see how they worked large, and how to crop. Good for us we have all this technology at our fingertips to make things so much easier!
Karen Weihs
, a master painter in our region, who you responded to recently, sometimes works with blurred reference photos, a very brilliant idea! And my colleague
Mark Holland
 describes the summers as "a tyranny of green" here in Western North Carolina. He is sure right, and a good painter must learn to mix a vast variety of greens, and not rely on a couple of tubes of mixed pigment greens to be any good at mountain landscapes here.
Brighter than normal images
by Elihu Edelson, Tyler, TX, USA When you are looking at art on a monitor the light is coming through the image, rather than reflected from its surface, which makes it look more brilliant. Also, the premise here doesn't necessarily hold true. The civic gallery here in Tyler TX has submissions to juried shows judged from entries on disc. Even a work as small as 2′ x 2′ loses a sense of scale when seen reduced.
Drawn by the success of the design
by Mary Aslin, Laguna Beach, CA, USA I have a slightly expanded take on this. If the work reads extremely well from a distance or small, I know that the design of the painting is on the right track and investing in the refinement of details is worth pursuing. However, if the painting reads very well up close and large (and the details are done well) but does not read well small or from a great distance, then the design relative to the large shapes aren't working and the painting is on track to be a failure. I remember reading somewhere that when in art museums and we see something from across the room from a distance that we are compelled to look at closely, we are drawn in not by the success of the details, but the success of the design. As I paint, I go back and forth from up close to as far away as possible to judge the cohesion of the design as I progress from large shape to small. A refrain of "notes" in our musical piece can be melodic and perfect relative to each other but will be fully appreciated in the context of the beautifully orchestrated symphony.
There are 4 comments for
Drawn by the success of the design
by Mary Aslin
Using the computer as final tool
by Ron Ruble, Brooklyn, WI, USA Reducing an image is a great tool to study a painting in progress as you have described. I have recently taken this same reduction phenomenon a step further, and used this optical elegance to lead me to the actual finished product. I am a printmaker and draw my original image on acetate (I call my plate) with pen and ink, using a stipple technique which somewhat duplicates the method of a fine dot screen, except being randomly applied. When completed, my drawing is scanned and the exact image, using no screens, is fed into a computer. My drawn image, each and every dot, is then reduced in size to further clarify the drawing. The results are amazing. The final image and its clarity blow you away. As Robert Henri said, "Control the observer." They will be fascinated and in some cases mesmerized. That has been my experience. Each hand-drawn dot is retained though reduced in size. The computer becomes the final tool used to accomplish detail impossible to attain any other way. I am enclosing a picture,
Poe's Muse
, which will give you an idea of the finished product, though my camera cannot do justice to the true clarity of the final image. Purists may question this process, but should remember that the making of art should not be burdened by rules. These rules stand in the way of true expression. The final image is of utmost importance, not the craft used to arrive at it.
There are 6 comments for
Using the computer as final tool
by Ron Ruble
Problems under glass
by Gordon Henschel, Port McNeill, BC, Canada I would be interested in what you have to say regarding galleries that will not accept works under glass. Much of my best work has been in watercolour and has been refused on that basis. I succumbed to an invitation by such a gallery in Sedona, AZ. In order to hang there I had some of the watercolours they liked made into giclees on canvas so as to adhere to the "no glass" policy. Many of the galleries in the Southwest U.S. have the same policy, yet the California School of Watercolorists have done just fine. I have recently had the same experience with several galleries in Canada. (RG note) Thanks, Gordon. Works under glass, including watercolours, are still, unfortunately,
persona non gratia
in some areas. Much of this stigma has to do with the great bubble of giclees and photo lithos that popped up a few years back and left many naive collectors with a pile of paper stashed under the bed. The crumbling financial pyramid left a bad taste for all things under glass and those of us who currently make watercolours, proper prints and pastels are still paying the price.
There is 1 comment for
Problems under glass
by Gordon Henschel
Archived Comments
Enjoy the past comments below for The wisdom of smalls…
Featured Workshop: Dillman's Creative Arts Foundation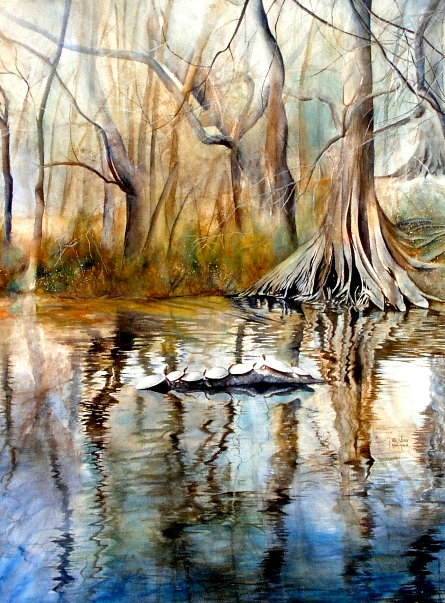 Sunbathers
watercolour painting, 30 x 22 inches Patti Adams, New Orleans, LA, USA
You may be interested to know that artists from every state in the USA, every province in Canada, and at least 115 countries worldwide have visited these pages since January 1, 2013. That includes Lynne Robbins of MA, USA, who wrote, "What kind of camera do you use?" (RG note) Thanks, Lynne. I'm a bit of a collector. Among others, I have a lovely little Nikon CoolPix (that projects its image) and a Canon Power Shot SX230 HS with a handy GPS (for keeping track of where reference was collected and identifying your location when lost). My main one these days is a Canon EOS 5D…a superb SLR with a large format sensor and full High Definition Video (We made the little
Cuckoo YouTube video
using it.)