Dear Artist,
"Everyone has a quest," a friend once said when visiting the studio. "An artist's quest is in her work." I was pulling a number 50 super soft piano bright along the edge of a soaked grey cloud, beguiled for the millionth time by the twinkling and mysterious possibilities of painting. "Without the quest, there's no epiphany," I replied. The pursuit of truth, innovation, beauty, surprise, connection — to communicate, propel, report, witness, comfort — these are the timeless commands of art. By renouncing known routes to engage the ache for the ever-truer, the artist begins:
Rise to the call.
Commit to the expedition.
Let go of what you already know how to do.
Be willing to build new skills.
Accept the process as your teacher.
Survive the tests.
Recognize your blossoming, personal systems.
Collect tools along the way.
Be open to making changes.
Master your techniques with practice.
Strengthen courage and quality.
Understand that it's not a quitter's journey.
Go forward.
Before sharing her expertise on the mechanics of creativity, American essayist Elizabeth Gilbert wrote a memoir about her search for meaning. She structured her story's quest upon the idea that metaphysical forces are at work along a road of discovery, and we need only step onto the path and pay attention to the clues and teachers that await us. "You didn't get the quest you wanted," wrote Lev Grossman in The Magician King, "you got the one you could do."
Sincerely,
Sara
PS: "Not all those who wander are lost." (J.R.R. Tolkien)
Esoterica: This past weekend, Haida master carver James Hart and his team's 17-metre Reconciliation Pole was raised by traditional method on the campus of the University of British Columbia. Carved from the bole of an 800-year-old red cedar on the northern coast of British Columbia, the pole honours the victims and survivors of Canada's residential school system which, beginning in the 19th Century, sought to erase the traditions, languages and culture of Canada's First Nations people. The Reconciliation Pole is designed in three parts and tells the story of the time before, during and after the residential school system. It includes 60,000 copper nails, hammered into the pole by survivors, family members and schoolchildren, with each nail representing an indigenous child who died from abuse at school. The pole's carvings also include children wearing uniforms and numbers, a family, animals, a Shaman, the residential schoolhouse that Hart's grandfather attended, a whale and Thunderbird, a canoe and longboat and an eagle, each symbolizing a part of the history. When reflecting on the two-year project, James Hart said that as he uncovered details it became increasingly difficult emotionally, but upon completion he felt grateful that the work invited education, discussion and a point of connection. "I've got to pay attention to this in a truthful manner;" he said. "The way our children were treated in residential schools was a horrific time for us. We are still getting over that. But we have a good grip on what has taken place, how it affected us and what we are doing to heal ourselves and move forward. The hope is we move together with Canada and have some say on what is going on in this country." Canada's last residential school was closed in 1996.
"You can't, if you can't feel it, if it never
Rises from the soul, and sways
The heart of every single hearer,
With deepest power, in simple ways.
You'll sit forever, gluing things together,
Cooking up a stew from other's scraps,
Blowing on a miserable fire,
Made from your heap of dying ash.
Let apes and children praise your art,
If their admiration's to your taste,
But you'll never speak from heart to heart,
Unless it rises up from your heart's space." (Johann Wolfgang von Goethe)
Download the new audio book, The Letters: Vol. 1 and 2, narrated by Dave Genn, here. Proceeds of sales contribute to the production of The Painter's Keys.
"Great art must be a living thing or it is not art at all." (Bill Reid, master carver, 1920-1998)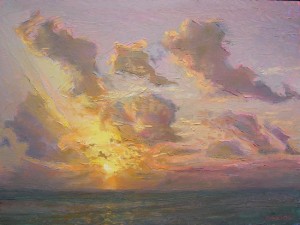 Shining Through
oil 12 x 16 inches
Featured Artist
Capturing the beauty of nature and expressing those impressions in oil paint is a joy. Every hour of the day presents new possibilities and keeps even the same landscape location, same composition, an ongoing and beckoning challenge. For this reason, I love painting series: it is exploration made visual.