Dear Artist, The mentally challenging nature of artistic activity may help avoid the inconvenience of early senility. I don't know about you, but a steady diet of crossword puzzles to tune up the mind just doesn't cut it for me. I've got enough mind-benders with my painting.
James A. Levine
) Esoterica: It's somewhat the same effect you get when you go for a walk. The heartbeat goes up even if you're only pacing back and forth. You may also be burning a few calories (sitting — your calorie burn goes down to one calorie per minute), but the main thing is that the subconscious brain is prodded into a relaxed mode where ideas bubble and confidence rises. Here's a simple test to prove the worth of Churchill's method: Try dictating long, compound, grammatically correct sentences while pacing around and also while lounging on the sofa. Believe me, standing up or pacing wins out every time. That's how this letter was written.
Stand back for all sizes
by Pamela Simpson Lussier, Willington, CT, USA In art school, where I studied figure sculpture, our teacher made us take a view of the subject a few feet back from the model. We had to observe from this position and then go back to the sculpture and do whatever slapping around and piling of clay needed to be done. I always do this when I have a really big painting or drawing going because it is the only way I can keep the whole concept. But I should also do this for the little paintings, it would be good for their energy and the workout would be amazing. Thank you for giving me this idea.
There are 2 comments for
Stand back for all sizes
by Pamela Simpson Lussier
Lunging for fun and profit
by Malcolm Cudmore, Stafford, UK I certainly prefer to work standing and have long advised that it's always best to stand up when making telephone calls, especially difficult or important ones!! It's not always possible — especially with some of my smaller coloured pencil work. But, standing outdoors at the French easel or pochade is such a pleasure. I've also tried "lunging" in the studio. It's highly encouraged at the London Atelier of Representational Art where I did a summer school a couple of years ago, where sight-size is taught and practiced. I understand that Sargent was a great "lunger," often standing on the opposite side of the room to his portrait subject and canvas and leaping forward to make his marks.
There is 1 comment for
Lunging for fun and profit
by Malcolm Cudmore
Using the whole body
by Sandra Bos, Cookeville, TN, USA There are folks who sit down while painting, especially watercolor painters, and those with health problems, mostly because of being overweight. I always strongly suggest that students learn to stand while painting. I'm an oil painter and find that it's good to use your whole body, not just your arms and wrists. When you use your whole body, you put more energy into your canvas and into your brush. Also, you can move back and forth a lot more while you're working. You would be surprised how much your canvas talks to you, and if you have your nose up against it all the time, you might miss those wonderful things that your subconscious (your higher self) is trying to say. I realize that sometimes it's not possible to stand for some people, but if you can, I think it's very important to do so.
There are 3 comments for
Using the whole body
by Sandra Bos
Eating and exercising
by Dr. Hal Martin, San Antonio, TX, USA Interesting that you began this letter with a comment about how the mental challenges of art may ward off early senility (true), and then proceed to physical activity with respect to weight. Regular activity also benefits mental status; there have been numerous studies in the medical literature indicating that regular physical activity/exercise is a very strong factor in diminishing the onset of dementia including Alzheimer's Disease (by a factor as high as 50%). The fact that activity also aids in fitness and weight control is not new information as implied in your current letter; this has been known for many years and I discussed it at some length in my previously published response to
Sitting vs standing
 submitted 31 August 2010. What Dr. Levine's study demonstrates is that for any given amount of food (caloric) intake, those who are more active gain less weight or lose weight and they could not identify any other independent factor in this regard. However, I'm afraid that food is the ultimate source of fatness. A totally sedentary person will not gain weight if he has no food intake and anyone who consumes more calories than they metabolize and burn off with exercise will gain weight. Add physical activity to the artistic benefits of plein air painting. Hauling all that stuff cross country and in and out of canyons is great exercise.
The art of constantly moving
by Carol Morrison, Oakville, NS, Canada I found your information on the benefits of standing very interesting, because all my Nova Scotia College of Art and Design instructors expected us to stand (with moans from some of the younger students in our first sessions — I graduated in 2005, but was one of the "mature" students). The thinking was that it encouraged you to step back to see where your painting was going, and enabled you to move your arm more freely than if you were sitting. I found it painful at first, but now it is not a problem. I find standing still a problem, but then realized that when I am painting I am constantly moving. I am glad to hear that this is helping me to lose weight!
What a deal!
by Peter Gluck, Romania Very true, dear Robert — I agree completely. May I quote myself and will you excuse my lack of modesty? "Dear friends, you all know the if we will eat less, drink very moderately and abstain from too much sex, we will live more than if we eat as much we like, we drink too much and make a lot of love. That's true, and our Romanian scientists have determined that statistically, the mean difference in duration of life is exactly 3 weeks! May I ask you, my friends, is it an intelligent choice to sacrifice all the pleasant things of the life, for those unhappy three weeks? My personal answer is NO, let's drink!" The essential is to be contented, to be in harmony with your
modus Vivendi
.
There is 1 comment for
What a deal!
by Peter Gluck
Making the best of a small studio
by Charles Frizzell, CO, USA I have been a professional artist for almost 40 years and much of that time has focused on easel painting. I have always stood to paint, and made sure to have plenty of room to move back and forth. You mentioned going back eight feet, I usually try to have room to move 12 to 16 feet. Due to a recent life change, I lost my wonderful large studio and am now living and working in a fairly small house. The bedroom dedicated to easel painting is only ten feet by eleven feet, so setting up my easel diagonally in one corner and having the diagonal to pace back and forth to view the work gives me almost 12 feet. I sit on a stool only for small details on small commercial paintings. Then for a few weeks a year ago after breaking several bones in my right foot I used the stool exclusively. I felt confined and 'tight' while sitting to work. I also stand while working at my watercolor table in the other studio/office (dining room) of the house. Standing and moving, sometimes even moving to whatever music is on, not only promotes clear thinking and free work, but gives a more balanced view of the progress. My friends sometimes comment on how I stay trim and flexible, and I'm sure much of that has to do with years of pacing back and forth with my easel. Plus walking and hiking in the Colorado Mountains.
There is 1 comment for
Making the best of a small studio
by Charles Frizzell
Inertia's quick result
by Nina Larkin Mateyunas Just last night I complained to my husband about not getting enough exercise lately. Now, our diets are basically healthy without a lot of red meat, fried or fatty foods, alcohol etc, and we don't smoke, but I've spent the last few months sitting hunched over an illustration project that required me to produce a large number of drawings for a children's book. It's amazing how weak and flabby you become after just a few short months of that type of inertia! Not only that, but for some reason, I've noticed an increased appetite! Maybe there's a connection ! But it's easy to see why so many sedentary people working at their 40 hr per wk sit down jobs have obesity issues. Most of my art, which is not illustration work, has been produced standing at an easel, and like you suggested, walking away often to view it from afar. If I get another illustration job, I think I'll set up at an easel, and remember to shout and pace about!
Advice to the finicky
by Robin Shillcock, Groningen, Netherlands Standing at the easel makes it easier to stand back and that facilitates judging the progress during painting sessions, as I've learned in thirty years of painting. However, as in all stand-up occupations, some people are prone to varicose veins, and I doubt very much if brandy, even the finest quality, and that goes for the cigars too, will be any help in preventing this affliction. Thinking of the obese in North America, no doubt Levine is on to something. Here in the lowlands we tend to move about on bikes for just about anything, not just for work-out purposes as I noticed most Canadians regard bikes when in your country last summer. Here we jump on a bike to go shopping, or to a wedding, or to the movies or for a downtown coffee. But preference for standing or sitting whilst painting also depends on what kind of art you make: Broadly painted landscapes and such require painting at arm's length and stepping to and fro, in a kind of jerky jig whilst applying paint and moving back to judge the effect. Artists working with the sight-size method stand at a distance of ten feet or more from the easel to study the subject in relation to the canvas, darting forward to paint from memory what they saw then rushing back to their previous position to ascertain their handiwork. But those that paint more finicky paintings tend to hunker down in front of the easel on chairs or stools, beer crates or a variety of those backless chairs claimed to be better for backs and necks. I've moved from being a slasher of paint to a more detailed painter, from always standing to usually sitting and sometimes standing. Painting in the field I still prefer to stand but I've also been known to kneel in front of large watercolours, because I like to have various enamel plates and various bits of paper and the rest of my outdoor studio spread in an arc around me. Yep, I usually go on my bike for painting sprees around town but also further afield. Right now I'm working on some large vertical Masonite panels showing the four seasons on the tidal flats off the Dutch north coast (with lots of birds and other animals), for a visitors' centre that will be opened next month. I either stand or sit on a two-step ladder, so it's up and down for about eight hours every day and then cycling home from my temporary studio.
Archived Comments
Enjoy the past comments below for Stand up…
 Featured Workshop: Vancouver Island Art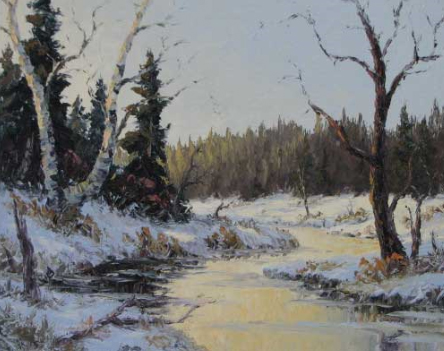 Sunny stream

oil painting, 16 x 20 inches by Doug Downey, Springdale, Newfoundland, Canada

You may be interested to know that artists from every state in the USA, every province in Canada, and at least 115 countries worldwide have visited these pages since January 1, 2013. That includes Marilena Fluckiger of Vancouver, BC, Canada, who wrote, "Could you please make a video of you lunging and painting?" And also Claudia Roulier of Idledale, CO, USA, who wrote, "The reason Churchill got so much done was that he was manic depressive and he, like others, accomplished quite a bit during his manic states. He also self-medicated with liquor. I think a fairly large number of artists are bipolar, compared to the percentage for the general population."
On the other hand, there's the sedentary nature of our business. Long hours sitting at an easel can be as dangerous as computer work or couch TV. Recent studies by James Levine, a medical researcher at the Mayo Clinic in Rochester, Minnesota has surprised and shocked the conventional wisdom. Specifically aimed at understanding the sources of obesity, sensors placed on the bodies of a wide range of folks with similar diets found that those who moved around more and, most important, stood a lot, tended to stay trim and fit. Levine figures we have to stop thinking of food as the source of fatness and begin to understand that it's inertia that does us in. People who move around, even nervously, and stand rather than sit, also reap creative benefits. According to Levine, even really bad habits can be somewhat neutralized by sheer movement. There's quite a bit of evidence that Levine may be on to something. Take Winston Churchill. He smoked cigars and drank every day until his death at age 90. "Smoke good cigars and drink fine brandy," he advised. Churchill wrote 77 books (He won the Nobel Prize for Literature in 1953), most of them simply dictated while standing or pacing in a cloud of smoke before a lectern in his office. Physical movement was part of his creative process. While most of the photos of Churchill painting show him sitting, he often stood at his easel. His active bricklaying and gardening are well known. I recently heard of a workshop instructor who gets his students to lay down a tape on the floor six or eight feet from the canvas. He encourages students to stand behind the line and lunge forward to make strokes, then immediately get back to survey the situation. In an attempt to make myself into a better person, I've been lunging for the last couple of weeks. So far I'm happy with the results, but I'm a bit puffed out. Then again, friends gave me a few cigars for my birthday. And brandy. Best regards, Robert PS: "Sitting still is highly dangerous." (