Dear Artist,
Having recently set up a new studio in a new locale, my friends are calling with the same question: "Are you feeling creative in your new space?" Pregnant with myth and mystery, a new room can ignite all the original dreams and fears of even the most seasoned studio-hopper. Without sounding too superstitious, the question can feel a bit blasphemous. While we all may swim in the mystery of creativity's delicate alignment, and tremble at the juju of a new space, it's the occupant that determines a studio's potency. Studio vibes — ineffable, designed, cultivated or summoned — are, in the end, artist vibes. They're germinated by sweat.
Like a stag and his starlings, we need our studios to meet the basic requirements of interdependence: the artist signs a spiritual contract to provide all the elbow grease, hours and risk-taking, while the room need only offer a bit of sanctuary and, if we're lucky, ventilation. And while studio magic is very real, it's important to claim responsibility for where the initial spark may or may not be coming from. When changing spaces, or even just tweaking your current set up, here are a few ideas:
For new vibes, instead of replicating known systems, mix up, reduce or reinvent physical elements. Do it quickly, without much detail or over-thinking, then get back to work.
easel or table
contemplation chair or dreaming sofa
broadloom?
plastic
secondary easel
a long view
diffused light
direct light
silence
speakers
your heroes' writings
no one else's writing
reduced clutter
new talismans
bird feeder
windowless view
minimal storage solutions
cleared work area
small or expansive space
reduced need
Now, begin again.
Sincerely,
Sara
PS: "Take one step backward into the unknown." (Adyashanti)
"To begin, begin." (William Wordsworth)
Esoterica: My hunch is that, at any given moment, somewhere on the planet, an artist is clearing a space for herself with the ambition to work. She will arrange a few totems, draw her blinds and squeeze out a palette, her studio the mere physical embodiment of an inner established workspace. Last evening, I listened to a handful of creatives swapping techniques for studio vibes. "I saged after too many visitors," said one. "Not enough activity has left the energy flat," said another. I went back to a furnitureless room begging for my silent, solo perils. All my hopes and dreams are offered there, in exchange for what has only, ever, been required.
The Letters: Vol. 1 and 2, narrated by Dave Genn, are now available for download on Amazon, here. Proceeds of sales contribute to the production of The Painter's Keys.
"You have to leave the city of your comfort and go into the wilderness of your intuition. What you'll discover will be wonderful. What you'll discover is yourself." (Alan Alda)
Featured Workshop
April 7, 2018 to April 14, 2018
Are you stuck in a rut? Need time to reflect on transitions? Long for an extended art-play date? Join Ellie Harold for a unique art-making retreat for women in colonial San Miguel de Allende.  Re-establish flow in your life through painting, movement, soulful discussion, and a wealth of cultural, visual and culinary delights.
Art practice will encourage intuitive use of color and expressive mark-making with emphasis on process. Materials provided or you can bring your own.
An inspired facilitator and prolific painter, Ellie invites all experience levels (including none) to participate in Painting for Pleasure.
Visit Ellie's website to learn more.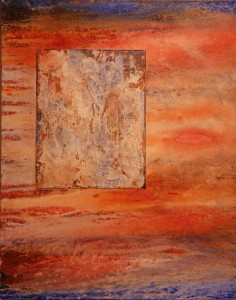 Transition
Featured Artist
Painting is my passion and joy.  My process is intuitive, though informed by good composition and design principles.  I paint what I remember, or think about, or feel, or just what comes off my hands to the brush to the canvas.  Texture and color are of primary importance to me.  I typically choose my support, texture it, select my palette, and go.  There is nothing more satisfying to me than watching paint run and move.  I love the surprises. I experiment and learn constantly.  It is a remarkable journey.  One I am pleased to share with you.