Dear Artist,
I remember after visiting Giverny for the first time in my 20s, reporting back to my Dad that Claude Monet had painted his most innovative paintings in the last stages of life. "Your best work is ahead of you," I said. He cracked a grin from his easel, the place where he always was. Monet, his cataracts raging, then surgically corrected, and stooped and limited in his mobility with age, was peaking in his 70s and 80s, his brush fastened to a long stick, pioneering colour work, scumble work, scale work, immersion and abstraction from his garden-nestled studio.
This late-stage culmination of experience, inspiration and creative agility has been characterized as both a bolt of brilliance and a last, primordial push of productivity. Scholars have, in recent decades given it a name — "the swan-song phenomenon" — after studying over 1,900 works by 172 classical composers and noticing a creative ramping up at the end of life. This burst has also shown a trend of producing the artist's best — late-Strauss, late-Turner, late-Goethe, late-Beethoven (his 9th Symphony, an exaltation of the soul, composed while deaf, three years before his death at 56,) late-Tintoretto, late-Braque and Matisse, who, left bedbound at 72 after surgery for abdominal cancer, discovered and pioneered cutouts and collage and advanced abstraction with a stick and some glue, for another 12 years. Whether it's compulsion, drive, desire, emotional access to understanding concepts of one's own mortality, goals of posterity or something to prove, making a bigger statement or nothing to lose, age, if we are afforded the privilege, can bring with it a luxury and freedom to travel, unburdened, into new creative territories.
If critics and scholars have written a modern narrative about artists and aging — about reaching for transcendent final works and maybe even cementing a legacy, then we all might, perhaps take note and paint forward, regardless of any perceived declines, towards a last, genius move. We can rid ourselves of any limiting beliefs about peaking in middle age or losing our faculties, or if, like me, you're worrying, abstractly and naggingly about eventual failing eyesight or an unsteady hand, you can throw that notion out, too. "A lot of the studies that were done on creativity are quite outdated," says Canadian author Emily Urquhart. "They look at creativity as a product as opposed to an act. 'Create' is a verb. And it's not something you can quantify." The answer then, is to keep going. Just keep going. Live and work as many days as you are given in this new, unhindered pasture. Strive for the bolder idea, the riskier creative tack. Shock yourself with the unexpected. More than anything, just make. "The old," wrote Aristophanes in 400 BCE, "are in a second childhood."
Sincerely,
Sara
PS: "I'm getting so slow at my work it makes me despair, but… I'm increasingly obsessed by the need to render what I experience, and I'm praying that I'll have a few more good years left to me…." (Claude Monet)
Esoterica: Earlier this month, someone sent me a book, which I opened hastily, discarding the envelope. With no note or message inscribed, I found myself not knowing who sent it to me. I read it, experiencing this mystery friend's thoughtfulness on each page. The Age of Creativity by Emily Urquhart is a memoir exploring the unspoken intimacy of artistic dynasties and notions of creativity and aging, memory and the art spirit. The author, the daughter of Canadian novelist Jane Urquhart and Canadian abstractionist Tony Urquhart, who had recently been diagnosed with dementia, set out to meditate on the idea of "creative prime" — and whether creativity declines with age or, as she has come to discover through research and being with her Dad, our best works can be summoned and flare as a last achievement before death. Thank you to the person who sent me this book. "Always I'm feeling, 'You're never going to work again,'" wrote Lauren Bacall. "That's going to happen one day, but I hope I'm not alive."
Have you considered a Premium Artist Listing?  With each letter, an artist is featured at the bottom of this page. The Premium Artist Listings are a means of connecting artist subscribers through their work. Proceeds from each listing contribute to the production of The Painter's Keys. 
"Aging seems to be the only available way to live a long time." (Daniel-Francois-Esprit Auber)
No Featured Workshop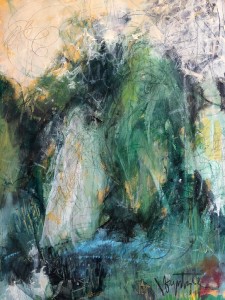 The 23rd Psalm, 2019
30 x 24 inches
Featured Artist
I grew up on a farm in Ohio, and that experience gave me a love of nature and the seasons and a deep belief in personal independence, as well as a love of experimentation. These have been the foundations of my work as a painter. I believe that learning in art or any subject is lifelong, and that the most important lessons we learn are through our personal interests and experimentation. After my husband's death in 2018, I visited Israel the next year, and was inspired by the amazing landscape colors, and especially the old city of Jerusalem, with its crumbling walls, and its deep religious importance. I found my way out of grief by painting the Eight Gates of the old city.