Dear Artist,
The "literary colour" of a decent cigar is some sort of brown. On close examination, this Cuban I've been looking at for two years, thinking about smoking, and resisting, has a "local colour" of raw umber with traces of sap green and yellow ochre. On the windowsill, with the evening light raking, its "reality colour" is bright cadmium yellow coming to cadmium orange with a deep violet shadow. Now that's a cigar!
Painting it in these conditions, I can practically smell the darned thing, almost enough to take up smoking again. Thinking about the above paragraph, we see that literary colours and local colours and colours as seen are not the same. Further, my description was in English and uses the names of pigments I'm familiar with. Also, those reality colours, in that light, demand an even more precise language. Or do they? Some painters, it seems, have an uncanny colour sense. They are able to see colours truthfully and mix them accurately without naming them. Linguists and anthropologists are now giving new credence to the idea that the human eye is most often a prisoner of language. Further, colours are perceived through the lens of our mother tongue. Just as the Inuit have dozens of words for "snow," green and blue are distinct colors in English but are considered shades of the same color in some other languages. Further, in English, for example, we narrow down broad terms like "green" to even more specific nuances — emerald, jade, Kelly, lime, mint, myrtle, olive, teal, Hooker's, viridian, British racing, etc. According to linguistic experts, when we refine our visual sensitivity to color differences in reality, our brains are trained to exaggerate the distance between shades of color if these happen to have different names in our particular language.
It follows that art appreciation may depend on unique linguistic forms. This insight may, in part, account for the frequent public donnybrooks over artistic quality and worthiness. For those of us who struggle with colour and painting every day, my current conclusion regarding this research is to be of two eyes. Your honest, truthful eye sees the colour, and your knowledgeable eye knows how to mix it. You need to address your pigments on a first-name basis. Not all of us can intuit the transition. My other current conclusion? Try to paint it, don't talk about it, and certainly don't try to smoke it.
Best regards,
Robert
PS: "When we learn our mother tongue, we acquire certain habits of thought that shape our experience in significant and often surprising ways." (Guy Deutscher, Linguist, University of Manchester, UK)
Esoterica: Literary constructs such as red barn, green grass and blue sky are generalizations that forever haunt us. Those of us who might seek truth from our world need to reinvent our vision in a pure way. Barring the miracle of talent or some sort of blessed autism, we need to undo certain aspects of language. In studio and field, some of this can be achieved by voluntary mutism. I'll stop talking now.
This letter was originally published as "Talking about colour" on September 3, 2010.
Have you considered a Premium Artist Listing?  With each letter, an artist is featured at the bottom of this page. The Premium Artist Listings are a means of connecting artist subscribers through their work. Proceeds from each listing contribute to the production of The Painter's Keys. 
"The actual basis of colour is instability. Once you accept that in lieu of something which is stable, which is form, you are dealing with something which is unstable in its basic character, you begin to get a way of dealing with it." (Bridget Riley)
Featured Workshop
September 12, 2020 to September 17, 2020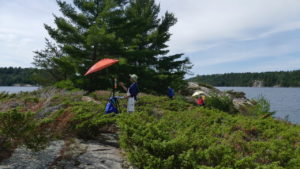 The Killarney are of Ontario is in what is called the 'near north'. The landscape is wild and rugged. Giant granite cliffs plunging deep into the glacial lakes. There are no roads leading to our painting locations. We travel by a large, sturdy pontoon boat. This is a self-catered retreat. You bring your own provisions and cook your own meals in our fully equip cabins at a northern camp. Our instructor, Keith Thirgood, has been teaching artists his own unique approach to painting for over 12 years. Learn how to find order in the chaos, control your colours and create paintings that work. Learn modern colour theory, values, shapes and lines, what makes for a good painting. This retreat is suitable for beginners wanting to learn to paint in a fun, outdoor location, as well as more experienced studio artists who want to try plein air, plus artists who are looking to loosen up and paint in a more post-impressionist style. To find out more and register, please visit www.wilsonstreetstudios.com
Featured Artist
Shawn's paintings evoke the feelings of the West Coast, its shores and islands, ponds and lakes.